10 Fresh Tunes to Listen to This Month
David Bowie, Phoenix, Yeah Yeah Yeahs, Franco, The Oktaves, and more!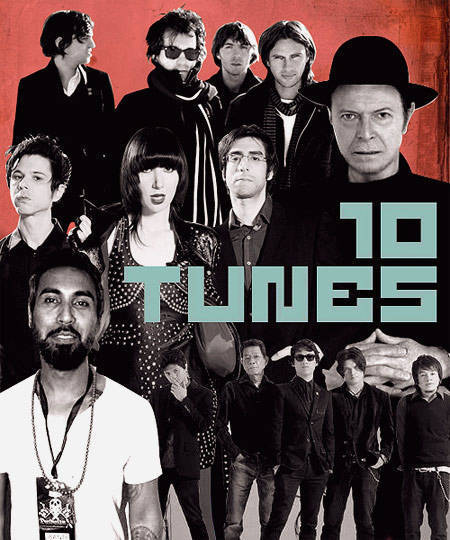 (SPOT.ph) This March, fill your playlist with our music recommendations: David Bowie's newest single, Phoenix's electro-rock track, the Yeah Yeah Yeahs' gospel-choir-aided tune, The Postal Service's fresh indie-pop material, and Nabiha's inspiring ballad. Plus, press play on local tunes by Franco, No Rome, The Oktaves, Modulogeek, and Gloc 9 with Kamikazee.
Song: "The Stars (Are Out Tonight)"
Artist: David Bowie
The legendary David Bowie recently released his second single from his forthcoming album titled The Next Day, which is expected to drop on March 12. "The Stars (Are Out Tonight)" will please Bowie fans as it brings back his familiar sound. With pulsating guitars, electrifying synths, and lyrical playfulness (We love the "ooh ooh ooh ooh" backing vocals), this is one great comeback track.
Fun fact: In the music video, Bowie stars alongside androgyny icon Tilda Swinton and models Andrej Pejic and Saskia De Brauw.
ADVERTISEMENT - CONTINUE READING BELOW
Song: "Better Days"
Artist: Franco
Franco Reyes, frontman of the band Franco, is out with his solo album under MCA Music titled Soul Adventurer. The first single, "Better Days," is a mix of his alternative rock, metal, and reggae influences. Hear his signature vocals in this original single.
Fun fact: Franco Reyes is set to have his first solo major concert on April 6 at the Music Museum.
Song: "Entertainment"
Artist: Phoenix
French alternative-rock band Phoenix have released a sampler from their forthcoming album, Bankrupt, to be released on April 23. "Entertainment" is a supersonic, electronic-rock track with prominent synths and guitars, which works to get fans psyched for the release of the band's follow-up to 2009's Wolfgang Amadeus Phoenix.
Fun fact: Phoenix is one of the headliners for this year's Coachella Valley Music and Arts Festival.
CONTINUE READING BELOW
Recommended Videos
Song: "Dance With Me"
Artist: No Rome
No Rome's debut single, "Dance With Me," is a chill, dance-y, electro-pop ditty that can make for one great summer anthem. You'll probably be reminded of Toro Y Moi's sound as you hear the smooth synths and piano melodies.
Fun fact: No Rome is 17-year-old Rome Gomez.
Song: "Sacrilege"
Artist: Yeah Yeah Yeahs
Yeah Yeah Yeahs' latest release is an audible delight, what with Karen O's shifts from whispers to shouts, the sound's hypnotizing electronic beeps, and the unexpected gospel choir towards the end. The dance-y rock tune brings you YYY's signature sound with a twist.
Fun fact: YYY's fourth album, Mosquito, is set for release on April 16.
ADVERTISEMENT - CONTINUE READING BELOW
Song: "KPL"
Artist: The Oktaves
Supergroup The Oktaves-composed of OPM heavyweights Ely Buendia, Nitoy Adriano, Chris Padilla, Ivan Garcia, and Bobby Padilla-recently launched their self-titled debut album. The single "KPL" is an original rock track with a blues touch.
Fun fact: The Oktaves album has 12 songs, with seven written by Buendia and five written by Chris Padilla.
Song: "A Tattered Line of String"
Artist: The Postal Service
The electro-pop duo from Los Angeles has released fresh material from the 10th anniversary re-issue of their 2003 debut, Give Up. The indie-pop-disco feel comes with some pretty somber lyrics delivered by Ben Gibbard (with backing vocals by Jenny Lewis). Pops of synth and electronic beats are courtesy of Jimmy Tamborello.
Fun fact: "A Tattered Line of String" is one of two new tracks in the duo's April 9 release.
Listen to the new Modulogeek song here
Song: "qwerty mouse"
Artist: Modulogeek
Electronica artist Modulogeek a.k.a. Joon Guillen has released a four-track EP titled qwerty mouse. The album, which lasts a little over 10 minutes, is a relaxing mix of electronic beats in varying tempos-ones that you can bring along with you on your summer road trip.
Fun fact: You can download the EP here.
Listen to the new Nabiha song here

Song: "Ask Yourself"
Artist: Nabiha
The pop-soul songstress' latest single is an emotional and inspirational ballad-quite a break from her past edgy and bubbly releases. Here, Nabiha showcases her more vulnerable side and highlights her vocal prowess.
Fun fact: Nabiha has Danish and North-West African roots.
ADVERTISEMENT - CONTINUE READING BELOW
Song: "Kunwari"
Artist: Gloc-9 and Kamikazee
This rap-rock collaboration between Gloc-9 and Kamikazee is a timely release that references the upcoming elections. With Gloc-9's rhymes and Kamikazee's rock addition, the single is one hard-hitting tune and social commentary, too.
Fun fact: "Kunwari" is the first collaboration between Gloc-9 and Kamikazee. The music video was directed by Carlo Perlas, Eric Perlas, and Boogs San Juan.


---
Help us make Spot.ph better!
Take the short survey
Load More Stories