It Takes a Man and a Woman (and a Wig)
The newest John Lloyd-Sarah movie made over P32M on opening day. But Ria Limjap thinks there's not enough <em>kilig</em> moments here.
(SPOT.ph) When I went to see It Takes a Man and a Woman, the cinema was packed. I was sandwiched in the second row from the screen between an awkward teenage boy on my left (he was watching with his mom) and on my right a pair of astute titas, who were literally giggling at John Lloyd and were speculating out loud about Sarah's no onscreen kissing policy. Meanwhile, I was thinking: how did this movie open on Black Saturday, when new movies usually open on a Wednesday? Black Saturday is a spectacular day to open a movie, because all the malls have just reopened after the Easter holiday and everyone who stayed in town for Holy Week probably went to the mall. Five days into the commercial release of the latest installment of the famously lucrative Sarah-John Lloyd franchise, it is safe to say they are killing it at the box office with this momentarily funny, tepid-at-best romantic comedy. According to early box office reports, they made over 32 million pesos on opening day.
ADVERTISEMENT - CONTINUE READING BELOW
It frustrates me to no end that we are being forced to swallow (I'm not making a pun) when instead we should be spitting out these celebrations of cinematic mediocrity constantly churned out by the big producers who can afford to book two hundred theatres nationwide on Black Saturday. Profusely promoted and aggressively marketed, how can I avoid seeing this movie?   In the end, I felt a bit cheated out of my two hundred bucks because despite the occasionally funny bits (mostly because of the supporting characters) there's not even a big kiss in the end.
I should have listened closer to the commentary from the titas beside me-they were right, in the end there was no kiss, it was just a cunning little trick where they cut right when John Lloyd's lips are just about to touch Sarah's. But the stars will only do what they are asked to do by the people who make and market these movies, people who are making shit tons of money from an audience willing to shell out the full price of a ticket (except for the darling senior citizens) so that we are dying of kilig as we watch this cutesy pair clash and fall in love all over again. Take three. I don't think I got two hundred pesos worth of kilig and escapism. There was absolutely no suspension of disbelief on my part. It's the same feeling I had when watching the first two movies in this dare-I-call-it trilogy.
CONTINUE READING BELOW
Recommended Videos
ADVERTISEMENT - CONTINUE READING BELOW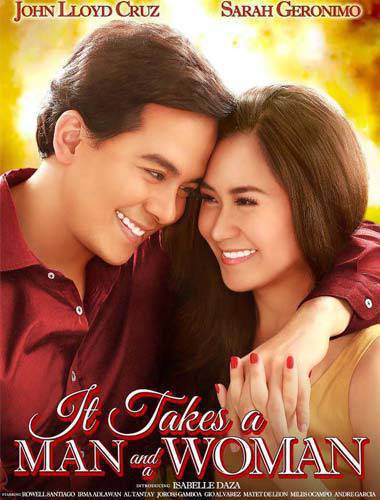 In this one they tried to raise the stakes by reinventing sweet Laida Magtalas (Sarah Geronimo) from Marikina into a couture-wearing magazine publishing maven (complete with red laquered nails and gigantor It Handbag, 'cause don't you know that's how these publishing bitches roll). Whoa. It's a bit of a stretch for poor Sarah, who was probably sweating under her wig and all those bright lights, but the 24-year-old pop star manages just fine. It seems she has developed her own comedic style-it's half pa-cute, half pa-cute -and gets away with it. Meanwhile, Laida's ex-boyfriend (and boss) Miggy Montenegro (John Lloyd Cruz) is stewing in trouble: family business issues and who else but Laida swoops in to save the day. It's a thin ruse to get Laida back in Miggy's hair, rather, Miggy back in Laida's wig but you can expect that they pulled out all the stops for this movie: there is a public declaration of love (proposal at the airport scene) and even a New York City montage (in one especially awkward scene, Sarah and John Lloyd at the diner where they shot When Harry Met Sally and Sarah trying to fake an orgasm in the style of Meg Ryan's Sally Albright), then a big blowsy wedding scene in the end.
ADVERTISEMENT - CONTINUE READING BELOW
"Can we go now?" is what the bored teenage boy beside me said to his mom as our row watched the gag reel-slash-credits. The titas were starry-eyed and I could tell didn't want to leave. I was lost somewhere in between.
Share this story with your friends!
---
Help us make Spot.ph better!
Take the short survey
Load More Stories