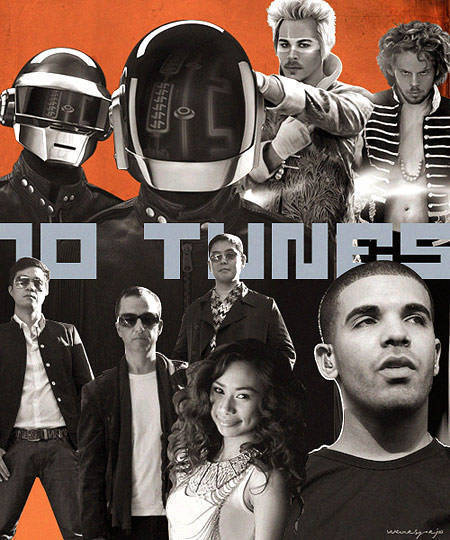 (SPOT.ph) Load up some fresh tunes for your next beach trip.  Dance to Daft Punk's funky track, or sing to Empire of the Sun's sweet summer single. Drake adds a sexy spin to a Destiny's Child classic, while Club 8 brings you a bubbly indie-pop ditty. Also check out Queens of the Stone Age's eerie music and video release. Plus, don't miss out on local delights from Gaijin, Pulso, Silent Sanctuary, Nouvul, and Jessica Sanchez.
Song: "Get Lucky"
Artist: Daft Punk feat. Pharrell Williams
Daft Punk's latest single is so overflowing with funk that it will remind you more of old-school disco dancing than their signature electro sound. Wait until two-thirds into the track, however, to find what you're looking for as robotic-futuristic beats and vocals amp up the vibe.
Fun fact: The French electronic duo's new album, Random Access Memories, will be released on May 21.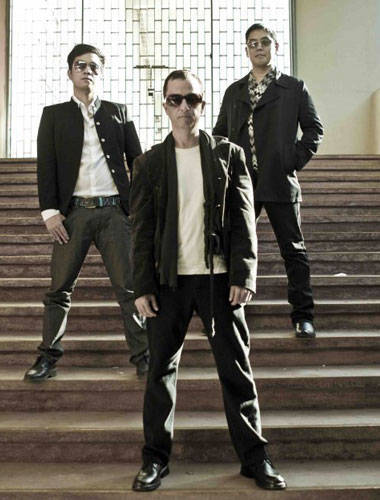 Song: "Parachutes"
Artist: Gaijin
Rock and roll and pop sound absolutely made for each other in this catchy release off Gaijin's new album, Sunday Kodama. Heavy guitars, killer drums, and breezy vocals make "Parachutes" one perfect road trip soundtrack.
Fun fact: Sunday Kodama, released under Locked Down Entertainment, is the trio's sophomore album.


ADVERTISEMENT - CONTINUE READING BELOW
Song: "Alive"
Artist: Empire of the Sun
The Aussie duo's first single off their forthcoming album, Ice on Dune, is a delightful merger of bubbly pop beats, spot-on synths, and gushy lyrics, making it the perfect anthem for summer loving.
Fun fact: Ice on Dune is due to drop on June 17.


Song: "Unang Tingin"
Artist: Pulso
Here's a band to watch for this year. Pulso, under Terno Recordings, is set to offer post-rock goodness to unsuspecting music lovers. "Unang Tingin" is an entrancing composition with rhythms and beats intricately woven together.
Fun fact: Catch Pulso at the Wanderland Music and Arts Festival on May 18.


Song: "Girls Love Beyonce"
Artist: Drake feat. James Fauntleroy
In this single, Canadian rapper Drake adds a sexy yet sincerely emotional spin to a classic Destiny's Child track. In between his smooth rhymes is a familiar chorus improved by the crooning of James Fauntleroy (The Y's).
Fun fact: Drake popularized the term "YOLO" (You Only Live Once) through his song "The Motto."


Song: "Bumalik Ka Na Sa 'Kin"
Artist: Silent Sanctuary
For hopeless romantics, Silent Sanctuary offers their latest release, "Bumalik Ka Na Sa 'Kin," a sugary reconciliation song set against a backdrop of exquisite cello and violin.
Fun fact: The band's album of the same title is set to come out this June.


Song: "I'm Not Gonna Grown Old"
Artist: Club 8
There's an irresistible disco-pop vibe emanating from Club 8's latest track. The second single off their forthcoming LP, Above the City, is a sweet fusion of funky disco beats, dreamy female vocals, and chic synths.
Fun fact: The Swedish band's new LP is due out on May 21.


CONTINUE READING BELOW
Recommended Videos
Song: "TheyDreamLady"
Artist: Nouvul
Nouvul, also known as Jorge Wieneke and Similarobjects, combines alternative R&B and smooth electronics in this track from his forthcoming album, Twin Flames. Here, he gives listeners a sampling of his vocal abilities.
Fun fact: The artist is part of the BuwanBuwan Collective, a "Philippine beats platform/playground."
Song: "I Appear Missing"
Artist: Queens of the Stone Age
The American rockers have unveiled a dark and eerie animated video for their new single, "I Appear Missing." The second release off their upcoming album, ...Like Clockwork, features heavy riffs and menacing vocals.  Watch for ...Like Clockwork in June.
Fun fact: The band's first release was a two-track EP titled Gamma Ray back in 1996.
Song: "Tonight"
Artist: Jessica Sanchez feat. Ne-Yo
Jessica Sanchez's debut single featuring Ne-Yo is a dance-pop ditty that still manages to highlight her powerhouse vocals. The American Idol alumna's latest offering is a pleasing break from her usual heavy ballads.
Fun fact: "Tonight" is off her Me, You, and the Music debut album.


Share this story with your friends!
---
Help us make Spot.ph better!
Take the short survey
Load More Stories