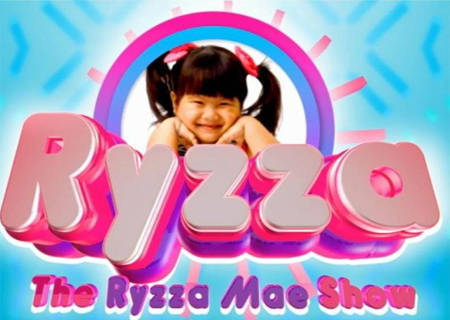 (SPOT.ph) If you're not fond of children, tough luck. In our culture, little humans have a special place in people's hearts and the love for them is enough to sustain Eat Bulaga's decades-long Little Miss Philippines segment, ensuring that we will never have a shortage of child stars.
We have to admit there's something slightly distracting about little girls in gowns acting like adults but last year, a chubby little kid rose to fame for being exactly that: a chubby little kid in a gown.
Eliminated earlier on, Ryzza Mae Dizon was darling enough to return as a wild card. She then went on to become Little Miss Philippines 2012, winning the affection of the long-running noontime show's bossing Vic Sotto and subsequently, a sizeable portion of the population. Those who have the luxury of TV time within the day see her in Eat Bulaga, being a kid and getting away with calling people old or something typically as insulting. She's a child so it's nothing but honest truth with a hefty serving of adorable.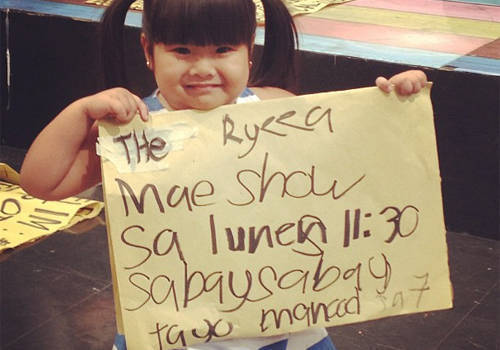 ADVERTISEMENT - CONTINUE READING BELOW
Dissecting her appeal requires a higher degree of learning in social sciences to be credible so we won't even go there. What we do know is that she's charming enough to have been given her own talk show with a live audience and you'll be surprised how entertaining this little seven-year-old can get.
Here are five reasons why even those averse to children might find themselves chuckling at Ryzza Mae's antics and why it's so easy to like her.
She's not afraid of being a kid.
Ryzza is too cute for words in this episode. The show actually started heavy, with Ryzza interviewing unlikely personalities like Susan Roces and of all people, MMDA's Francis Tolentino. She struggled at first, much like her pageant win but she came out swinging when she was finally allowed to be the kid that she is.
In her interview with Derek Ramsay, she runs around the set hiding from him. What kind of heartless bastard wouldn't find this endearing?
She promotes brains over beauty.
She's not fair-skinned and she's bungi and we want her to stay that way. Yes, there is a surplus of children on TV but we don't really see anyone out of the mold. It's refreshing to see someone win not because they're pretty but because they have a hell of a personality.
In Ryzza's interview with Gladys Reyes, Gladys relates her own experience as a Little Miss Philippines contestant where she was asked if she would pick someone pretty or someone smart to win. Ryzza was asked that question and-we don't care if she was being coached-she answered with, "Yung matalino. Kasi hindi naman ako kagandahan."
CONTINUE READING BELOW
Recommended Videos
We like that she feels pretty (watch her interview with Marian Rivera or Solenn Heussaff) but we find it delightful that she doesn't feel pressured to fit in.
The ever so elusive glimpses of sincerity in this day and age
Can you believe that the hosts of Manyak Mondays sat with her and she held her own? It's hard not to like Ryzza as she stares at Slick Rick, confused because he's using the English language. She can't help but be genuine and that's something rare in showbiz.
And of course, it's also fun to see her act matabil. Again, we're not entirely sure if this was staged or not, but in her interview with the boys of Boys Night Out, she calls out someone from the audience for being maarte and magulong kausap.
The laughs with lines like, "Hindi ko po alam sa kanila."
She's probably getting coached and primed to be a brand but things like, "Hindi ko po alam sa kanila" slip out of her from time to time. This happened in her interview (above) with Solenn Heussaff, where Solenn asks her where she gets her pictures. She just bluntly states things, to great comedic effect. The girl can ad lib and even if they're feeding her lines, it's obvious that she knows what the words mean. She has good timing, a feat for someone so young.
She disarms grown-ups.
Ryzza's honesty is probably infectious so, without any hint of judgment, you'll find things about her guests are revealed accidentally. Solenn, who is known for being gorgeous, tells Ryzza that she puts prosthetics on her face every day and that says something about how Solenn feels about what she's known for. In her interview with Marian Rivera, Ryzza flips her eyelids and it freaks Marian out but then they end up sniffing each other's armpits. Makes you go, "Whaaaat?"
ADVERTISEMENT - CONTINUE READING BELOW
Share this story with your friends!
---
Help us make Spot.ph better!
Take the short survey
Load More Stories