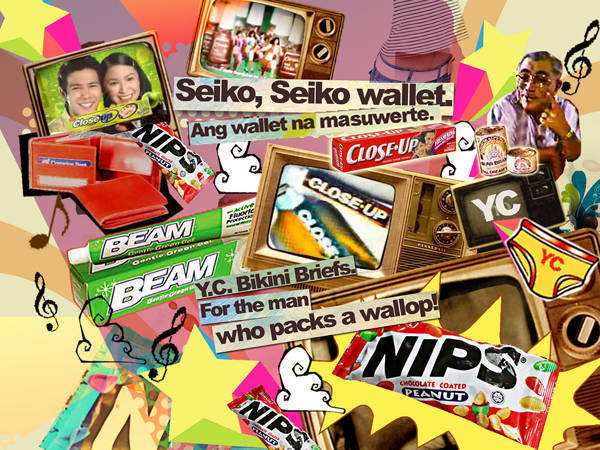 (SPOT.ph) Back when channel surfing was limited to less than 10 TV channels, escaping the ubiquitous television ads was quite difficult. We had to endure the worst commercial jingles along with the best and hoped that we didn't catch ourselves unconsciously humming them in public. Cable TV and a million commercials later, we can still hear these tunes in our head:
1.   Nips
"You wanna see what happens in a bag of nips?
What goes on before they touch my lips?
They make a rainbow...(chocolate Nips)
A choco rainbow...(chocolate Nips)
And then they color all the flowers and they paint the trees
They're sweet and delicious, look at all those bees
When I want fun, I get a bag of nips
And make a rainbow
(Nips, Nips)..."
With rhyming lyrics, a catchy tune and colorful commercial scenes, the jingle and the candies were on the lips of everyone who loved munching on the colorful chocolate-coated sweets in the late '80s. The play on words and images was as appealing as the candies and the jingle is the reason many little kiddies stopped and stared at the TV screen whenever the commercial came on.
2.   Caronia
"Caronia, Caronia...
The secret of beauty is in your hands,
Caronia, Caronia,
Your beauty shines with Caronia."
The first Caronia commercial actually came out in 1968 on black and white TV, featuring four models in Mary Quant Mondrian-esque miniskirts, bobs and black eyeliner dancing to the original jingle from which we only remember the word "Manicura!" It was reincarnated in the '80s in a commercial choreographed by Douglas Nierras and directed by Fritz Infante. With the same singsong jingle but with more contemporary words and the sight of four models dancing, now in fuchsia and electric blue mini-dresses in front of life-sized Caronia nail polish bottles is one of the hardest TV commercials to forget. The nail polish brand didn't come out with a lot of other TV commercials after that but the product remained on grocery shelves and on ladies' well-manicured tips over the years.
ADVERTISEMENT - CONTINUE READING BELOW
Recently, Caronia employed local band, Imago, to come out with a new, much-improved commercial jingle and video that screams modern and hip with psychedelic colors and hip-hopping dance moves. Still fun, but not as catchy. Watch it here.
3.   Seiko
"Seiko Seiko Wallet,
Ang wallet na masuwerte,
Balat nito ay genuine
International pa ang mga design
Ang wallet na masuwerte
Seiko Seiko Wallet."
Strong in recall, the Seiko wallet ditty is a singular hit about how the genuine (pronounced JIN-YOU-WHINE) leather wallets equate luck and prosperity. Ignore the song-writing and appreciate the novelty. And while the commercial itself was not anywhere near Cannes-worthy, the jingle is an LSS stand-out, a Hall-of-Famer if there was any.
4.   YC Bikini Brief
"YC Bikini Briefs, YC Bikini Briefs, YC Bikini Briefs,
For the man who packs a wallop
YC is comfort
YC is fashion
YC is beauty in motion
YC is for you
YC Bikini Briefs, YC Bikini Briefs, YC Bikini Briefs"
This infamous ad even bought airtime in the metro's cinemas so being early for the movies meant catching this commercial on the big screen. The Yacht Club (YC) Bikini Brief jingle became so popular that it spawned many production spoofs (with a change of lyrics to "Wash Your Bikini Briefs...") on TV, corporate teambuilding weekends and during Christmas parties by various men who packed a wallop.
5.   United American Tiki Tiki
"United American Tiki Tiki
Pampalusog ng iyong baby
United American Tiki Tiki
Tiki Tiki for baby!"
The kid-friendly multi-vitamin had a weird name to start with and the jingle was no less quirky. Local creatives at the Able Minds Advertising Agency were enlisted by pharma giant Unilab, to come up with a jingle to sell the brand to young families. According to the agency, "One of our most memorable jingles was the one we made for United American Tiki-Tiki". Everyone who has heard the jingle more than once can't seem to forget it too.
CONTINUE READING BELOW
Recommended Videos
6.   Electrolux
"I'm gonna knock on your door
Ring on your bell
Tap on your window too
So why don't you open your door
So I can show you more
I'm your friendly Electrolux man."
The Electrolux TVC with the ever-smiling door-to-door salesman is an '80s classic. By lending new lyrics to the '60s song, "I'm Gonna Knock On your Door", the jingle is easy-to-remember, relatively effortless to sing, scores high on the LSS-meter and certainly gave the Electrolux Man his five minutes of fame.
7. Bear Brand Sterilized Milk
"I remember yesterday
The world was so young
Fun times with grandma.
Sharing moments...of fun
(Is that you Lolo? Look at my mole)."
The young boy dancing with his doting lolo to the crooning jingle of the Bear Brand Sterilized Milk is downright likeable. The lines, "Is that you, Lolo?" and "Look at my mole!" are easily two of the most memorable lines in TV commercial history. Without overdosing on sappy overtones, the ad evokes a gentler, more family-centric bygone era which   tugs at the heartstrings but isn't so sappy that it would make you tear up. Check it out (about one minute into the video).
8.   Kyowa
"Kyowa, Kyowa, Kyowa type kita
Basta may Kyowa, ginhawa ka"
Repetition always gets you plus points in the land of advertising jingles and Kyowa is proof that repeating the brand name obsessively in the jingle definitely works. And even with a lame line like, 'type kita', this jingle comes to mind whenever we see the brand in home appliance stores.
ADVERTISEMENT - CONTINUE READING BELOW
9.   Lee Kum Kee
"Bring out the Lee Kum Kee, Bring out the Lee Kum Kee
Bring out the Lee Kum Kee, Bring out the Lee Kum Kee..."
Another brand that relied heavily on repeating their brand name in their TV commercial, Lee Kum Kee's jingle easily stuck. Of course, repeating lyrics are always easy to remember. The Chinese brand tried to inject Pinoy humor in their more recent 2006 ad with Melanie Marquez, but it was not as memorable as the previous one which urges you to just "Bring out the Lee Kum Kee".
10.   Beam Toothpaste
"B-E-A-M means smile
Smile kami pag-Beam,
BEAM na BEAM ngipi'y protektado
Panalo sa presyo, panalo, pag BEAM..."
One of the best of the worst, the Beam jingle does what other commercials aspire to do: make you remember it for a long time. Beam Toothpaste's ad scores high on brand awareness and recall. And even if we're not sure if we believe that "B-E-A-M means smile", we can easily sing to the ad with bright, toothy grins.
Artwork by Warren Espejo.
Which TV commercials do you remember? Share them with us on SPOT:
Share this story with your friends!
---
Help us make Spot.ph better!
Take the short survey
Load More Stories