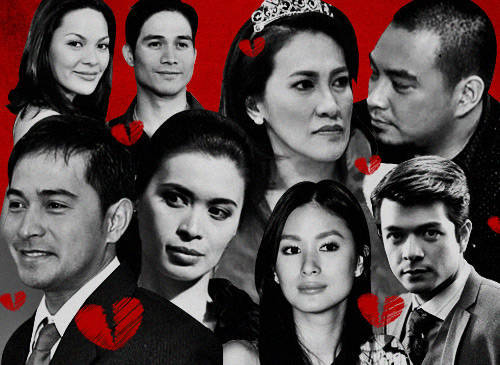 SPOT.ph) It's bad enough when a couple has to break up-but it's even more painful when the sordid details are all over on national TV. The public, of course, devours celebrity "uncouplings." The nastier, the better. That said, we're highlighting 10 of the most cringe-worthy break-ups in the last five years.
Note: We excluded break-ups involving Kris Aquino, as she is practically a Hall of Fame pioneer in this department.

Ronald's earlier-than-expected homecoming, via private jet

10. Lovi Poe and Ronald Singson

The start: It's not clear when the dusky siren started dating the congressman, who is the son of well-known politician Chavit Singson. The fact that they were a couple only became publicized when he was nabbed for cocaine possession in Hong Kong in 2010. There were a lot of raised eyebrows over their relationship since Lovi (born in 1989) was about 20 years younger than Ronald (born in 1968).
ADVERTISEMENT - CONTINUE READING BELOW
The end: Lovi and Ronald reportedly got into an argument on the night of Usher's July 9, 2010 concert in Manila. GMA's 24 Oras previously reported that the actress supposedly walked out after she noticed Singson's ex-girlfriend was seated near them. The said argument presumably led to a break-up. The pain of the split led Ronald to go on a trip to Hong Kong on July 11. At the Customs Arrival Hall of Chek Lap Kok International Airport, Ronald was caught with several grams of cocaine and two Valium tablets. Ronald's father, Chavit, later told reporters: "I am sad. I am all the more enraged with drug pushers. My son became a victim because of a misunderstanding with Lovi Poe." Ronald later claimed that it was actually one of his friends who had gotten him in trouble. He didn't name the friend whom he said had tricked him into carrying the cocaine.
The dirt: Actually, the Lovi-Ronald break-up only got "dirty" because of his drug bust. Lovi was present at some of his Hong Kong hearings. Ronald was convicted of drug possession on February 24, 2011 and was sentenced to 18 months in prison by the Wan Chai District Court in Hong Kong. Lovi reportedly wrote letters to Ronald while he was incarcerated. Ronald was released early for good behavior and he was back in the Philippines by Januay 2012. It's not clear whether Ronald and Lovi got back together after that. Both kept mum about their relationship. However, Lovi, in a The Buzz interview in March this year, finally revealed the reason why she broke it off with Ronald: "Aside from the distance and (the lack of) time together, there are a lot of people around us that I couldn't deal with anymore." She didn't give any more details. Ronald, who had resigned as congressman when he was in prison, just got reelected as the representative of Ilocos Sur's 1st district.
ADVERTISEMENT - CONTINUE READING BELOW
They really didn't say much when the break-up was still fresh.

9. Angelica Panganiban and Derek Ramsay

The start: The baby-faced siren and the abs god officially became a couple in September 2006. Showbiz pundits hailed them as the best-looking couple in local Tinseltown. When asked how much she valued Derek, Angelica had declared that her mantra had been, "Gagawin ko lahat, 'wag mo lang akong hiwalayan." Meanwhile, Derek claimed, "When I'm out and I'm with her, I don't care if people are looking. I definitely like to show my affection. It's the same with her. We're not embarrassed or shy about it." Derek also bought Angelica posh presents, such as a Mini Cooper in 2009. Everyone thought they were perfect-especially when they weathered so many controversies involving their relationship. For one, Angelica stayed with Derek even after it was revealed that he was technically still married.
ADVERTISEMENT - CONTINUE READING BELOW
The end: On May 2012, PEP reported that Derek had tweeted, "Even though Angel and I are no longer together we still have the utmost respect for one another." Thus ended the tumultuous six-year relationship. In interviews right after the break-up, both Derek and Angelica didn't say much. They gave the so-called "typical showbiz answers." By October 2012, actor John Lloyd Cruz revealed that Angelica was his girlfriend.
The dirt: For some reason, Angelica started revealing the "bitter truth" about her relationship with Derek sometime in November 2012. She claimed she was reportedly fed up with all  the speculations about the demise of the relationship. She tweeted, "Puwede n'yo itanong sa akin kahit ano. Sasagutin ko. Pagod na pagod na kong manahimik! Game!" She went on to reveal that she had been shocked to find out that Derek was still married. She also accused him of being a controlling boyfriend. It was also revealed that the Mini Cooper that had been given to her by Derek had been sold. Derek-who wisely didn't fight fire with fire-explained that they had both decided that the car should be sold since it wasn't being used. Neither of them revealed if they had split the proceeds, too.
ADVERTISEMENT - CONTINUE READING BELOW
Breaking up on national television over food with Kris Aquino
8. Janine Tugonon and Jaypee Santos
The start: Janine Tugonon and Jaypee Santos met as, for lack of a better term, normal people working for an IT company. She was a pharmacist, he was a software engineer, and after she was crowned Binibining Pilipinas, they began "going steady."
In their post-Miss Universe appearance before the end of 2012, Janine and Jaypee seemed unfazed by their entry into the public sphere. In an interview with Ricky Lo from the Philippine Star, Jaypee describes Janine, "She's the kind of person whose feet will remain firmly planted on the ground. Lagi siyang nakatapak sa lupa kahit saan makarating at kahit ano ang marating."
On the other hand, Janine told Pia Arcangel from GMA News, that she was going to be faithful no matter what, "We're both Christian and I'm gonna live up to it. I'm gonna be faithful to you kahit sino pang ma-meet ko, kahit ano pang gawin ko sa buhay ko. You're the one I want to spend the rest of my life with."
ADVERTISEMENT - CONTINUE READING BELOW
The end: A very public declaration of, "Actually honestly ngayon we are not in good terms. Siguro may nangyari lang na hindi ko ini-expect na mangyayari," by Janine Tugonon. What she didn't expect was that she would meet Danny O'Donoghue of the Irish band The Script and that he would bestow a modest amount of interest in her by flirting via Twitter. Stay classy, Janine. You have a crown on your head.
The dirt: Janine received the highest of honors from the online community: verbing. The unnervingly public break-up spawned an open letter that went viral but, interestingly enough, Jaypee came to Janine's defense. The entire ordeal was an astounding figurative bobbitization. In an interview with Mario Dumaual on May 28, Janine revealed that she is never, ever, ever getting back together with Jaypee. We're so sorry, bro.
Even Mommy Sharon had to move on.
7. KC Concepcion and Piolo Pascual
ADVERTISEMENT - CONTINUE READING BELOW
The start: "We became friends, not lovers in Paris" was the official statement in 2009 when KC and Piolo were shooting their soap Lovers in Paris in, er, Paris. It remained a mystery for a year or so with KC Concepcion tweeting about her "Peter Pan" and their appearance in the Star Magic Ball confusing everyone. Finally, in an interview with The Buzz during the start of 2011, Piolo finally admitted that they were a real couple.
The end: Like the path leading up to the revelation that they were together, the road to the break-up was also plagued with rumors of misunderstandings between the couple that finally culminated in KC's appearance in The Buzz near the end of 2011, announcing their break-up.
The dirt: There were statements like, "May mga hinahanap ako na napaka-basic lang na hanapin ng isang babae sa isang boyfriend, sa isang lalaki," which raised a lot of questions, but it was Sharon Cuneta's Twitter spat with Piolo that really made the break-up worse than it should've been. Sharon revealed that she was invoking the power of God to keep her quiet about the issue.
ADVERTISEMENT - CONTINUE READING BELOW
What went wrong with Jen and Den?
6. Dennis Trillo and Jennylyn Mercado
The start: Rumors of Mercado and Trillo's romance surfaced when they were shooting for their 2010 drama, Gumapang Ka sa Lusak. Their reel-to-real relationship also boosted the ailing afternoon soap opera's ratings.
In Mercado's 25-page tell-all in the June 2011 issue of Yes! magazine, she confessed that she initially had apprehensions about Dennis because of his playboy image off-cam, but a shared love for biking and his persistence won her over. Biking. Very deep.
The end: After more than a year of petty arguments and jealousy (Trillo was rumored to have been jealous of Mercado's baby-daddy, Patrick Garcia, for continuing to be in her life), the pair ended in a messy debacle on March 5, 2011.
The dirt: Mercado detailed that a "shallow" argument led to something much bigger when Trillo began cursing her and calling her "stupid." She admitted to hitting the actor who retaliated by dragging her out the door and "throwing her downstairs." After the breakup, the Starstruck alum began taking self-defense jujitsu lessons where she met current beau, Luis Manzano. In a venue where she's trying to fend off old boyfriends, she found a new one.
ADVERTISEMENT - CONTINUE READING BELOW
For The Buzz interview, watch this and this.
5. Jericho Rosales and Heart Evangelista
The start: The unlikely pair fell in love on the set of the television spin-off of Carlo J. Caparas' Ang Panday in 2005. Despite her parents' vehement (and constant) disapproval, Rosales and Evangelista's relationship spanned three years, consisting mostly of surfing and inexpensive jewelry.
The end: Rosales received the shock of his life when, upon returning from shooting his new soap opera, Kahit Isang Saglit in Malaysia, he learned that Evangelista had announced their breakup in a television interview. In the interview, Evangelista revealed that she had sent a long e-mail to Rosales detailing her decision-an e-mail that Rosales didn't think was final. At the airport when he arrived, he told showbiz reporter Mario Dumaual who had asked for his comment on the split: "I, myself, I'm confused, eh...I heard nakipag-break siya sa akin on TV, eh, so... On text, it wasn't clear, eh." On The Buzz later that week, the distraught star told host Boy Abunda,  "Ako, in denial ako kasi yun ang problema. Paano ko sasabihin ngayon na hiwalay na kami, kung sa telepono, sa text lang nagsabi na maghiwalay na muna tayo?" adding that he was willing to fight for the relationship. He refuted any rumors linking him to Kahit Isang Saglit co-star Carmen Soo and suggested that there were external forces trying to separate them.
ADVERTISEMENT - CONTINUE READING BELOW
Incidentally, during the latter interview, Rosales revealed that he was "full of Heart," wearing a shirt, a ring, and a necklace his ex-girlfriend gave him. "Nothing expensive but all meaningful. So, I'm full of Heart right now."
Rosales' work in Malaysia was the first time the couple had been apart in three years.
The dirt: Four years after their unwitting split was when Evangelista, who is currently lovestruck by Sen. Chiz Escudero, chose to reveal that Rosales is her "true love." In a Cosmopolitan feature in August 2012, the actress said: "I still believe in the idea of a one true love, and it could be with somebody you don't necessarily end up with. (For me) talagang si Jericho," adding that when she was with him, it was: "You and me against the world...We could live in a kubo, I don't care if we eat in a carinderia, my God, magkamay tayo! It's the best life I ever had, and I will never forget it."
ADVERTISEMENT - CONTINUE READING BELOW
Matt Evans stars in his very own "reality show."


4. Matt Evans and Johnelline Hickins
The start: It was only when the scandal exploded in October 2012 that people found out that the former Pinoy Big Brother star was dating the daughter of Coca Nicolas (real name Johnelline Hickins) of '80s bomba fame. Prior to this, Evans dated fellow housemate Olyn Meimban followed by a string of non-showbiz hookups.
The end: On the day of his 24th birthday, Matt got the surprise of his life when he ended up in jail. His live-in partner and baby momma, Johnelline (nicknamed Jelline), 20, charged him for violating the Anti-Violence Against Women and Children Act after he reportedly pushed her down the stairs. Her brother, Juan Alberto Carlotto, also sued him for physical injuries after the actor supposedly beat him up for trying to calm him down. Matt, who paid P200 in bail, denied the accusations. He told Boy Abunda on The Buzz that he was not drunk as the siblings indicated, and that Hickins slipped as she stopped him from walking out. He also said that Carlotto was the one who went to the kitchen to grab a knife.
ADVERTISEMENT - CONTINUE READING BELOW
The dirt: In a recorded interview on The Buzz, which was aired on October 28, 2012, Matt told host Boy Abunda that Johnelline had visited him in jail. He recalled, "Habang kausap ko siya, mahal ko 'yung taong 'yon, pero iniisip ko siya ang dahilan kung bakit ako nandito. Sa tingin ko mapapagusapan pa, pero pagkatapos siguro ng pagaayos at paguusap, mas pipiliin ko na lang lumayo kami sa isa't isa. Ayoko na. Sigurado na ako kasi masasabi ko na sobra-sobra 'yung pinaranas niya sa akin para bumalik pa ako. Kung para ho sa bata nandito ho ako palagi, pero kung para po sa amin, hindi na ho." Other reports confirmed that Matt was sticking to his decision. Johnelline was reportedly trying to get in touch with Matt, but he was not responding to her texts or taking her calls.
Sunshine is a blushing bride at her wedding September 2000 wedding.
ADVERTISEMENT - CONTINUE READING BELOW
3. Sunshine Cruz and Cesar Montano
The start: Sunshine was 22 and Cesar was 37 when they got married in 2000. She was the hot ingenue of her generation, while he was already one of the industry's established actors. He had also already been married to a woman named Marilyn, who died of a brain tumor in 1993. He had a son and a daughter by his late wife. He also had a son by actress Teresa Loyzaga. Sunshine and Cesar went on to have three daughters.
The end: In January 2013, ABS-CBNNews.com reported that Sunshine "discovered that a number of her gifts to her husband are now in the hands of Krista Miller." Krista was Cesar's co-star in The Turning Cradle: The Untold Story of Alfredo Lim. Sunshine was forced to confront Krista via Instagram after the latter posted a photo of the gifts she received from Cesar. As it turned out, the gifts-an Abercrombie and Fitch shirt for men, a pack of chocolates, and an iPhone 5-were just "re-gifted" to Krista. Sunshine pointed out, "I bought that shirt, and it is a guy's shirt for heaven's sake! The chocolate is from my sister-in-law and that is my iPhone 5. Hindi mo na dapat pinagmalaki sa social networking." It was later revealed that Sunshine and Cesar were already living apart.
ADVERTISEMENT - CONTINUE READING BELOW
The dirt: Sunshine had said in a PEP.ph interview, "I just realized I did everything for the man I loved for the past 13 years. I fought, lied and cried just to protect the love of my life, pero sabi nga nila kung mahal mo ang tao set him free. I'm doing what I think is best. After all, if you feel na 'di na masaya o kontento ang tao sa 'yo, bakit kailangan ipilit?" She had also added, "Well, I hope I can get more jobs this time. I'm a single mom now, so I really have to work hard." For the record, Krista has denied having an affair with Cesar, who has kept mum about the issue.
Pia Guano's six-minute interview with Rhian Ramos
2. Mo Twister and Rhian Ramos
The start: She was 16 and he was 29 when they first met. Rhian said that he was nice and was swept away by his charms. Much like other celebrity couples, they kept people guessing if they were really together. Terms like "exclusively dating" were used and the two eventually became a couple.
ADVERTISEMENT - CONTINUE READING BELOW
The end: It started with an exchange of angry tweets, and by May of 2011, the break-up became official. Mo was tweeting things like, "You told me it's your job to be single and desired, but what about the hearts you break along the way?"
The dirt: In September of 2011, Mo was reportedly seeing a therapist and Rhian said she was proud of him for doing that. By December, a video of Mo crying surfaced with the word "abortion" thrown into the mix, making everyone uncomfortable. The video was 13 minutes of Mo talking about how he felt about Rhian and some decisions they did or did not make together. Both parties claim that they truly loved each other very much but in a recent interview with PEP.ph, Rhian was caught saying, "If justice prevails, hindi siya makakabalik dito."
Mo responded with, "#IfJusticePrevails, you would be tried for murder, twice" but it was taken down and in its place was tamer tweet, "That seems like it could be a good hashtag, #IfJusticePrevails."
ADVERTISEMENT - CONTINUE READING BELOW
Ai-Ai comes to terms with the end of her marriage

1. Ai-Ai delas Alas and Jed Salang

The start: These two certainly wasted no time in hooking up. Ai-Ai and Jed reprotedly met on February 3, 2012 at Opus, a club in Resorts World Manila. She then threw a birthday party for him on the 17th of that same month, which also marked the first time they admitted that they loved each other. Ai-Ai was 47 and Jed was 26 when they met. Despite the age gap, the two proceeded with their whirlwind romance. They tied the knot on April 3, 2013 at The Venetian Resort Hotel Casino in Las Vegas, Nevada. When Ai-Ai finally admitted to the Philippine press that she had gotten married, she also disclosed that they were planning a church wedding on December 8, 2013.


The end: By May 3, 3013, Ai-Ai revealed that she and Jed had already separated. According to her The Buzz interview, she had ended the relationship because of Jed's "propensity for gambling, infidelity, and physical violence." She also said she believed Jed never really loved her. It was pretty clear by what she was saying that he seemed to be only after the comforts and luxuries she could give him. When asked why she held on to Jed for so long, Ai-Ai said it was because she wanted a "fairy tale," a life that would be made up of the happy moments highlighted in her Instagram account. Ai-Ai also disclosed later on that Jed was seeing someone else throughout their relationship.
ADVERTISEMENT - CONTINUE READING BELOW
The dirt: The public's sympathy was with Ai-Ai and netizens lost no time in bashing Jed. Shortly after Ai-Ai's The Buzz interview, her 19-year-old son Sancho threatened Jed via this tweet: "Jed wag kang lalabas ng Alabang wag kang lalabas ng Parañaque sana nakikita mo kung anong nangyayare ngayon." On May 29, ABS-CBNNews.com reported that Ai-Ai was filing charges against Jed for violating the Republic Act 9262 or the Act Defining Violence Against Women and Children. Ai-Ai had also sought a protection order that would require Jed stay 100 to 500 meters away from her.
Share this story with your friends!
---
Help us make Spot.ph better!
Take the short survey
More Videos You Can Watch
Load More Stories