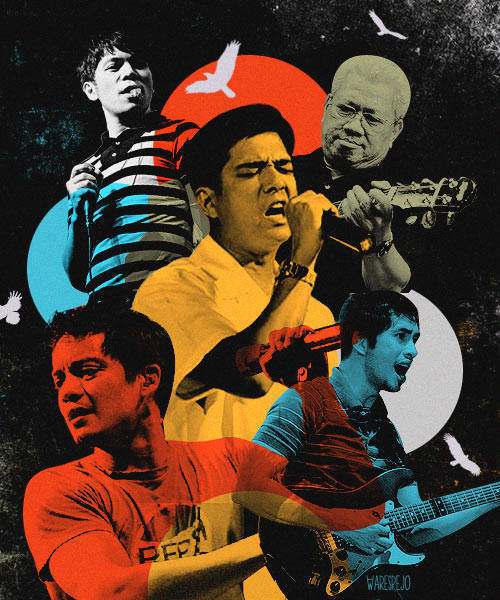 (SPOT.ph) We love to sing and the world calls our singing, ehem, excellent, so it makes sense that for Independence Day, we make a playlist celebrating being Filipino. It's pure coincidence that a lot of these songs make awesome karaoke numbers but we can't help but wonder: Could it be because they are about being Filipino that make them perfect for singing along? In any case, here are our favorite 10! Mabuhay ang Pilipino!
ADVERTISEMENT - CONTINUE READING BELOW
"Noypi" by Bamboo. Of course we start with Bamboo's seminal hit, "Noypi." It's been nine years since the song's release but every time we hear his solid declaration of "Hoy! Pinoy Ako!," our Pinoy hearts beat faster, our sense of Pinoy pride surging up and surging higher.
Orange and Lemons, "Pinoy Ako." A little less intense than Bamboo's "Noypi," O&L's "Pinoy Ako" is a steady celebration of being Filipino. It advises Pinoys to embrace being Filipino and to wow the world with our indomitable spirit. Then the plagiarism controvery happened, but by then, we've taken the song's message and remained happy and proud to be Pinoy.
"Tayo'y Mga Pinoy" by Banyuhay. This 1978 hit remains a favorite; remember how a telco recently revived and revamped the song for an ad campaign? Before that remake, Francis M made this gem of an OPM song in the 90s, a true hip-hop (or should we say Flip-hop?) tune. To think "Tayo'y Mga Pinoy" was only a finalist, not a winner, in the first Metro Pop Music Festival.
"Mga Kababayan" by Francis M. Speaking of Francis M, the legendary Pinoy hip-hop artist released Yo!, in 1990 with a theme so spot-on for what it's become today: The first commercially released Filipino rap album. "Mga Kababayan" is the first single off Yo!. Because of its hip-hop nature, it drove home a very important point: It's cool to be Pinoy.
"Ang Himig Natin" by Juan dela Cruz. It was released during a turbulent period in Philippine history-Martial Law had just been declared. As such, "Ang Himig Natin" became not just a rallying song for the burgeoning Pinoy Rock movement, but for the entire Filipino nation as well. It all sounds very serious until you learn that "Ang Himig Natin" was written inside the ladies' room, by Pepe Smith, who, legend has it, was tripping on acid five minutes before he went onstage at the Manila Observatory in 1972.
ADVERTISEMENT - CONTINUE READING BELOW
"American Junk," by APO Hiking Society. This APO song begs to be included in any patriotic playlist. The dialogues and the mispronounced words make it really funny, but the smart use of percussions right at the onset of the song ensures the message is not lost. "It's been so long since I had a glance of what I think I really am," Buboy, Danny, and Jim sing in the end.
"Tibay ng Pinas," by The Dawn. For celebrating the country's resilience and the Pinoy's fight-on attitude toward obstacles, "Tibay ng Pinas" deserves a spot here. Off The Dawn's 2009 Sound the Alarm, "Tibay ng Pinas" was used as the main theme for a documentary on tropical storm Ondoy.
"Isang Bandila" by Rivermaya. Before Rico Blanco split from Rivermaya, the band released Isang Ugat, Isang Dugo, primarily a covers compilation with only one original track, "Isang Bandila." With lyrics that affirm and confirm our oneness as a people-"Isang ugat, isang dugo, isang pangalan, Pilipino"-it's no wonder that ABS-CBN is using this 'Maya song for their latenight news program.
ADVERTISEMENT - CONTINUE READING BELOW
Francis M, "3 Stars and a Sun." We know, we know: Rules for making mixed tapes and playlists have it that you can't have two songs from one artist. But all rules have an exception, and for this mixed tape, "3 Stars and a Sun" is it. A Pilipinas patriotic playlist without Francis M's "3 Stars and a Sun" is incomplete for a few reasons: it pledges loyalty and love to the country, the fantastic inclusion of Tagalog in his rap, and the short call out to our long fight for independence.
Dicta License, "Ang Ating Araw." If we could dedicate a song to all the heroes who fought for the freedom that we're enjoying today, "Ang Ating Araw" would be it. It contains the necessary promises of a new day, of a better tomorrow, and all the words of encouragement our spoiled generation can offer.
Share this story with your friends!
---
Help us make Spot.ph better!
Take the short survey
More Videos You Can Watch
Load More Stories