Package Deal: Stars and Their Families in Ads
The families that do ads together, stay together.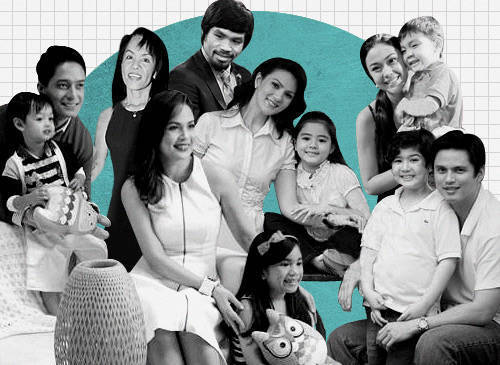 (SPOT.ph) Pinoys are known for being family-oriented-and celebrities are no different. Though they can't easily give their relatives roles in films, they can easily be one big happy family for ads. You see, close family ties probably sell more than sex when it comes to Pinoy ads. Here are some of the most interesting celebrity families with endorsements and their respective Spotty Awards.

ADVERTISEMENT - CONTINUE READING BELOW
The "Er, I'm With My Mom" Award for Aida Cruz, mom of John Lloyd Cruz

What can we say? The man can act. The "feeling awkward about doing a commercial with mommy" vibe is so exquisitely demonstrated. It almost seems real. And, hey, we dare say that Mommy Aida "out-cutes" JLC in this ad.
The Best-Looking Nuclear Family Award for Richard, Lucy, & Juliana Gomez

Each member of this tight little unit can sell almost anything from clothes, cough syrup, and other family-focused wares. They look great and we think they're trustworthy. Remember that before all these foreign endorsers came along, Richard was the face of Bench.
The Cute Single Mom Award for Jodi Sta. Maria (with son Thirdy)
If we could give a simple gold star to Jodi, we would. It's because she and son Thirdy are thriving as a mom-and-son pair and making the set-up feel normal. The kid seems truly jolly and she's not even using the single-parent aspect to sell these nuggets or anything else. She's just being a mom.
ADVERTISEMENT - CONTINUE READING BELOW
The Best Package Deal Award for Carmina Villaroel, Zoren Legaspi, and their kids
Let's face it, this gorgeous family can sell anything: apart from looking picture-perfect-the perfect canvas for skin ads (which they've done)-they're the perfect example of what a happy family should look like, a quality that can easily be translated to marketing family-friendly brands like milk (health), ice cream (bonding), telcom (communication), detergent (cleanliness). We have literally seen Carmina and Zoren's twins growing up before our eyes, eating ice cream, it's almost like we're part of their beautiful kin, too! You know what they say, the family that stars in commercials together, stays together.
The Beauty Queen Award to Gloria Diaz and Isabelle Daza
It's almost a coup to appoint this lovely mother-daughter tandem the Beauty Queen tag, but it just has to be said out loud. It makes us wonder if fighting nerve-aging would make us look this good, too!
ADVERTISEMENT - CONTINUE READING BELOW
The Most Supportive Husband Award to Ryan Agoncillo

Sure they appeared in this commercial as a family, but Ryan, the man in the family, gives the spotlight to his wife and kids. It's surprising how the producers of this commercial barely allowed the former conyo host-turned-actor to speak, especially when the ad was about reading. Instead, he ends up with a four-worder,"live happily ever after." He knows when it's Juday's time to shine.
Load More Stories