10 Best Celebrity PDA on Instagram
Somehow, celebrities are more carefree on Instagram.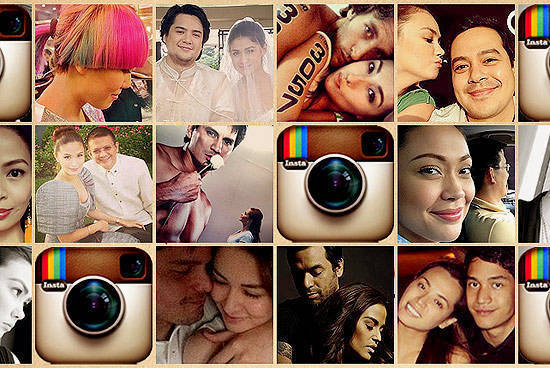 (SPOT.ph) Love it or hate it, Instagram has become yet another way for couples to show the world their love and affection to each other, stroking their followers' curiosity, and satisfying their voyeurism. Thankfully, celebrity couples aren't shying away.
While we admit to having rolled our eyes quite a few times at extreme cheesiness, who are we kidding? We're still hot on their trails, following them, and if we're being totally honest, eager for more. We've decided to use our overacting radar of cheesiness and paired it with our penchant for lists and ranked some of the public displays of affection we've recently come across on IG. It works the same as our other Top 10 Lists, with 10 being least cheesy and No. 1 being a rat trap.
ADVERTISEMENT - CONTINUE READING BELOW
10. Lucy Torres (@lucytgomez) on husband Richard. During the recent Bench x Ronnie Salvacion exhibit opening, Mrs. Gomez posted this photo of her checking out her husband, complete with an adoring caption. To be fair, they've been married for 15 years. There's not a lot of married couples who do PDA nowadays, right? So, this is a good thing.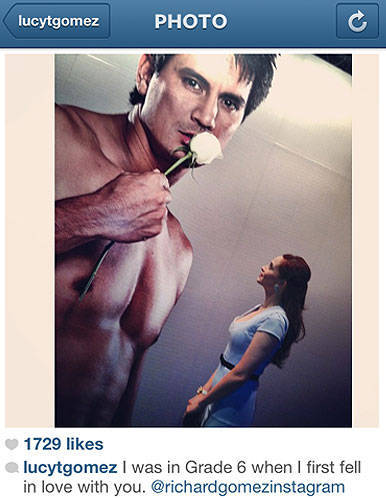 ADVERTISEMENT - CONTINUE READING BELOW
9. Solenn Heussaff (@solennheussaff). Who can blame Solenn Heussaff when she gets sentimental on IG? Long distance relationships are difficult. Still, when you come across goodlooking couples indulging in some PDA on a bad day, it can sometimes make you feel like you have less than you do. We're thankful though that Solenn and her boyfriend Nico Bolzico aren't too serious and mushy, and instead like to do wacky faces on camera. It makes such posts feel more sincere.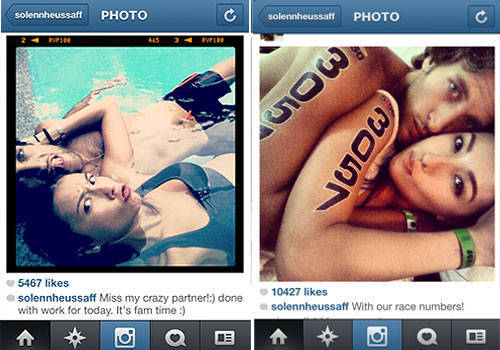 ADVERTISEMENT - CONTINUE READING BELOW
8. Ryan Vergara of Everywhere We Shoot (@ewws). While the IG name pertains to the husband-and-wife creative team Everywhere We Shoot, the Instagram account @ewws actually just belongs to husband Ryan Vergara. Friends and followers are used to seeing couple shots or documentations of the newly married couple nesting, or seeing Garovs' face, with sweet little nothings as caption. This post, thanks to its caption, takes the cake.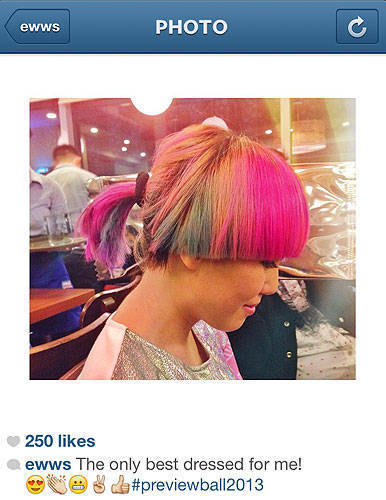 ADVERTISEMENT - CONTINUE READING BELOW
7. Jodi Sta. Maria (@jodistamaria). Granted, they're only playing their Maya/Sir Chief cards, but to take their own versions of one photo, together, at the same time? Whose cheesy idea was this?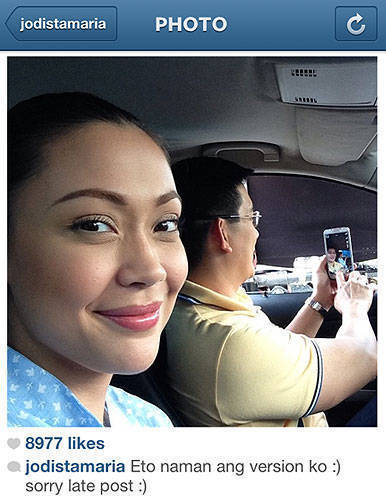 6. Geoff Eigenmann (@g_eigenmann420). Geoff takes advantage of the wedding scene he's taping with his real life girlfriend Carla Abellena for Rosalinda to celebrate their 14th month together. Between the wedding whites, the cord, the flower, and their "monthsary," the cheese factor of this photo is way up.
ADVERTISEMENT - CONTINUE READING BELOW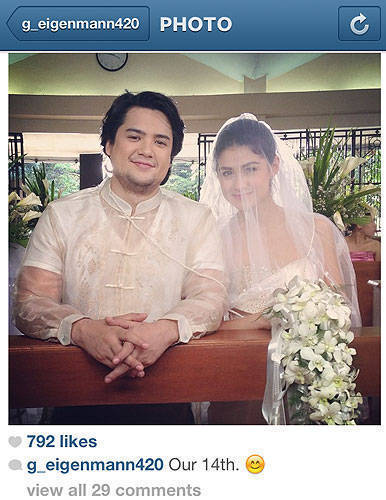 5. Marian Rivera (@therealmarian). While intimacy between Marian Rivera and boyfriend Dingdong Dantes is expected, we find this post from Marian is a little bit too in-your-face mushy. Couldn't help but wish they posted a photo of them kissing so at least, it's less cheesy and a bit more real. Their cloying smiles on the bottom right photo make us think that there seems to be a missing frame, (which should've been between the bottom left and the bottom right photos) and that it was a shot of a kiss that they decided not to share. What a tease!
ADVERTISEMENT - CONTINUE READING BELOW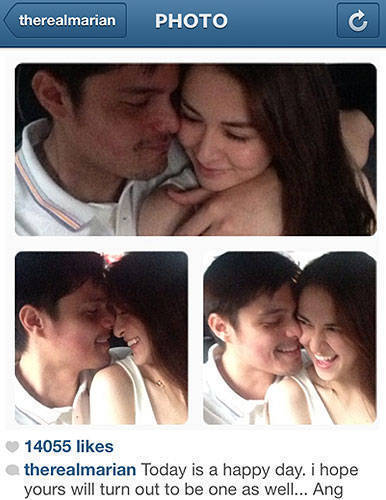 4. Bernard Palanca (@bjpalanca). Bernard Palanca is well and good on IG! He constantly posts photos of his dogs, himself, and his girlfriend Jerika Ejercito (daughter of Manila mayor Joseph "Erap" Estrada and Laarni Enriquez). Occassionally, he'd post couple pics of them, like the photo below. Now, check out their pose, their facial expressions, and the Bob Marley lyrics.
ADVERTISEMENT - CONTINUE READING BELOW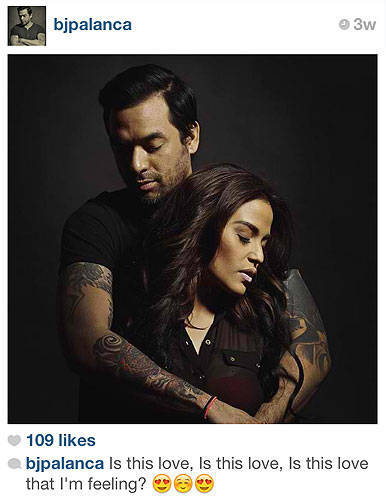 3. Angelica Panganiban (@iamangelicap). Angelica Panganiban "outted" her relationship with John Lloyd Cruz with her "Perfect Sunday" post last year, attracting droves of fans (and members of the press!) to follow her Instagram account. The actress regularly posts photos of her beau, or of the two of them together, with equally mushy heartfelt captions. Her IG is a treasure trove of PDA photos; below are just two to illustrate. The heart doodle on the left photo and JLC's silly grin on the right did it for us.
ADVERTISEMENT - CONTINUE READING BELOW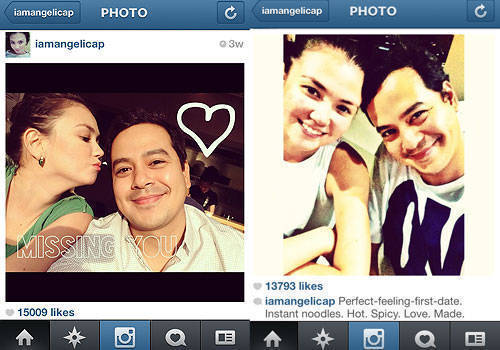 2. Divine Lee (@divinemlee). On her boyfriend's birthday last June, Divine Lee flooded Instagram with birthday posts one after another. This photo here, along with the caption, takes the cake. "Mumomoments Sunday?" Quoting Verni Varga? Would you like emmenthal, brie, or Divine Ms. Lee?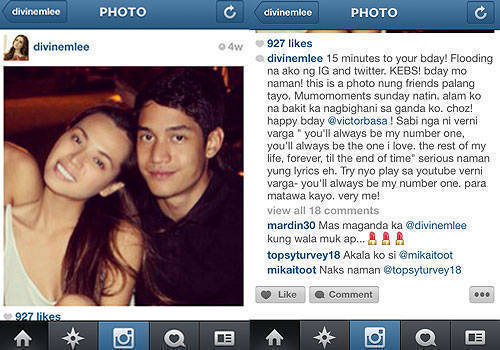 ADVERTISEMENT - CONTINUE READING BELOW
1. Heart Evangelista (@iamhearte). Perhaps it's safe to say that Heart Evangelista is the queen of Insta-PDA. Last March, one of her posts, showing her kissing Sen. Chiz Escudero, was picked up by media. There are many, many more photos of the couple-kissing, cheek to cheek, playing with dogs, or sharing a drink-on Heart's feed, we can't help but think: Who could be taking the photos? We chose two from the most recent ones she's posted. The one on the right shows the couple hugging with the caption, "I miss you." The one on the left has the couple sneakily demonstrating intimacy (Where is Heart's hand?) Just one more question: Who's taking these pictures?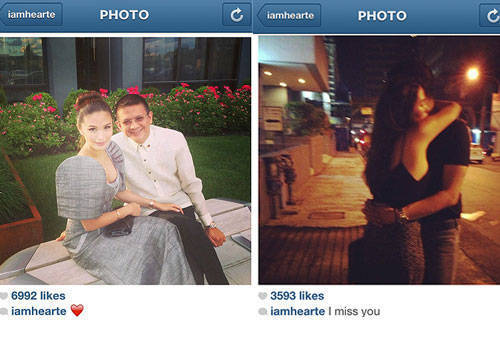 ADVERTISEMENT - CONTINUE READING BELOW
Recommended Videos
Load More Stories