Questions after watching Four Sisters and a Wedding
SPOT.ph blogger Ria Limjap on why good films perform only decently at the box office, while the not-so-good ones break records.
(SPOT.ph) If the numbers are to be believed, then it might be safe to say that Four Sisters and a Wedding is doing well, if not spectacularly well, at the box office. They claim P120 million since they opened on June 26, roughly two weeks ago. It's a fine number, at least in my book it seems like a shit ton, pardon my French. Also, I'm sure it's maybe five times more than what they spent making that movie. But in their books-where these millions matter-120 is less than half of 410, which is the magic number for (the truly awful) It Takes a Man and a Woman, which reportedly made 200 million in eight days. If both movies are big, studio-backed, glossy, commercially appealing, chock-full of big stars, and directed by the same person-then why is the good film performing only decently and the lousy film breaking records? How is this happening?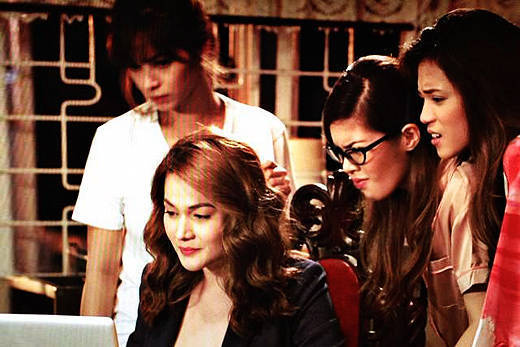 Four Sisters and a Wedding should be making a lot more. It is Star Cinema's 20th anniversary offering and received its share of massive advertising and promotion. It is directed by  Cathy Garcia-Molina, who is a bankable director to be sure, and is awesome when she has the right material-in this case, the story of a guy with four sisters who come together for their little brother's wedding. It's really an excellent dramedy originally from veteran dramatist and director Jose Javier Reyes, who is particularly good at painting the petty and poignant sides of people in close-knit relationships, especially those between strong women-as he did in his Cinemalaya 2012 film Mga Mumunting Lihim.
ADVERTISEMENT - CONTINUE READING BELOW
Four Sisters is also excellently cast, meaning they chose big names who were right for the role and who gave wonderful performances.  No scene stealing, no overacting (not for Star Cinema, anyway) and certainly no slacking off from A-listers Toni Gonzaga, Bea Alonzo, Angel Locsin, and Shaina Magdayao-especially not in the serene presence of Connie Reyes appearing in the mother role. Enchong Dee, as the youngest and only brother is as always a complete charmer. And even the comedic support from Carmi Martin (channelling a Francophile socialite, she is an instant camp classic), Buboy Garrovillo, Janus del Prado, and Angeline Quinto was just right, if a bit kenkoy. They are all pitch-perfect in this movie, dare I even include Sam Milby. Even the product placement is tasteful. Is it me, or is this just the rare occasion where everything works?
CONTINUE READING BELOW
Recommended Videos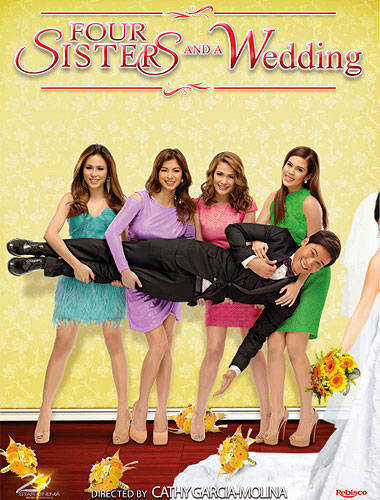 I think  Four Sisters and a Wedding sets the bar high for Star Cinema's 20th year. They made a film that was entertaining and emotionally resonant. It's clever but not alienating, certainly glamorized but also inherently true.
ADVERTISEMENT - CONTINUE READING BELOW
So why aren't people flocking to the sinehan like they did for other top grossing movies like Sisterakas and Praybeyt Benjamin? Is it because it was released in June, the start of the school year, where people are more concerned about spending on pambaon and school supplies?  Maybe there was a lot of big Hollywood competition on the week it opened? (June 26 releases, among others: Monsters University and The Bling Ring-haven't seen either.) Could it be the audience was still preoccupied with Man of Steel?
Perhaps the majority of the movie-going public just doesn't care to watch strong ensemble pieces about real people and real relationships. Perhaps they still prefer the ultra-escapist, mega-kilig, super-baduy to take them away from their dreary lives.
I just don't get it. The critical success-commercial flop model I kind of understand, it's not really nuclear physics. But will someone please explain why something good will sell mildly well but something worse-than-bad, as the Melanie Marquez saying goes, will "sell hotcakes?"
Hay.
On the bright side, there is always a lot to look forward to. Next week, there's Tuhog from Skylight Films-which looks like a Cinemalaya film that went straight to Star Cinema for distribution (not necessarily a bad thing). And because I love all things Eugene Domingo, I am definitely going to see that on opening day.


Also I cannot wait to see Erik Matti's On The Job, flush with success from Cannes, already primed for an American remake and set for international distribution.
ADVERTISEMENT - CONTINUE READING BELOW
I am curious to see how these films will fare in terms of ticket sales at the local box office. If there are no crass jokes and slapstick humor, no wigs and public declarations of love-will people even care? Will audiences pay to see a gritty suspense thriller starring matinee idols Piolo Pascual and Gerald Anderson? Will people come out to watch Eugene Domingo as a tough bus driver?  Is the movie-going public finally developing tolerance for the un-cute and hyper real? Are we learning to face the unhappy ending?
---
Help us make Spot.ph better!
Take the short survey
Load More Stories