Channel Surfing: 10 Pinoy Primetime TV Shows You May Want to Check Out
We try to clue you in on what's showing on weeknights.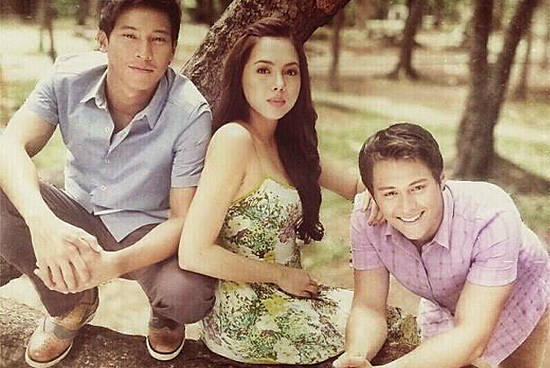 The stars of Muling Buksan ang Puso
(SPOT.ph) All the fuss over GMA Network's My Husband's Lover made us curious about what else local TV is serving up as primetime fare. Frankly, some of the offerings surprised us. Whether the surprise was a pleasant one or not is for you to find out. So, grab some Boy Bawang and scroll down for our brainless verdicts on the current weeknight shows aired by the country's three major TV networks.
Annaliza (ABS-CBN)

It's a traditional tearjerker-what with the title character being a rich family's kidnapped baby girl (eventually played by "tween-age" actress Andrea Brillantes) who grows up under impoverished circumstances. Plus, she gets abused by her unofficial mommy Stella (Kaye Abad). Her only consolation is that her unofficial daddy Guido (Zanjoe Marudo) loves her very much. It turns out Stella is actually the vengeful ex of Annaliza's real dad, Lazaro (Patrick Garcia), whom she wants to punish for dumping her all those years ago. Annaliza's real mom is Belle (Denise Laurel). Anyway, Stella is in cahoots with Makoy (Carlo Aquino), the man who actually kidnaps Annaliza. Zanjoe as Guido is quite believable, as he and Andrea have that parent-child cinematic chemistry. But we have to say it's disconcerting to see Kaye Abad being cruel to a child...even if it's just for show. Moral of the story: Be kind to the people you break up with...or they'll kidnap your kids. (In case you didn't know, this is a remake of the soap opera that starred the late Julie Vega in the title role.)

ADVERTISEMENT - CONTINUE READING BELOW
Juan dela Cruz (ABS-CBN)

The title character, who's supposed to defend people from aswangs, is played by Coco Martin. His weapon is an iron cross that can transform into different weapons such as a bow-and-arrow set, whip, spear, and sword. You could say that you don't want to cross him. It's been revealed that Juan is actually half-aswang and half-taga-bantay (guardian). Apparently his late mom Amelia (Mylene Dizon) belonged to a family of these divine "security guards." Juan's aswang genes have given him superior strength and night vision. His love interest is a woman named Rosario Galang (Erich Gonzales). Still, we keep waiting for Juan to say, "Yammee!"

Muling Buksan ang Puso (ABS-CBN)

Unless you've followed this series right from the start, this is one tangled tale that would make you scratch your head in confusion. Essentially, there's poor girl Marietta (Cherie Gil) and rich girl Carissa (Agot Isidro). They're half-sisters (same dad, different moms). They fall for a guy played by Jestoni Alarcon (who's some sort of shady character who uses the names Nicolas and Ricardo). Evetually both Marietta and Carissa get pregnant (we're not sure if they both got knocked up by the same guy) and give birth at the same place and at the same time. Carissa seeks refuge in Marietta's home after her mom Adelina (Susan Roces) throws her out for getting preggers out of wedlock. Marietta's mom Elvira (Pilar Pilapil) switches the babies. Now, we don't know who's who. Carissa raises Francis (Enrique Gil), while Marietta raises Sarah (Julia Montes). Marietta also has another child, Leonel (Enchong Dee). There's a love triangle thing going on but we don't know if that's really the case. We still can't get over the fact that Cherie Gil is playing a poor character. We like her all snooty, haughty, and full of hate.
ADVERTISEMENT - CONTINUE READING BELOW
Huwag Ka Lang Mawawala (ABS-CBN)

This is the telenovela where Judy Ann Santos plays Anessa, who marries a rich and handsome man named Eros (Sam Milby), who turns out to be physically abusive. In the first place, he just married her so he could help his family claim her family's land. He has a dalliance with bitchy and beautiful Alexis (KC Concepcion). Anessa, with her baby in tow, runs away from her horrid husband. Unfortunately, some gun-toting henchmen go after her. She gets shot and is left for dead. She's in a coma for a while but she eventually snaps out of it. However, she has lost her baby (she left the kid somewhere when she was pursued by the gun-toting baddies). A law enforcer named Alejo (John Estrada) is keen on searching for and helping Anessa but his wife Athena (Mylene Dizon) thinks something fishy is going on between them. But, don't worry, Anessa's on the mend and is set to kick some ass. Yes, we noticed nearly all the characters have Greek names. Judy Ann learned Krav Maga for this soap. KC is better as a villain.
Anna Karenina (GMA)

Krystal Reyes, Barbie Forteza, and Joyce Ching share the title role. They're all named "Anna Karenina" (Krystal is nicknamed "Anna," Barbie is "Karen," and Joce is "Nina") and are all being considered as the potential heiress of the Monteclaro fortune. (We initially wondered why they haven't opted for DNA testing, but a SPOT.ph reader informed us that DNA testing is not an option since the supposed mother of the Monteclaro kid is an adopted child and the Monteclaros don't know or have no contact with the man who impregnated her.) This is another tale that will make you go, "Anyare!?" The crazy thing we noticed about this show is that they've cast incredibly young actresses to be the girls' moms. One of them is Yasmien Kurdi, who is all of 24 years old. Consider the fact that Krystal is 16, Barbie is 15, and Joyce is 18. The numbers just aren't right. (In case you didn't know, this series is a remake of the 1996 original which starred Antoinette Taus, Sunshine Dizon, and Kim delos Santos.)
ADVERTISEMENT - CONTINUE READING BELOW
Binoy Henyo (GMA)

You get that the title is a play on the popular Eat Bulaga segment, right? It's about a little boy named Binoy (David Remo) who's a (what else?) genius. His mom Agnes (Sheena Halili) does her best to keep up with him. It's an upbeat story that easily cancels out the controversy of My Husband's Lover, which is also broadcast by GMA Network. It's cute and if we were tweens, we'd love it.
Mundo Mo'y Akin (GMA)

Perlita (Sunshine Dizon) and Rodora (Angelika dela Cruz) are two friends who happen to be low on the looks department. Rodora gets plastic surgery, becomes pretty, gives herself a new name (Giselle), and marries a rich man named Ziggy Carbonel (Gabby Eigenmann). The still-ugly-but-goodhearted Perlita becomes a maid in the Carbonel household without knowing that it's her buddy Rodora who's her employer. Perlita and Rodora get pregnant at the same time. Alas, Perlita's baby is pretty and Rodora/Giselle's isn't. Rodora/Giselle doesn't want Ziggy to know she was once ugly so she orders someone to switch the infants. Perlita ends up raising Marilyn (an uglified Louise delos Reyes) and Rodora/Giselle ends up with Darlene (Lauren Young). Yes, we're picking up a lot of good values from this show.
My Husband's Lover (GMA)

Vincent Santiago (Tom Rodriguez) is a gay man who's afraid of coming out. So, he marries a beautiful woman named Lally Agatep (Carla Abellana). However, he can't fight his feelings for Eric del Mundo (Dennis Trillo). We all know this by now. All we can say is, some scenes can be edited so they don't have to drag on so long. That whole bit with Lally in church and her phone ringing incessantly for ages was irritating. Get on with the good stuff, damn it!
ADVERTISEMENT - CONTINUE READING BELOW
Cassandra: Warrior Angel (TV5)

Cassandra (Eula Caballero) was separated from her family by the forces of darkness. Her mom and dad (played by Eula Valdez and Gabby Concepcion) are supernatural beings. Cassandra also has supernatural siblings. Apparently, it's up to Cassandra to find a way to reunite her family and save the world. Before she can do that, she has to hone her warrior angel skills with her assigned mentor Gabriel (JC de Vera), who appears to be blind (but he more than makes up for it with his other senses). Our plea to the people responsible for the show: Please stop making Gabby wear that crazy "angel" constume!

Misibis Bay (TV5)

It's a steamy drama starring Ritz Azul, who plays Maita, a former poor girl who got rich when she hooked up with still-hot-but-old-enough-to-be-her-father Anthony Cadiz (Christopher de Leon). As you can guess from the title, they own a resort. One of the best things about this mini-serye (it only has 30 episodes) is the fact that former screen siren Vivian Velez (playing Anthony's evil sister Miranda) is in it. Then, of course, hunks like Vin Abrenica, Victor Silayan, Daniel Matsunaga, and Luke Jickain are also on the scene, with the first three playing Anthony's sons and the last one playing a lifeguard. You can't beat a telenovela named after and set in the real Misibis Bay resort.
Undercover (TV5)

Famous investigator Roy Velasco (Derek Ramsay) is ordered kidnapped by a drug lord named Don Faustino (Phillip Salvador). He is held captive and tortured for years. His girlfriend Julia (Arci Muñoz) presumes he is dead and hooks up with his brother Alex (Wendell Ramos). Then, one day, Roy breaks free and he forms a team ala Mission: Impossible so he can hunt down those who stole years of his life.
ADVERTISEMENT - CONTINUE READING BELOW
Load More Stories