Higher Learning: 10 Pinoy School Movies
We list 10 Pinoy movies that fleshed out the highs and lows of school life.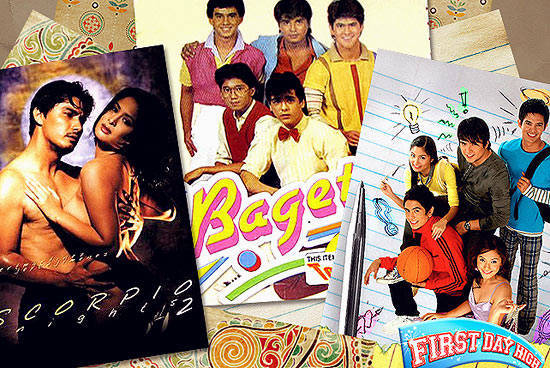 (SPOT.ph) In theory, we go to school to get educated. But we all know we end up learning other things besides how to find X-we get a crash course on life as we deal with "terror" teachers, peer pressure, and parental dictatorship. If we're lucky, we forge lifelong friendships along the way. Otherwise, we make enemies for life. (Go ahead and block that bully who now wants to be your Facebook friend. WTF!)
To mark the start of the school season and to reminisce about the days of uniforms, term papers, and class cards, SPOT lists 10 Filipino films that celebrated the highs and lows of school life. Hopefully, you'll feel nostalgic-or thank God you're no longer in school.
This article was originally published on June 23, 2010.
This pair is too busy learning love lessons.
1. Paano Na Kaya? (2010)
Reel deal: This is the story of best friends Mae Chua (Kim Chiu) and Bogs Marasigan (Gerald Anderson). She falls in love with him first and has to go through college seeing him fall in love with other girls. It's a classic "I'm in love with my best friend!" story and school is just incidental. We don't really wonder if Mae is able to study or not because her "love life" (or lack thereof) is more interesting.
Lesson learned: It's hard to stay "just friends" with a guy who looks delectable.
Bits and pieces: If James Cameron's Avatar (2009) had "I see you," then this movie has "Bogs, sana makita mo rin ako. Kasi ako... Ang nakikita ko... Ikaw lang," which was delivered by Mae.
ADVERTISEMENT - CONTINUE READING BELOW
Is it really that important to be a part of the "in" crowd?
2. First Day High (2006)
Reel deal: We like this college flick because it doesn't rely on angst alone. There's a mystery at the heart of the story. Everyone wants to find out who contaminated the drinking water of the basketball team. The film's various cliques are identified by their colors. The jocks go for red, the nerds have yellow, the posh girls love purple, the rebels wear black, and the nice kids don blue.
Lesson learned: What you wear on campus defines who you are. Seriously.
CONTINUE READING BELOW
Recommended Videos
Bits and pieces: The "color coding" concept is reminiscent of a memorable school-oriented Rexona commercial.
There's a wealth of corny jokes in this movie.
3. AB Normal College: Todo Na 'Yan, Kulang Pa 'Yun (2003)
Reel deal: An absurd comedy about three not-so-serious students of the fictional Cayetano Curimao College-Andres (Andrew E.), Dominic (Ogie Alcasid), and Miguel (Mikey Macapagal Arroyo)-joining a quiz show. A screwball film with gratuitous comic seduction scenes.
Lesson: Sometimes school should not be taken too seriously. (Take note of the word, "sometimes.")
Bits and pieces: Arroyo revealed that his character's name was chosen because it was also his father First Gentleman Jose Miguel "Mike" Arroyo's given name. (We feel for you, FG. Ugh!)
It's no wonder why Joyce Jimenez was dubbed as "Pantasya ng Bayan."
4. Scorpio Nights 2 (1999)
Reel deal: The first Scorpio Nights (1985), which was directed by Peque Gallaga, was one of the first local art films. It made such a huge impact in the film scene that it spawned a sequel. This time around, the story focuses on Andrew (Albert Martinez), a Physics professor, who is seduced by his oh-so-luscious student Valerie (Joyce Jimenez). The film was the launching movie of Jimenez, who stood out from the assembly line of sexy stars in the late 1990s. You see, the other girls were mere hipons (nice body, so-so face). Jimenez had an angelic face to go with her voluptuous body.
ADVERTISEMENT - CONTINUE READING BELOW
Lesson learned: Don't hit on your teachers. Please don't. (Unless, of course, they look like Albert Martinez. Relax. We're joking.)
Bits and pieces: This is the first film that Erik Matti directed.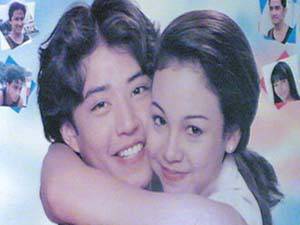 Mark Anthony Fernandez and Claudine Barretto were the hottest young stars back in the mid-1990s.
5. Mangarap Ka (1995)
Reel deal: Childhood friends Nonoy (Mark Anthony Fernandez) and Jenny (Claudine Baretto) are students at the University of the Philippines. Nonoy is a track star and the campus jock tag goes to his head. He takes Jenny for granted. Then, he suffers an injury. When his fair-weather upper-class friends desert him, he comes back to his senses.
Lesson learned: If you're poor but smart, you have a shot at making it big-but that doesn't mean you can infiltrate the sosyal crowd just like that.
Bits and pieces: Claudine and Mark became a real-life couple. There were plans of reuniting them in a television show, but things somehow didn't work out. What makes this film a real gem is that it is also a brilliant commercial retelling of the parable of The Prodigal Son.
ADVERTISEMENT - CONTINUE READING BELOW
Grunge-inspired fashion was all the rage back then.
6. Campus Girls (1995)
Reel deal: An all-girl barkada-played by Vina Morales, Donna Cruz, Donita Rose, and Geneva Cruz-goes through some major changes during their college years, threatening to ruin their friendship.
Lesson learned: Friendship doesn't exist in a vacuum. Some people-and events-are bound to test it.
Bits and pieces: The film was shot at the UP Los Baños campus.
We can't get over the too-colorful clothes.
7. Bagets (1984)
Reel deal: Hailed as an 80's classic, the film tells the story of five teenaged boys-Tonton (William Martinez), Gilbert (Herbert Bautista), Toffee (JC Bonnin), Arnel (Raymond Lauchengco), and Adie (Aga Muhlach)-in their senior year of high school. They also have to deal with peer pressure, parental injustices, and girl troubles.
Lesson learned: Growing up is a painful process. So, it helps to have your buddies with you. (Misery loves company anyway.)
Bits and pieces: The first installment was so successful that it spawned off a sequel, sans Muhlach, whose career was beginning to soar around that time. Most of the members of the original cast were retained, and a few new ones joined the sequel, most notably the late Francis Magalona.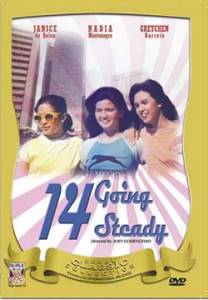 ADVERTISEMENT - CONTINUE READING BELOW
Girls just wanna have fun...and then some.
8. 14 Going Steady (1984)
Reel deal: Joey Gosengfiao's teen flick is a who's who of the cutest girls of 1980's: there's a very slim-and-cute Janice de Belen, tisay Gretchen Baretto, and Brooke Shields look-alike Nadia Montenegro. It's the usual teen story about adolescents trying to find their way through life. Janice is a type A student itching to be the top dog in the school paper. Nadia is a tomboy learning how to become a lady. Gretchen, meanwhile, is a poor girl trying to fit in with thesosyal crowd. Hmmm...
Lesson learned: Just be yourself, damn it.
Bits and pieces: Some of the most memorable scenes for fans include De Belen and Barretto driving around the city in a sports car and La Greta dancing a la Fame.
Some rites of passage don't have to continue.
9. Batch '81 (1982)
Reel deal: Directed by Mike de Leon, the film follows seven fraternity neophytes undergoing the embarrassing and often brutal initiation rites of fraternity Alpha Kappa Omega. The film's lead character is Sid Lucero (Mark Gil), a pre-med student who has an almost unwavering faith in what the frat stands for. The students, who start out timid and meek, resort to using violence when they become members of the fraternity. The film is said to be a veiled indictment of Martial Law.
Lesson learned: The meek do inherit the earth. But, once they do, they turn into monsters.
ADVERTISEMENT - CONTINUE READING BELOW
Bits and pieces: This film was screened along with another De Leon film, Kisapmata, at the Director's Fortnight of the 1982 Cannes Film Festival. Yes, same year, both in Cannes. As we all know, indie favorite Sid Lucero, Gil's son, got the inspiration for his screen name from this film.
This film about college life was marketed as a musical comedy.
10. Blue Jeans (1981)
Reel deal: This movie features Dina Bonnevie, Alfie Anido, and the APO Hiking Society. Naturally, the film also had song-and-dance segments.
Lesson learned: Knowing how to sing and dance goes a long way-whether in school presentations or in Pinoy showbiz.
Bits and pieces: The scene showing all three members of the APO Hiking Society trying to look up a girl's skirt is quite unnerving.
SPOT.ph wants to know: Which Pinoy school movie is on your list?
Art by Warren Espejo.
Image credits: KabayanCentral.com (First Day High, Scorpio Nights 2, AB Normal College, and Mangarap Ka), Video 48 (Batch '81), and Viva Video (Bagets).
---
Help us make Spot.ph better!
Take the short survey
Load More Stories