Love and Debosyon
SPOT.ph blogger Ria Limjap explores this Cinemalaya offering, which mixes elements of religion with indigenous folklore.
(SPOT.ph) I've always been a huge fan of the films of writer-director Alvin Yapan and producer Alem Chua, especially the ones that trace the intersection of harsh reality and folklore, love, and the insanity it brings. The Rapture of Fe (2009) is about a hard working and long suffering woman who is the recipient of various dysfunctional male attentions: abuse from her husband, passion from her lover, and the courtly affections of a mysterious suitor. The allure of this film lies in the delicate language in which it was wrought and the incredible performance of Irma Adlawan in the titular role-but the real hook comes from the unexpected element of myth, the exploration of what-might-be-there, that offering of ultimate escape which may (or may not) save Fe in the end.
Four years later, Yapan and Chua are back with a new film at Cinemalaya, and it feels like rightful follow-up to The Rapture of Fe. This time it is about a young man, Mando (Paolo Avelino in a star turn) from Bicol, whose devotion to Our Lady Peñafrancia will work miracles, only perhaps not those sanctioned by the Roman Catholic Church. A poor farmer, Mando has to go into the jungle to pick wild orchids to sell at the market to supplement their meager income. Despite his bayong being already full of white orchids, he sees the rarest of red blooms perched high on a branch. Reaching for the orchids, he falls from a tree and is knocked unconscious. Mando wakes up in the dark and after a surreal moment in the jungle, he meets a girl named Saling (Mara Lopez) who nurses him back to health and literally captivates him with her tender artlessness, her songs, and her gata-based cooking. Mando asks Saling to come back into town with him, but she refuses and says she cannot leave the jungle. He jokes about a curse and cannot know how serious she is about this sumpa that binds her to the land.  Love-sick and determined to win her, Mando joins the crush of people-the "poor banished children of Eve"-who come out en masse during the great procession for Our Lady of Peñafrancia. With every wipe of their sodden handkerchiefs, they hope to have their wishes fulfilled and sins forgiven by Ina, as she is known to her devotees.
ADVERTISEMENT - CONTINUE READING BELOW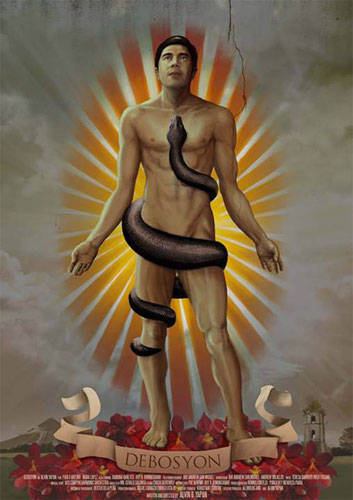 CONTINUE READING BELOW
Recommended Videos
Debosyon on the surface appears to be a "religious" film but as we peel back the layers we begin to glimpse the real heart of our faith: that unique combination of folk Catholicism, hope and blinding love, belief mingled with despair. Alvin Yapan's story is quintessentially Filipino-that is, a bit like a halo-halo, because it mixes elements of religion with indigenous folklore that has been embedded deeply into our consciousness perhaps even more than the prayers of the faithful. In this case, Yapan takes the Daragang Magayon myth-about the beautiful woman from the slopes of the perfectly cone-shaped Mayon Volcano in Bicol-and gives her story a contemporary twist. She bathes in the hidden falls but also does her labada; her flirtatious smile hides a terrible secret. The rebels who haunt the jungle know her as a witch, but Mando knows better. Throughout their (wonderfully outmoded) courtship where he helps her with chores and sings love songs to her with a guitar, Mando realizes that he has found The One. Propelled by his love for Saling, Mando risks life and limb for a miracle.
ADVERTISEMENT - CONTINUE READING BELOW
Wouldn't you?
Best of all, this enchanting film's original music (composed by Teresa Barrozo) was recorded by an actual orchestra, providing the perfect score for Dexter de la Peña's gorgeous cinematography.
***
The Cinemalya Philippine Independent Film Festival is on! Catch is at the Cultural Center of the Philippines, and selected Greenbelt, Trinoma, and Alabang Town Center cinemas. Check out the SPOT.ph Guide to Cinemalaya 2013: Cinesthesia
Share this story with your friends!
---
Help us make Spot.ph better!
Take the short survey
Load More Stories