Top 10 Reel Bosses You'd Hate Working For in Real Life
Meet 10 TV and movie bosses from hell who make your real-life boss look like a saint.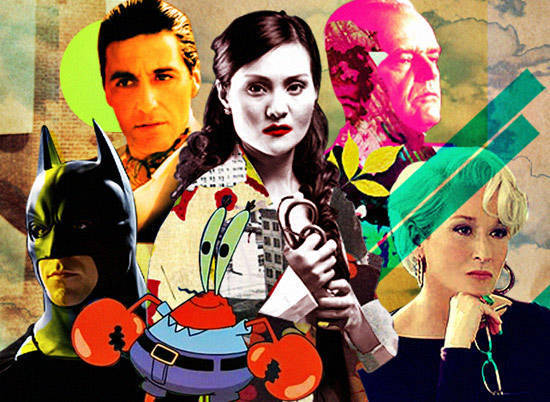 (SPOT.ph) When you're bound to a nine-to-five job, your boss is your judge, jury, and executioner. He or she can make or break both your career and your soul. To help you appreciate your real-life boss' quirks, SPOT lists 10 movie and TV bosses from hell.
This article was published on May 12, 2010.
Instead of memos, Miranda Priestly hands out cruelty like it's going out of style.
1. Miranda Priestly (Meryl Streep) in The Devil Wears Prada
Job description: She's the stylish, frosty editor-in-chief of Runway fashion magazine.
Management style: Though she makes you feel like dirt, you have this uncontrollable need to meet her oh-so-impossible standards and do whatever she asks-even if it doesn't make sense. Like try to book her a flight in the middle of a hurricane.
Bossy behavior: To test assistant Andy Sachs (Anne Hathaway), she asks her to get two copies of an unpublishedHarry Potter manuscript for her twin daughters. She also fires off passive-aggressive insults at her every turn.
When Michael Corleone calls you to a meeting, the agenda is sure to be lethal.
2. Michael Corleone (Al Pacino) in The Godfather
Job description: He's a calm, cool, and collected Mafia boss. Though he's not a stereotypical monster boss, he can easily ditch his conscience when he wants things done.
Management style: He's not going to look over your shoulder or do a surprise inspection on your turf as long as you deliver and play by his rules. Fair enough, right?
ADVERTISEMENT - CONTINUE READING BELOW
Bossy behavior: His brother and brother-in-law betray the family. His solution? Simple. He orders his henchmen to kill them.
Mr. Krabs has a very disturbing mentality.
3. Eugene H. Krabs or Mr. Krabs in Spongebob Squarepants
Job description: He's the crass and unsympathetic proprietor of the Krusty Krab who keeps overworking his two employees-Spongebob and Squidward.
Management style: He terrorizes his employees and, on occasion, instigates controversy so they would hate each other. This way, he's always in control of them.
Bossy behavior: He's so focused on hoarding money that he never listens to his employees' concerns. In fact, if he could get away with not paying them, he would.
CONTINUE READING BELOW
Recommended Videos
You'll know when Dr. Gregory House is in the house.
4. Dr. Gregory House (Hugh Laurie) in House
Job description: He's a medical genius who heads a team of doctors at the fictional Princetonâ€-˜Plainsboro Teaching Hospital in New Jersey. He find out what ails patients when other doctors can't.
Management style: He toys with his subordinates as often as he can. He subjects them to tests just to see if they measure up to his own abilities. He's too smart for his own good so, for him, there's no point in bonding with his underlings-not even in the name of team building.
Bossy behavior: He asks his subordinates to break into patients' houses so they can further investigate an illness. He's also fond of breaking the rules.   Since he walks with a limp, he uses it as an excuse to get what he wants.
ADVERTISEMENT - CONTINUE READING BELOW
Lavinia Arguelles can't share the spotlight.
5. Lavinia Arguelles (Cherie Gil) in Bituing Walang Ningning
Job description: She's a singing diva who thinks the world revolves around her.
Management style: A lot of people depend on her success and she never lets them forget it. She keeps her entourage in line by threatening to quit or throwing a tantrum.
Bossy behavior: She believes in the power of public humiliation. She also won't let any underling progress. It's a rat race and she wants to be the most fabulous rat of them all.
When your boss puts too much faith on Wikipedia, be afraid.
6. Michael Scott (Steve Carrell) in The Office
Job description: He's the manager of a fictional paper and printer distribution firm.
Management style: He constantly imposes his scatterbrained ideas on his employees. He also forces them to spend quality time with him-even when they'd rather be somewhere else.
Bossy behavior: He's a paper-pushing clown who keeps coming up with crazy ideas like racial segregation in the workplace and having his subordinates watch Entourage every Monday, during working hours.
Miggy Montenegro has got a huge chip on his shoulder.
7. Miggy Montenegro (John Lloyd Cruz) in A Very Special Love
Job description: He's the editor-in-chief of a newly-launched fictional men's magazine called Bachelor.
Management style: He's a dictator. He always lets his employees know that he's right all the time. The only way you'd stop yourself from beheading him is if you fall in love with him...because he's so darn cute.
ADVERTISEMENT - CONTINUE READING BELOW
Bossy behavior: He screams, throws things, demands coffee, and destroys presentations that don't meet his standards. Other than that, he's fine.
Col. Nathan Jessup still acts high-and-mighty even when he's so busted.
8. Col. Nathan Jessup (Jack Nicholson) in A Few Good Men
Job description: He's a commanding officer of the US Marines stationed in Guantanamo Bay, Cuba.
Management style: He's so by-the-book that it's scary. He believes in the chain of command. He indoctrinates weak-willed subordinates to always see things from his perspective.
Bossy behavior: When he gets wind of a private breaking the chain of command, he orders him roughed up. When the private ends up dead, he shows no remorse. As far as he's concerned, anyone who doesn't follow orders deserves to die.
Dr. Clarissa Briones is one mean...physician.
9. Dr. Clarissa Briones (Gladys Reyes) in Habang May Buhay
Job description: She's a doctor with her very own hospital.
Management style: She's a domineering capitalist who sees patients as cash cows. Thus, she tells her subordinates to be impersonal when it comes to dealing with sick people.
Bossy behavior: When she finds out that a patient doesn't have money, she orders her thrown out of the hospital ASAP. Then, to discipline an irreverent nurse named Jane C. Alcantara (Judy Ann Santos), she reschedules her shift and then some.
A boss who is reckless like Bruce Wayne is not easy to take care of.
ADVERTISEMENT - CONTINUE READING BELOW
10. Bruce Wayne/Batman (Christian Bale) in Batman Begins
Job description: He's a tycoon with various businesses and a secret life as a superhero.
Management style: He lets his money talk. He has a knack for hiring people who are devoted to him and don't ask for much. Case in point: His butler Alfred Pennyworth (Michael Caine) has remained his butler despite being like family to him.   Does this guy even pay for overtime?
Bossy behavior: He comes when he wants and he goes when he wants. His employees won't know if he'll be coming back alive or if they'll keep getting paid if he dies.
Art by Warren Espejo.
Image credits: Bebo.com (Mr. Krabs), ABS-CBN's Habang May Buhay publicity still (Gladys Reyes), screen captures from The Godfather, The Devil Wears Prada, and A Few Good Men.
Share this story with your friends!
---
Help us make Spot.ph better!
Take the short survey
Load More Stories