The Taxi Cab Playlist
Sing along with us...and manong driver!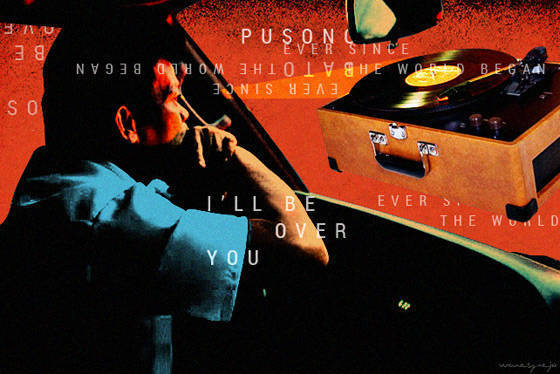 (SPOT.ph) The men may be different, the destination may change but one thing remains the same: music. Call us overly dramatic but there are some things that bring comfort when you're about to enter a stranger's car. You breathe a sigh of relief when you see some form of religious artifact like a rosary hanging on the rearview mirror but even if that fails, a familiar tune can help fascilitate a connection with Manong Driver. You know, so you can casually tell him that you value your life.
We've asked for help from Marco Harder, lead guitarist of The Purplechickens, to make a list of songs that have been played to death...or rather, played to immortality within the confines of a cab. Lean back and let us transport you to the (plush?) pleather seats of everyone's favorite mode of public transportation.
1. Jovit Baldivino, "Pusong Bato"
The drama behind this boy's rise to fame (or success; take your pick) can be heart-rending enough for some people to shed a tear or two upon hearing it. Baldivino was a former janitor who sang his way to stardom through a talent show. That said, I suspect that a large part of his appeal comes from the personal drama more than his capabilities; sure, the guy can carry a tune, but to my ears, he's nothing spectacular. More importantly, however, is the fact that tears of a different sort-those caused by a repeated assault of this song as opposed to feelings of emphaty-are bound to flow down your cheeks when you hear this as you traverse your way to wherever it is you hired your cab to take you.
ADVERTISEMENT - CONTINUE READING BELOW
2. Jireh Lim, "Buko"
Jireh Lim's "Buko" is so chock-full of trite aphorisms, pleas, and metaphors that have long since lost their rhetorical and emotive usefulness-i.e., so clichéd-that it almost feels an assault on someone's ears whenever it plays. The non-sequitur title notwithstanding, it appears like that the compositional process for this song was akin to a sick version of the stone soup story: let's put together everything we know (and have heard elsewhere), and pray something nice comes out.
3. Callalily, "Minsan"
With the recent overseas reunion tours, the Eraserheads are clearly gaining traction once more, not just among fans from the '90s but among millenials as well. This is a good thing for the most part, but as with any episode of nostalgia, the risk of defiling the immaculate golden past with the tawdry pewter of the present always runs high. But hey, one man's trash is another man's treasure, so if this is the rendition that will define this OPM classic for today's radio demographic, then so be it; this old horse will be content with the fact that the song is guaranteed to be in the memory of at least one more generation.
CONTINUE READING BELOW
Recommended Videos
4. Survivor, "Ever Since the World Began"
It's a videoke staple thus Survivor's anthem to humanity's shared destiny (and journey towards it) frequently keeps taxi regulars company; charging it to either a generational thing or a demographic phenomenon would equally work as a plausible explanation. But take heed: what has been heard-and misheard-cannot ever be unheard, so I offer a humble gift. Sing along to these lines in the chorus the next time you hear it: And we're just another piece of the puzzle / Just another part of the plan / an old man touches me, yahoo / It's so hard to understand. You're welcome.
ADVERTISEMENT - CONTINUE READING BELOW
5. Styx, "Babe"
Another karaoke regular, "Babe" is one of those power ballads that though dated, never seem to sound offensive. Quite easy to dismiss as another late '70s relic, but a welcome number anyway, seeing that while slightly tacky overall, Styx manages to ring true, although in a dated fashion.
6. Basilyo, "Lord Patawad"
While my generation had Blakdyak and his ilk to deal with, today's cab riders will find their reggae fix from Basilyo, whose track "Lord Patawad" talks about the apathy towards a deity in times of plenty, and the consequent return when coffers run dry. Not a new sentiment framed in a pop setting, check Rivermaya's "Faithless," easily the best song written on the subject.
7. Toto,  "I'll Be Over You"
The '80s seemed to be a time when unbelievably skilled musicians moved away from their progressive / experimental sound in the 70s and started making middle-of-the-road (MOR) albums. Toto's one such example and while this song does not in any way discredit their other brilliant albums (and their sterling musicianship), I still wonder what deal was made (and with whom) for them to write and record this sappy little number.
8. Angeline Quinto, "Kunin Mo Na Ang Lahat Sa Akin"
If you have been riding cabs for the past two years or so, you'll know that Papa Jack and his various imitators are more or less a staple among taxi drivers' radios from 10 p.m. to about 2 a.m. Most of these shows follow the love advice show format and during their interstitials, this song appears to have been getting a lot more airtime than usual. Pleading to a lover to return is a common theme in love songs, but reaching out to a rival in a self-deprecating and almost submissive tone is pretty new (the only other song I can think of that has a remotely similar dynamic would be the Beatles' "You're Gonna Lose That Girl," but even then the latter takes a threatening stance). Plus points for the lyricist taking the road less traveled.
ADVERTISEMENT - CONTINUE READING BELOW
9. The Platters, "The Great Pretender"
Sunday cab rides are often good venues for checking if radio nostalgia has finally claimed your salad days as part of its territory. For the most part, however, radio stations still play hits from the '50s and '60s. This anthem about the charlatan, the huckster, and the fraud still remains a regular.
10. Air Supply, "Making Love Out of Nothing at All"
An earnest love song in all respects, but one has to wonder what he really means when he sings the ultimate chorus line: is he really trying to make love out of nothing, or making do with what he has, uhm, at hand? We leave it to your very capable minds, dear reader.
Share this story with your friends!
---
Help us make Spot.ph better!
Take the short survey
Load More Stories