10 Reasons Why We'd Keep Watching Got to Believe
And we know you'll watch it, too, even if you say you won't.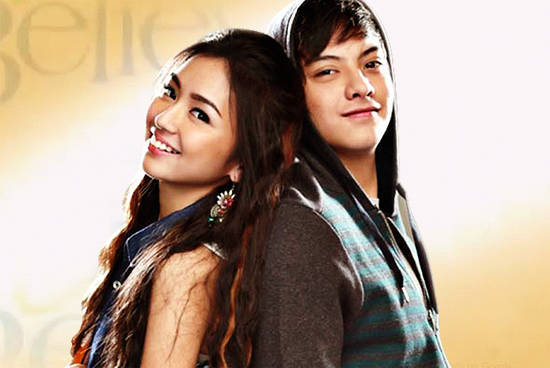 (SPOT.ph) Got to Believe, ABS-CBN's newest addition to its primetime line-up, premiered on August 26. It stars the love team of the moment, Daniel Padilla and Kathryn Bernado. That's KathNiel, for you. We list the 10 reasons why we believe we'll most likely keep watching it:
Teaser trailer. Chichay, the spunky heroine, muses, "Ang love pala, parang magnanakaw. Hindi nagpapaalam (Love is like a thief. It doesn't ask permission)." What do you expect? The cheese factor is truly off-the-scales.
1. It's got a great supporting cast. The show has Ian Veneracion, Carmina Villaroel, Manilyn Reynes, and Benjie Paras playing the parents of the show's teen hero and heroine. Though we don't like being reminded that we're getting old, it's a joy to see the foursome really getting into their characters. Former sexy star Jancie Jurado, former beauty queen Nina Ricci Alagao, and former bold films idol Al Tantay are also in the show. (At some point, Lilia Cuntapay also turns up.)
2. Its title is from a David Pomeranz song. The show's theme song is also the classic Pomeranz anthem, "Got to Believe in Magic." We may all claim to be tired of hearing the song, but Pomeranz is like some sort of Cheesy Pied Piper. We will watch the shows that play his song even if we don't really want to sometimes.
3. There's a carnival. The Tampipi family, which is composed of Chichay (Kathryn Bernardo, the heroine), Betchay (Manilyn Reynes), and Chito (Benjie Paras), work at a peryahan to augment their income. In keeping with Pinoy telenovela tradition, they're poor but noble and happy with each other.
ADVERTISEMENT - CONTINUE READING BELOW
4. The magic of Manilyn Reynes. Early on in the soap, regular girl Betchay captures the heart of the tall and tisoy Jaime Manansala (Ian Veneracion). Sure, she's cuddly instead of sexy, but you believe that a catch like Jaime would fall for her because she's so darn spunky and sweet. Of course, he cheats on her later...but that's his fault and not hers. (He ends up with someone else and so does she.) Manilyn's in her element here, still successfully puling off being cute without being annoying. No wonder she was once dubbed as the "Star of the New Millenium."
CONTINUE READING BELOW
Recommended Videos
5. Ian Veneracion is hot. Yes, we loved him when he was a child star, a teen star, an action star, and now a soap star. He looks like an alpha male but he projects such a gentle vibe. It's a combination that makes Pinays swoon.
Top twosome. Joaquin and Chichay are the network's latest star-crossed sweethearts. He's brooding, she's cheerful. He's rich, she's poor. He's mysterious, she's guileless.
6. Carmina Villaroel is a superb meanie. As the dominant Juliana Manansala, Carmina Villaroel could give Amor Powers a run for her money. She may not be as ruthless, but she can stop people in their tracks by just raising an eyebrow.
7. The effortless father-daughter chemistry of Kathryn and Benjie. Benjie Paras may not have a daughter in real life, but he sure seems like he's used to raising a teenage girl when he interacts with Kathryn Bernardo. Their scenes make you feel like you're watching a Disney movie.
ADVERTISEMENT - CONTINUE READING BELOW
8. Chinggoy Alonso and Joonee Gamboa kick ass. The former plays Ronaldo San Juan (father of the domineering Juliana), a character that commands respect from his minions, which includes his daughter. The dapper Mr. Alonso is always spot on with his character's alta sociedad rants and buena familia pretensions. Meanwhile, the latter plays Isko Tampipi, a wise old man who can give Confucius a run for his money.
9. The hero has a bullet in his head. It goes without saying that we see Daniel Padilla's appeal. He plays rich boy Joaquin, who has a bullet lodged in his head. You see, a stray bullet hit him in the head when he was young and the doctors had to leave it there or they'd do more damage if they took it out. At least, that's according to telenovela logic. But, hey, that sounds cool. It gives him that hard-to-resist bad boy edge.
10. There's something about Kathryn Bernardo. The show's teen heroine has the kind of look that grows on you. She's pretty to begin with, but there's that unnamed factor that makes you want to keep looking at her. She may just be one of the next big female stars from her network.
Got to Believe airs on weekday evenings at 8:25 p.m.
Share this story with your friends!
---
Help us make Spot.ph better!
Take the short survey
Load More Stories