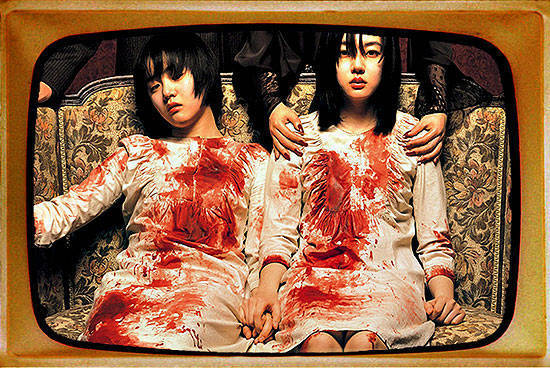 (SPOT.ph) The image of a white-faced girl, hair all over her face, eyes wide open, and moving at halting, awkward angles. It's an image movie-goers-whether they're horror fans or not-won't forget any time soon. There's campy, there's creature feature, there's ghost, there's zombie, but Asian horror is a class on its own. Truly terrifying and effortlessly horrible, it has in the last 15 years definitely set a global standard that redefined the industry. We pick out our 10 scariest.
10. Whispering Corridors (1998)
South Korea
Directed by Park Ki-hyeong
The ghost of a young girl continues to lurk around the halls of a private school. Despite deaths and growing fear in the school, the events are hushed up to cover for the physical and psychological abuse inflicted on the students. The film was made to reflect the effects of the recently concluded military dictatorship in the educational system.
This film is the first in the Whispering Corridors film series.
9. Perfect Blue (1997)
Japan
Directed by Satoshi Kon
Popstar Mima Kirigoe decides to pursue a career in acting, which displeases some of her fans. A particular stalker named Me-Mania goes to great lengths to tell Mima that the career move was a bad idea.
8. Pulse / Kairo (2001)
Japan
Directed by Kiyoshi Kurosawa
Spirits from a different realm cross over to reality as more and more people are consumed by alienation and isolation brought about by the Internet and modern technology. Don't cross any doors with red tape stuck on them.
7. Dumplings (2004)
Hong Kong
Directed by Fruit Chan
Originally from the horror compilation Three...Extremes, Dumplings retells Mrs. Li's quest for youth with the help of Aunt Mei's very, very special dumplings.
*Also recommended: Three...Extremes, with sequences done by Park Chanwook and Takashi Miike
6. The Road (2011)
Philippines
Directed by Yam Laranas
A mysterious car accident in a dark road leaves two dead and one missing. The police organize a search party for the missing girl and the investigation leads to strange revelations about the past.
5. One Missed Call / Chakushin Ari (2003)
Japan
Directed by Takashi Miike
A group of friends receive strange phone calls from their own numbers, which is essentially an eviction notice before they get violently kicked out from the land of the living.
The film spawned a sequel and a TV show in 2005, a third film in 2006, and was remade in the US under the title One Missed Call starring Shannyn Sossamon in 2008.
*Also by Takashi Miike: Audition, less supernatural but arguably scarier.
4. The Tale of Two Sisters (2003)
South Korea
Directed by Kim Ji-woon
A psychological thriller where two sisters return home after a stint at a mental facility only to be harassed by disturbing events supposedly caused by their stepmother.
The Uninvited (2009), starring Emily Browning and Arielle Kebbel, is an American retelling of this Korean thriller.
*Also by Kim Ji-woon: I Saw the Devil, less supernatural but without a doubt scarier.
3. Shutter (2004)
Thailand
Directed by Banjong Pisanthanakun and Parkpoom Wongpoom
Never mess with an ex. A former girlfriend haunts her lover and forces his friends to commit suicide in an act of gruesome revenge. As he tries to look for her ghost, he finds her in the most unlikely place.
Joshua Jackson and Rachael Taylor starred in the US adaptation of Shutter in 2008.
*Also by Bankong Pisanthanakun and Parkpoom Wongpoom: Alone
2. Ju-on: The Grudge (2002)
Japan
Directed by Takashi Shimizu
The third in the Ju-on series is arguably the most popular. Shimizu's masterpiece is divided into six shorts that, in the end, turn out to be interconnected. A caretaker discovers the grisly history of murder and death in the house her ward resides in and she involuntarily becomes a victim herself.
Sarah Michelle Gellar and Bill Pullman star in the 2004 US adaptation also directed by Shimizu.
1. The Ring/Ringu (1998)
Japan
Directed by Hideo Nakata
Reports of people dying after viewing an unmarked videotape has a reporter digging, especially when her niece becomes one of the victims. After watching the disturbing video herself and realizing that the curse is real, she traces back the history of the tape and finds herself on a strange island where she must attempt to break the killing rampage to save herself and her son.
As Japan's highest grossing film, Ringu spawned two sequels, Rasen (1998) and Ring 2 (1999), as well as a prequel, Ring 0: Birthday (2000). Gore Verbinski directed the first American adaptation, The Ring (2002), while original Japanese director Nakata took charge of its sequel, The Ring Two (2005). Both starred actress Naomi Watts. Korea also produced its own retelling.
Share this story with your friends!
---
Help us make Spot.ph better!
Take the short survey
Load More Stories