MOVIE REVIEW: Kung-Fu Divas
This collaboration between Ai Ai and Marian yielded surprisingly great results!
(SPOT.ph) Beauty pageants, trained assassins, mystical potions, tyrant warlords, plastic surgery, and lots and lots of Kung Fu action-if you try to compress all of those (and more) in one film and you manage not make it look like a terrible lovechild between Joel Schumacher and David Lynch, then you will have Star Cinema's sharply-written comedy Kung Fu Divas.  This new film starring comedy linchpin Ai Ai Delas Alas and matinee idol Marian Rivera is an absurdly wild comedic experience that is glued together by a well-conceived plot.  And though it may seem like a complex cluster of different pop culture references, Divas pulls everything together neatly and with almost no fluff. And with all the visual complexities and satirical remarks imbedded in the narrative, it never forgets to do what it is supposed to do-make us laugh.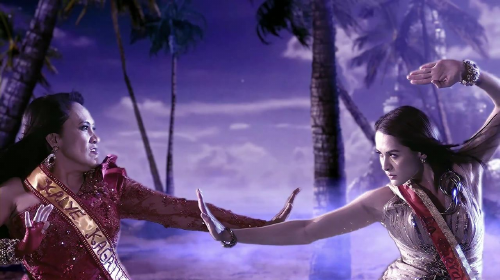 One of the key strengths of the film is how it pokes fun into the varied facets of modern Filipino culture while managing to stay away from being preachy. Our story is centered on Charlotte (Delas Alas), a quintessential "probinsyana" who is blinded by the worldly degradation offered by what is commonly known as "the beauty pageant." And after many attempts she finally comes close to her ultimate goal. It's a sure-win, as her beauty, charm, and years of experience prove no-contest against her competitors. But lo and behold, an out-of-nowhere rival named Samantha (Rivera) arrives and snatches her dreams in a snap. And soon enough, the fury between the two escalates and concludes in an all-out, VFX-laden combat that is worthy to be mentioned alongside the outlandish fun of Scott Pilgrim Vs. The World. The altercation, however, is interrupted by a shirtless man who looks like he's been built in a lab somewhere-wash-board abs, chiseled physique, the works.
ADVERTISEMENT - CONTINUE READING BELOW
He saves them both from a band of assassins and they follow him via a trail of, well, panties. (Apparently the shirtless dude is the epitome of the term, "Makalaglag-panty"). Soon enough it is revealed that the two have a forgotten link to a mystical past-a past that will have them work together to discover their true nature. All this while they try to save a mystical land from a tyrannous warlord,  magnificently played by the ever-entertaining Roderick Paulate. And what happens next is a topsy-turvy martial arts adventure that infuses the tongue-in-cheek humor of satirical comedy, the over-the-top wire work of old Chinese Wuxia films, and an absurdly massive amount of CGI.
CONTINUE READING BELOW
Recommended Videos
The filmmakers lucked out on their casting Delas Alas-the veteran comedienne can light up any scene with her natural flair for comedic timing and theatrical panache. And though this may not be the best we've seen from Marian Rivera, her efforts alone to keep up with Ai Ai are well-toned enough to carry the plot to where it has to go.
Altogether, Divas is a film that will be worthy of your money. The clunky CGI and stunt-work may force you to make Hollywood comparisons, but that's well compensated by the ardent humor the film brings to the table. The convoluted narrative, however, once inspected closely, will shine a light on most of our country's societal holes. There's the pressure on women to live up to standard notions of beauty; also the role of women in the intrinsically paternalistic nature of provincial life; and the true definition of what beautiful is to the common masses-and how far will we go to achieve it. The director, Onat Diaz, knows how to handle his material, no matter how absurd the elements are. A true definition of a great filmmaker is how he can get everything to make sense-even if the premise itself might not make any sense.
ADVERTISEMENT - CONTINUE READING BELOW
And Diaz, perhaps in a wild creative frenzy, embraces the absurd nature of this premise and majestically used an "unconventional" sense of reality to present a story that, quite honestly, reveals much about our reality today. It is quite genius, really. And what makes it more effective as a pseudo-social commentary is the fact that it uses humor, not drama, to send the message across. Like a Trojan Horse of sorts, it enters the mainstream looking like your average 2-hour laugh marathon; but as it enters your consciousness, it becomes something else-something better.
Rating: •••• 4 out of 5 spots.
Share this story with your friends!
---
Help us make Spot.ph better!
Take the short survey
Load More Stories