SPOT.ph Staff Picks: Scariest Non-scary Movies
They're not exactly horror movies, but these films give us the willies.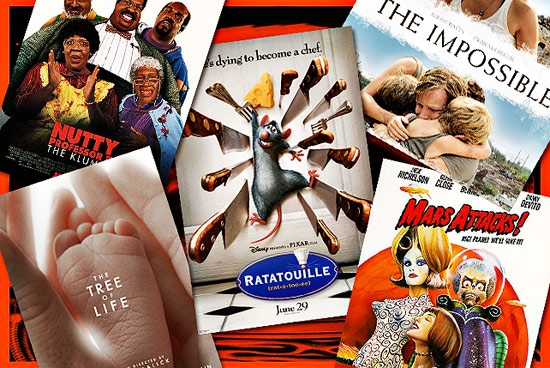 (SPOT.ph) It's not just horror movies that make our spines tingle. Some movies that aren't meant to be scary actually are, because it taps into a phobia, or just makes us feel squeamish. In the spirit of Halloween, we thought we'd share our picks of movies that scared us...even when they weren't supposed to.
ADVERTISEMENT - CONTINUE READING BELOW
CONTINUE READING BELOW
Recommended Videos
Do you have your own scary non-scary movies? Share your favorites in the comments section below!
Tricia, Editorial Assistant
Mars Attacks! (1996)
Directed by Tim Burton
Tricia isn't usually fazed by aliens...and alien attacks. But this seemingly trippy movie about alien invasions takes the cake. It could be the disgusting-looking brains of the aliens or the creepy song being played towards the end, or maybe Tricia watched this when she was younger and it spooks her still. Either way, this movie is terrifying.
An American Tail (1986)
Directed by Steven Spielberg
Tricia doesn't like rats. Add to that the fact that she also has a fear of getting lost in sketchy places. She doesn't need to explain much, other than to say that a young rat getting lost on a boat at sea doesn't exactly give her a warm fuzzy feeling. It's nauseating, to say the least. Oh, and the song "Somewhere Out There" makes her cringe.
ADVERTISEMENT - CONTINUE READING BELOW
Sasha, Staff Writer
Jack and Jill (2011)
Directed by Dennis Dugan
They say that everything God made is beautiful, but Adam Sandler posing as a heavyset woman? It's not even close to pretty. How Sandler's comedy has sunk so low scares former fan Sasha, who cherished old Adam Sandler-Drew Barrymore rom-coms. If Jack and Jill hints at the future of comedy, then we must be terrified. (Thankfully, we have the wonderful works of Tina Fey, Russell Brand, Judd Apatow to keep that from happening, though that's a different story.) Was it the terrible rough editing? The tired toilet humor? The overused cross-dressing plot? The multi-portrayals that went out of style with Eddie Murphy? The surprise star-studded cameos that attempted to blind fans from the bad plot? Jack and Jill is just a joke that went badly and we were not in on it.

If Happy Gilmore Sandler saw this train wreck, he'd probably go ballistic.
ADVERTISEMENT - CONTINUE READING BELOW
The Tree of Life (2011)
Directed by Terence Malick
Call her a non-intellectual, but if Sasha wanted to watch a screensaver go on for two hours, she would prefer to stare at her monitor at home and save P200. The vibrant images of mitosis and asteroids that appear almost at random, then the sharp cut to the family life of the O'Brie's...Is this the meaning of life or just oddity?

Or maybe she just didn't connect with Terence Malick's exhibition of life and infinity and experience and being-the realization of which is, in a different way, also scary.
Aya, Staff Writer
Idiocracy (2006)
Directed by Mike Judge
Aya, our staff writer, is afraid of idiots (who think they're right). She's not an evolutionary biologist but she has some grasp of how natural selection works and she fears that we are currently living in a society that favors ignorance over intellect. If ignorance is a preferred trait, then it means it will propagate. This movie is the stuff of her nightmares because it could happen. If you ask her, it's already happening.
ADVERTISEMENT - CONTINUE READING BELOW
Happy Feet (2006)
Directed by George Miller
The other thing that Aya is afraid of is the perspective gun from The Hitchhiker's Guide to the Galaxy. It's a gun that forces you to see exactly how insignificant you are and she imagines that when you get shot by this gun, the scene where Mumble is trapped inside the zoo and the camera zooms further and further and further out plays in your head. It's one of the most terrifying scenes she has ever seen in cinema history.
Jewel, Managing Editor
Nutty Professor 2: The Klumps (2000)
Directed by Peter Segal
Two words: giant hamster. For Jewel, who is afraid of small furry animals, a giant hamster is a most terrifying monster. To make matters worse, the demented minds behind Nutty Professor 2 show the giant hamster pooping and getting frisky. They should have just stuck with the Professor Klump/Buddy Love metamorphosis.
ADVERTISEMENT - CONTINUE READING BELOW
The Polar Express (2004)
Directed by Robert Zemeckis
Jewel won't be riding aboard the Polar Express anytime soon. This motion capture computer-animated film might boast of technical wizardry, but the end result is creepy digital children resembling plastic mascots or wax museum figures. Inmates in a Florida jail have seen this movie over and over again for lack of options. One inmate described the experience as akin to water torture. Talk about cruel and unusual punishment.
Jo, Editor-in-Chief
Ratatouille (2007)
Directed by Brad Bird
Sure, it's cute. If you like the idea of rats preparing your food. Yes, we know we're supposed to suspend disbelief, but Jo cannot get over the scene where the ceiling caves in and you see rats. All. Over. The. Place. Remy is a nice enough hero, but the thought of a grey rat in someone's hair? It's enough to give us nightmares.
ADVERTISEMENT - CONTINUE READING BELOW
Cloudy with a Chance of Meatballs 2 (2013)
Directed by Cody Cameron and Kris Pearn
The thought of giant, mutated food scares Jo, especially when it's a giant cheeseburger with legs and red sesame-seed eyes. We know they end up being friendly and non-threatening in the movie, but it was too late-we couldn't get the image of the giant cheeseburger out of our heads.
War, Art Director
Joe's Apartment (1996)
Directed by John Payson
War thinks this cockroach-centric movie should be outlawed. One cockroach is gross, two are revolting, but a whole intrusion? We can't even talk about it.
The Impossible (2012)
Directed by Juan Antonio Bayona
This film about the 2004 tsunami disaster gets to War. We can't live without water, but we surely can't live in it either. You can boast about your rock hard abs but it (and the rest of you) is still soft flesh. Rushing water destroys wood and concrete.


ADVERTISEMENT - CONTINUE READING BELOW
Load More Stories