MOVIE REVIEW: Transit
The award-winning film will be screened at the UP Film Center this week.
(SPOT.ph) When you're not part of the process, an event seems pretty simple. A plane arriving or departing doesn't seem to involve a lot, just an oversized toy gliding through the air. The engineering within the aircraft almost seems like magic if you have no background in aeronautics. Imagine how different it looks to people who build planes-how much they appreciate the design and...er, other things. And then there are pilots, who also look at flight in a different way. They pour hours that amount to months and maybe years into moving around in the air. And then you have passengers, forced to be inside a relatively small space because of a common vacancy in time.
That is Hannah Espia's Transit. It is tempting to call it quiet but rather than being devoid of sound, it's cleverly muted. It does not want something to say, it wants to say something-and this play on words is just an approximation of the careful thought that Espia and co-writer Giancarlo Abrahan placed on the world they constructed.
ADVERTISEMENT - CONTINUE READING BELOW
The film begins with Moises and Joshua, played by Ping Medina and Marc Justine Alvarez, inside an airport. It seems like a fairly normal sight but slowly, the film builds the context of the scene through interlaced narratives of life in Israel and we gradually grasp the weight of his departure.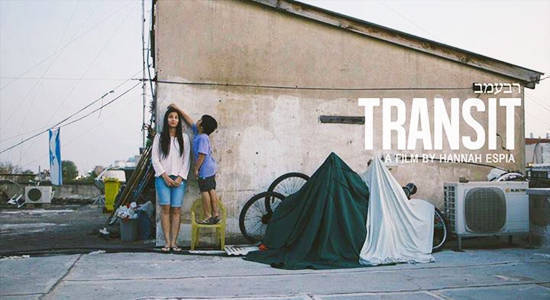 ADVERTISEMENT - CONTINUE READING BELOW
Weaved within the tale is Moises' helpful neighbor, Janet (Irma Adlawan). The two parents live in constant fear of losing their respective children due to stricter immigration laws. Janet spends most of her time watching over both Joshua and her own daughter, Yael (Jasmine Curtis-Smith)-much to the latter's dismay. Yael doesn't speak a word of Tagalog, born and raised in Israel but estranged from her Israeli father, which makes her helplessly disconnected to the distress that her mother feels at the thought of deportation and the home being forced on her.
The introduction of Tina, played by Mercedes Cabral, offers a larger sounding board for these thoughts. Whether her melodrama that seems so large compared to Adlawan and Curtis' contained actions was intentional or not, it highlights the difference between the life that the characters built in Israel and the life that most Filipinos have to deal with-loud and harsh. It's almost a pity that we don't explore what happens to her but the film makes a conscious effort to declutter, to steer clear of the usual theatrics that hides more than it shows.
ADVERTISEMENT - CONTINUE READING BELOW
The conflict within the children run deep, resulting in quiet confusion that needs no gaudy pieces to draw your attention to it. The film makes good use of the environment that the characters are in-still and stark, framed and shot with motivation. The film has already won several awards but its true merit is in being a film with actual substance supported by style.
There is a scene where Yael and Joshua measure their height against a wall on the rooftop of their apartment. This is where they literally grew up. Transit raises very important questions about home, and essentially, race.  The stand-up comic George Carlin has a spiel that begins with, "I could never understand ethnic or national pride. Because to me, pride should be reserved for something you achieve or attain on your own, not something that happens by accident of birth."
How important is race in the question of identity? What do the lines in maps mean when you're looking for home?
ADVERTISEMENT - CONTINUE READING BELOW
Rating: •••• 4 out of 5 spots.
Suggested read: On the Spot with Hannah Espia
Hannah Espia's Transit will be screened on the following dates at the UP Film Center
November 6 and 7 at 5 p.m. and 7 p.m.
November 8 (with Q & A with Filmmaker, Production Staff and Stars) at 5 p.m. and 7 p.m.
November 9 at  2p.m.,  5 p.m., and 7 p.m.
CONTINUE READING BELOW
Recommended Videos
Share this story with your friends!
---
Help us make Spot.ph better!
Take the short survey
Load More Stories