Top 10 Favorite Local Commercials from 2013
The best ads are the ones that don't make us want to change the channel.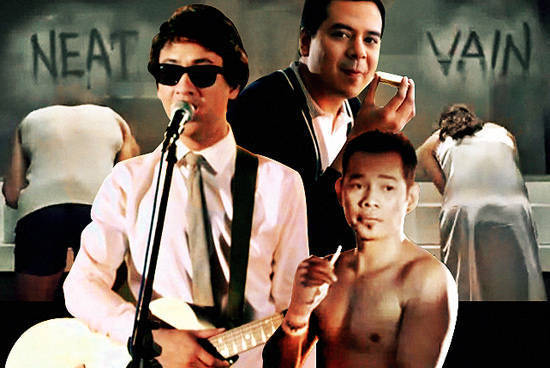 (SPOT.ph) For the most part, commercials are annoying. Imagine watching Sir Chief tell Maya that he loves her. You anticipate her answer, excited for her display of truth, vulnerability, and emotion. After all, you've been waiting for this moment for months. Just as Maya's about to reply, your emotions are drowned out by a voiceover about laundry detergent that can take out stubborn stains better than Brand X. You wipe your tears away. The moment is gone: like a one-night stand, like a fleeting point of passion snatched out of your fingers never to fully return again.
Commercials suck. But the 10 we're listing don't. Some advertisers take care not to be too boring. For a TVC to be successful, they know to compete not with the rival product, but with the viewer's attention span and his/her channel-changing reflex. We have no idea if these advertisements sold four million units or catapulted someone to A-list status. All we know is, these 30-second or so ads don't make us pick up the remote control.
ADVERTISEMENT - CONTINUE READING BELOW
This list does not include political or social ads and infomercials. Only commercials aired in 2013 were considered.
10. Magic Flakes
Agency: Seven A.D.
Three words: John Lloyd Cruz. We can stare at him all the day long. Men want to be him, women want to be with him (some men, too!). We would eat Magic Creams everyday in hopes this would happen to us. On a safety note, however, why would you leave your kid sister alone to spot celebrities? Serves her right to only have a few seconds with Lloydie.
9. Cafe Puro
Agency: Image Dimensions
With a couple of commercials under his belt (ones that actually feature his face and not just his voice), SPOT.ph blogger Lourd de Veyra is really the venerable It-guy. We like how he injected his natural wit into a commercial that portrays "being natural." This is one ad that doesn't try too hard.
ADVERTISEMENT - CONTINUE READING BELOW
8. Summit Water
Agency: RedWorks Manila
This is a commercial that Filipinos would love: it's both inspirational and aspirational. Who knew bottled water could be this compelling?
7. Coca-Cola
Agency: McCann
Coca-Cola is known for releasing their best commercials near Christmas, but they've already announced that they're toning things down this year to focus more on Yolanda relief efforts. Their best offering for 2013 is showing us the many ways you can make music with Coke packaging. It's cute and pro-recycling.
6. Pioneer Mighty Bond
This two-part commercial tells the story of revenge and how Mighty Bond can help you to achieve it. A cheating boyfriend opens his room to find out that his ex-girlfriend has stuck his sneaker collection to his ceiling. For his part, he glues her designer handbag to her desk. Their relationship may be over, but the bond from Mighty Bond will never be broken.
ADVERTISEMENT - CONTINUE READING BELOW
The story isn't over yet.
5. Fita
Agency: Publicis

This commercial is awesome because we've all been in this position before: torn between being a good person and keeping all the goodness for yourself. Unfortunately, he chooses the latter which is less moral but admittedly equally satisfying. Fortunately, Fita is only P20 (see message from Cornetto).

We feel obligated to admit though that this is not in the same vein as their old "Oo" or "Kahilingan" commercials. In the end, we also had to ask: What shampoo does that dude use?
4. Smart
Agency: DM9 Jayme Syfu
A commercial that's not a commercial. Now that's smart. Putting the country's biggest rock stars in one music video and featuring the country's most beautiful landscapes, Smart does more than promote the efficiency of their Smart Bro Wi-Fi stick. The use of the song, "Tayo'y Mga Pinoy," also sends the message of originality and being comfortable in one's own skin.
ADVERTISEMENT - CONTINUE READING BELOW
3. Cornetto
Agency: Lowe and Partners

We have to give Cornetto snaps for finding an effective formula and sticking to it. Their whole "Sarap ng P20" campaign is in league with Safeguard's classic "konsensiya," Surf's Lumen, and Rejoice's annoying but effective dance-jingles. The slight changes in twist make it interesting every time. You'd think that the Cornetto guy would've learned his lesson and earned a little more money by now, but in their latest ad, he still pays P20 for a roller coaster ride and the attendants end up shaking the cart.
Has anyone else realized this dude hasn't changed his shirt since he paid for half a haircut two years ago? Then again, we've never seen a shirt costing only P20.
2. Pantene
Agency: BBDO
You may or may not agree that having gorgeous hair can change status quo or remove stigma, but this commercial is beautifully crafted: the soundtrack, the cinematography, the direction, the seamless execution of all those elements. It doesn't follow the hard-sell formula adopted by most commercials-there are no big stars, nostalgia, humor-but it does make you think about double standards. We're just not sure if it made us want to buy Pantene.
ADVERTISEMENT - CONTINUE READING BELOW
Nonito Donaire and his fries
The "Kuya" commercial
"Downtown"
1. McDonald's
Agency: Leo Burnett
McDonald's always knows how to tap into emotions when their dish demands it. They sell feelings not burgers. Remember that El Bimbo commercial with the two kids? How about those two toddlers who were boyfriend and girlfriend? Too bad CBCP was against young love at that time.
Early this year, McDonald's played it funny with Nonito Donaire's overprotectiveness with his French fries-something we can all relate to. In July, they made audiences tear up with a commercial that showed a young man being given love advice by his Down's Syndrome-afflicted kuya over a McDo breakfast. One of their more recent ads is of a lola and her adorable granddaughter bonding over being kikay, dressing to the nines, and dabbing on each other's makeup before heading to McDo for a Happy Meal date. The nostalgic commercial introduces the relaunch of the iconic Happy Meal box.
ADVERTISEMENT - CONTINUE READING BELOW
McDo commercials sound so simple, but the sincere sentiments just hit us square in the chest. Every time.
CONTINUE READING BELOW
Recommended Videos
Share this story with your friends!
---
Help us make Spot.ph better!
Take the short survey
Load More Stories