MOVIE REVIEW: Slumber Party
More hahaha than hehehe but still somewhat meh.
(SPOT.ph) It is very tempting to be nice to this film because it is nice. The story is simple: three gay "BFFs" who have a slumber party in preparation for the Miss Universe pageant (the one where Venus Raj makes her major, major statement) but their sleepover is interrupted by a boy who wants to finally become a man,  Jonel (Sef Cadayona, of Saan aabot ang P20 mo? by Cornetto campaign fame).
Most of the scenes are fueled by gayspeak and the cariño-brutal that goes with it. If you close your eyes, you'll find it difficult to tell the three lead gays apart when they exchange insults. That's one of the few details that will have you sighing even as you laugh at the antics being animated onscreen.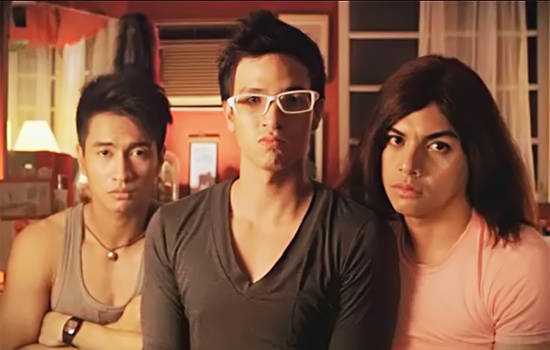 Becky Best Friends: R.K. Bagatsing as Phi, Markki Stroem as El, and Archie Alemania as Jhana
ADVERTISEMENT - CONTINUE READING BELOW
On his own, Phi (R.K. Bagatsing) is endearing. He's not flamboyant but is nonetheless feminine, grappling with his own issues about his life and lifestyle. The film doesn't fully explore the possibilities of his personality but there's something about him that makes you think he wants to out-martyr Rizal. Bagatsing plays Phi with enough sincerity in his kind eyes, but unfortunately, his story is overshadowed by the film's need to go through some unofficial gay movie checklist:
Sassy men in drag? Check. Make-up? A lot of it. Pageant scene? You bet. Highlight on the Q & A portion? Of course. Gay character drooling over men? Yes. Becky talk with subtitles? Hell yeah.
They even casually throw in classic Pinoy melodrama scenes of huge confrontations, big secrets being revealed out of the blue, group hugs, and a character contemplating suicide while another character pounds on the door with his fists and then slowly slides down to the floor crying. It would have been so wonderful to see co-writer and director Emmanuel Dela Cruz create a parody or at least, twist these tropes but it's a straight-up comedy with gay characters. Ho-hum. But as mentioned, it's tempting to be nice to this film because that's what it desperately wants to be.
ADVERTISEMENT - CONTINUE READING BELOW
It's not unfunny and, at its best, it will elicit loud and genuine guffaws. Archie Alemania gives a standout performance as Jhana. Jhana is like your uncouth friend who you somewhat hate but can't live without because you dissolve in a pool of laughter around her (him?) . Alemania's facial expressions and stance alone demands your attention, so when he starts talking, you can't help but giggle at the very least. Like his character, he steals the spotlight every chance he gets and it's heartbreaking to see such a good character get ruined by a thoughtless scene involving sexual assault.
Cadayona, who plays Jonel, expresses the horror of sex without consent so well that it's baffling to hear people laughing in the theater while he is essentially being raped. The scene serves as a way to highlight Phi's kindness, but instead of an emotional, probably award-winning monologue from Phi about how these acts perpetuate stereotypes against the LGBT community, yadda, yadda, yadda-the tragedy is swept under the rug, much like it is in real life. They mention AIDS too, but the neon pink arrows point away from the issue instead of towards it.
ADVERTISEMENT - CONTINUE READING BELOW
Slumber Party almost makes it to the "good" category. It's not horribly lit like your typical film that throws away what it pays the DOP to do, and there is wit behind the dialogue. But perhaps, it's not just Niño Muhlach's lines as Gay Mother that need captions. The entire movie needs subtitles because something is getting lost in the translation from idea to picture. The snappy banter can only carry the movie as far as the cinema doors, and there's nothing much that will make it linger in your thoughts while you drive away.
You know that feeling when you want to say so much that the words simultaneously slip out of your mouth, molding into one (e.g. utak + isip = usak) and you don't make sense? That's the movie. It's sincere in its intentions and it really wants to say something. Unfortunately, it fumbles.
ADVERTISEMENT - CONTINUE READING BELOW
Rating: •• 2 out of 5 spots.
CONTINUE READING BELOW
Recommended Videos
Share this story with your friends!
---
Help us make Spot.ph better!
Take the short survey
Load More Stories