Top 10 LSS-inducing Christmas Songs
'Tis the season for infectious, can't-get-it-out-of-your-head holiday tunes!
(SPOT.ph) Nothing beats the Pinoy Christmas spirit, no? Why, as early as September, malls have been blasting cheery, cheesy, sometimes downright melodramatic Christmas songs when it's not even Halloween yet. It's like being conditioned to ditch creepy costumes for Santa hats way too early. And with Yuletide playlists sounding pretty much the same since God knows when, we ingest more than just the holiday vibe (read: the Last Song Syndrome or LSS). Here, we list 10 of the most popular Christmas tracks notorious for getting stuck in our heads, whether we like it or not.
This article was originally published on October 18, 2011.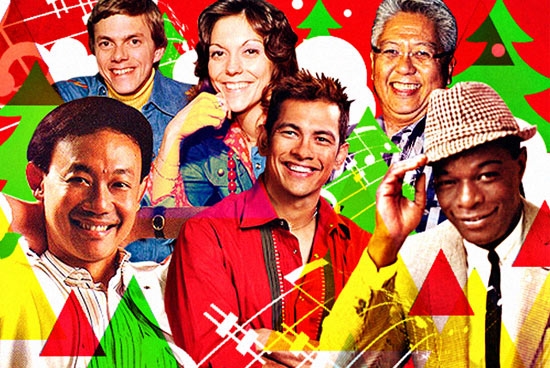 ADVERTISEMENT - CONTINUE READING BELOW
10. "Rudolph the Red-Nosed Reindeer" by Gene Autry
LSS-inducing lyrics: Rudolph the red-nosed reindeer / Had a very shiny nose / And if you ever saw it / You would even say it glows
This catchy holiday hit dates back to 1933 when an advertising exec named Robert L. May wrote a poem about "Santa's ninth reindeer" for a Christmas booklet that was to be given away to kids. May's child-friendly composition was so well-received it spawned feature films, television specials, and one iconic song. In 1949, composer Johnny Marks (May's brother-in-law) and country singer Gene Autry released the poem's first formal and recorded musical version.
9. "Ang Pasko ay Sumapit" by Vicente D. Rubi and Mariano Vestil
LSS-inducing lyrics: Ang Pasko ay sumapit (-pit!)/ Tayo ay mangagsi-awit (-wit!)

Some kids can be so overly enthusiastic that they start caroling the minute the first "ber" month kicks in. This traditional Pinoy Christmas carol, which was originally composed in Cebuano and titled "Kasadya ning Takna-a," is often a favorite. The short and playful tune has been passed on from generation to generation since 1933 and for good reason-it celebrates beginnings.
ADVERTISEMENT - CONTINUE READING BELOW
8. "Jingle Bells" by James Pierpont
LSS-inducing lyrics: Jingle bells, jingle bells / Jingle all the way / Oh, what fun it is to ride / In a one horse open sleigh
One of the most popular Christmas songs in the world, "Jingle Bells" was first released under the title "One Horse Open Sleigh" in 1957. It is said that Pierpont wrote this song inspired by the sleigh races in Medford, Massachusetts.
7. "Kumukutikutitap" by Ryan Cayabyab and Jose Javier Reyes
LSS-inducing lyrics: Kumukutikutitap, bumubusibusilak / Ganyan ang indak ng mga bumbilya
Two formidable forces in the Philippine entertainment industry came together to produce this winning Christmas tune. Top composer Ryan Cayabyab and award-winning writer-director Jose Javier Reyes introduced this song through the musical Bituin. Since then, it has been a favorite among carolers and chorales alike, and why not? We think it perfectly captures the play of lights during Christmas time.
ADVERTISEMENT - CONTINUE READING BELOW
6. "Merry Christmas, Darling" by The Carpenters
LSS-inducing lyrics: That I wish you Merry Christmas / Happy New Year, too 

Karen Carpenter's signature soothing voice is one of the most famous and recognizable in music history. Her sweet and charismatic vocal styling scored this song three number ones in the US Billboard Christmas Singles in the early '70s. Feeling a little extra blue? Check out the Glee version of this track, sung by a Rachel Berry mourning unrequited teenage love.
5. "A Perfect Christmas" by Jose Mari Chan
LSS-inducing lyrics: My idea of a perfect Christmas / Is to spend it with you
This one's as cheesy as it is LSS-inducing. We don't know what it is exactly about this song that makes it so memorable. The catchy, singsongy melody? Jose Mari Chan's dreamy voice? Whatever it is, it's hard to shake off. Maybe that's why Christmas in Our Hearts was such a huge hit.
ADVERTISEMENT - CONTINUE READING BELOW
4. "Last Christmas" by Wham!
LSS-inducing lyrics: Last Christmas, I gave you my heart / But the very next day, you gave it away
Who can forget this '80s hit from the British pop duo Wham! composed of George Michael and Andrew Ridgeley? Don't let the trippy tune fool you; this up-beat song is all about heartbreak. Numerous versions have been recorded over the years, including ones by young stars Ashley Tisdale, Taylor Swift, and Hilary Duff, but nothing beats the original.
3. "Pasko Na, Sinta Ko" composed by Francis M. Dandan and sung by Gary Valenciano
LSS-inducing lyrics: Pasko na, sinta ko / Hanap-hanap kita / Bakit nagtatampo't / Nilisan ako?
When this 1986 hit was first released, we bet Gary Valenciano made a lot of lonesome folks tear up with the song's hard-hitting, sentimental lyrics. And we're pretty sure that year after year, a lot of lonely hearts (or anyone having a "malamig na Pasko") still dedicate this song to the one that got away.
ADVERTISEMENT - CONTINUE READING BELOW
2. "The Christmas Song" composed by Mel Tormé and Bob Wells and first recorded by Nat King Cole
LSS-inducing lyrics: Chestnuts roasting on an open fire / Jack Frost nipping at your nose
Nat King Cole's cool baritone voice, the intense imagery in every lyric, and that slow, lullaby-like melody-this is the Christmas song. It may not exactly depict Pinoy Christmas, but you have to admit, you can count on this 1946 classic to give you that warm and fuzzy feeling each time you hear it.
1. "Christmas in Our Hearts" by Jose Mari Chan
LSS-inducing lyrics: Let's sing Merry Christmas and a happy holiday / This season may we never forget the love we have for Jesus
Why, no Pinoy Christmas playlist would be considered legit without at least two Jose Mari Chan hits! Though the award-winning Filipino-Chinese singer-songwriter is also known for classic love songs like "Beautiful Girl," "Can We Just Stop and Talk a While," and "Please Be Careful with My Heart," those songs have become scarce on radio airwaves. But you can always count on someone to play "Christmas in Our Hearts," year after year.
ADVERTISEMENT - CONTINUE READING BELOW
[poll]134[/poll]
Artwork by Warren Espejo
Recommended Videos
Load More Stories