Top 10 Funniest "Tagalized" Pop Hits
From Miss Ganda's "<em>Payong</em>" to Michael V.'s "Bathroom Dance," we count down the Pinoy odes to famous pop hits that we simply found hilarious.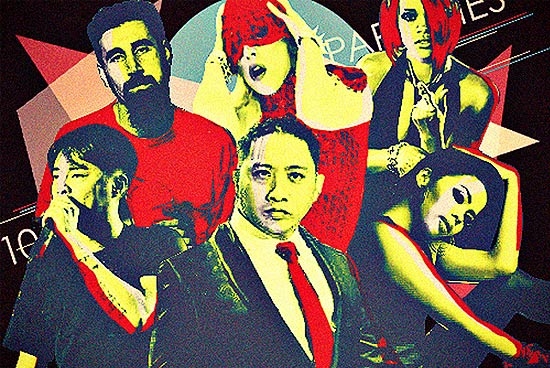 (SPOT.ph) Our love for music is undeniable. For Pinoys, having a bilingual education has made it easy for us to cross the semantic gap between English and Tagalog-spawning Taglish, while at it-and finding humor in it. In popular Pinoy culture, singer-comedians such as Vincent Daffalong and the trio of Tito Sotto, Vic Sotto, and Joey De Leon (TVJ) have been injecting Filipino lyrics to their English hits since the '80s. In fact, TVJ's Tough Hits album series featured parodies from The Beatles to Elvis Presley.
Shuffling between satire, parody, translated cover, or just plain goofing off, the 'Tagalized' songs latch onto your ears and hit closer to home with its homegrown lyrics. A new batch of Pinoy songmakers have transformed some of these tunes in English into Filipino comedy gold.  We count down the hilarious hits.
This article was originally published on July 5, 2011.
10. Payong - Miss Ganda (Umbrella by Rihanna)
Considered by many to be her signature song, Rihanna's "Umbrella" ruled the airwaves back in 2007 with its catchy echoing refrain. In the following year, a cover version sung by Miss Ganda got everyone singing "Umbrella" once again. This time, "Payong" cleverly retains the catchy chorus.  Although the song shies away from being a straight translation of the English lyrics, "Payong" paraphrases the lines from "Umbrella" and makes it sound good enough to convince the listener that it was sung by a Pinay Rihanna.
Best Line: Kahit bagyo ay kakayanin/ 'wag ka lang malalayo sa akin/ Di ka na mababasa ng ulan/ di ka na mababasa ng ulan/ Di na, di na, hindi, hindi/ hindi mababasa ng ulan
Compare to: Now it's raining more than ever/Know that we'll still have each other/You can stand under my umbrella/You can stand under my umbrella/-ella, -ella, ay, ay, ay
ADVERTISEMENT - CONTINUE READING BELOW
9. Susan Africa - Rex Kantatero and Pakito Jones (Waka Waka by Shakira)
The official song of the 2010 World Cup was written to celebrate the soccer tourney and its host country Africa. Sung by the belly-dancing Colombian diva Shakira, "Waka Waka (It's Time for Africa)" is the third most-watched video of all time. A duo of singing Filipino DJs from a popular radio station injects pop culture hilarity to the song with their own version, "Susan Africa" which is a tribute of sorts to a soap opera actress of the same name. In their song, veteran drama actress Susan Africa takes center stage. Her stint on Mara Clara doesn't go unnoticed for Kantatero and Jones. To the tune of "Waka Waka," they sing about Africa's under-appreciated supporting roles in soaps as a mother or a sister.
Best line: Magaling na aktres/Batikan siya eh eh/Bida siya sa Mara Clara/Si Susan Africa
Compare to: When you fall get up/Oh oh.../And if you fall get up/Oh oh.../Tsamina mina /Zangalewa/'Cause this is Africa
CONTINUE READING BELOW
Recommended Videos
8. Alimango - Parokya ni Edgar (Animal by Pearl Jam)
Written and sung by grunge rock pioneers Pearl Jam, "Animal" was given a lot of airplay during the early '90s. While the chorus is clear enough to be understood, Eddie Vedder's growling vocals makes the other parts of the song difficult to decipher. Enter Parokya ni Edgar to reinterpret the Seattle singer's musical mumblings. With the band's penchant for rock whimsy, they try to make the lyrics more understandable, even if it was a bit non-sensical. In their version, "Animal" is humorously transformed into "Alimango." The cover is included in their tongue-twisting album, Buruguduystunstugudunstuy. In the song, lead singer Chito Miranda sings about gigantic crabs and their nasty pincers.
Best line: Dalawang pansipit/Kung mang-ipit ang sakit/Ang lalaki ng.../Ang lalaki ng.../O, kay laki ng alimango
Compare to: Why would you wanna hurt me?/Oh..Oh, so frightened of your pain.../I'd rather be.../I'd rather be with.../I'd rather be with an animal
ADVERTISEMENT - CONTINUE READING BELOW
7. May Isa Na Namang Kumagat sa Alikabok - Michael V. (Another One Bites the Dust by Queen)
Queen's "Another One Bites the Dust" is a certified rock classic. It vaulted up the charts in the '80s to become the band's best selling single. Once, the song became a target for Christian groups because it allegedly contained the lyrics "start to smoke marijuana" when played backwards. Backmasked lyrics or not, we think it's one of the most difficult songs to translate to Filipino. Prolific song translator Michael V. didn't back off from the challenge. The result is "May Isa Namang Kumagat sa Alikabok." Although the idiom of "biting the dust" is lost in the Filipino version, Michael V. tries his darned best to come up with a very faithful translation and mostly succeeds. Freddie Mercury would be proud.
Best line: Si Esteban naglakad ng maingat sa kalye,/sombrero hinatak pababa/Walang ibang tunog kundi tunog ng paa niya/Machine gun handang umalis
Compare to: Steve walks warily down the street,/With the brim pulled way down low/Ain't no sound but the sound of his feet,/Machine guns ready to go
6. Banana - Blanktape (Right Now by Akon)
A certified earworm, Akon's "Right Now" picks up where Rihanna's "Umbrella" left off. The "na na na" part of the refrain just won't leave you long after the song has played. It didn't take long before rapper Blanktape played around with the lyrics and turned the song into "Banana." The song boasted about the outstanding qualities of the singer's banana including its large size and sweet taste. The CBCP wasn't amused with the song's double meaning and requested for a ban. In his defense, Blanktape said that he was singing about an actual banana. Alpha Music, the record label that released the song, pulled out Blanktape's album nonetheless. Thanks to the magic of the Internet, the song is still around for those still want to debate about the true meaning of the 'banana' in the song.
Best line: Sige i-try mo aking banana/'Pag natikman mo 'to di magsasawa/Dahil masustansiya ang aking banana/At ubod pa ng sarap aking banana
Compare to: I wanna make up right now (na na)/I wanna make up right now (na na)/Wish we never broke up right now (na na)/We need to link up right now (na na)
ADVERTISEMENT - CONTINUE READING BELOW
5. Flip Flop - Kid Cras (Tik Tok by Ke$ha)
Ke$ha's electrop debut single "Tik Tok" is ripe for parody. The old school video-game infused beats and the catchy rap lyrics have already inspired Collegehumor.com to make a version that pokes fun at Ke$ha's apparent lack of real talent and originality. For the Filipino cover version called "Flip Flop," Kid Cras raps about a typical day in Manila. The Fil-Brit rapper distills the Pinoy experience in his version of "Tik Tok" and gleefully sings about adobo, balut, Jollibee fried chicken, SM, and comedian Vice Ganda. In this homemade video, he gets run over by a jeepney while imitating the moves of Fil-Am hip hop dance group JabbaWockeeZ. At least Ke$ha was a bit luckier.
Best line: Hindi ako si Vice Ganda, kasi 'di ako bakla/Ako'y Pinoy, sigaw ng 'Hoy!'/Kakain ng Chicken Joy
Compare to: Don't stop, make it pop/DJ, blow my speakers up/Tonight, I'mma fight/'Til we see the sunlight
4. The Ordertaker - Parokya ni Edgar (Chop Suey, Toxicity by System of a Down)
Armenian-American rockers System of A Down gained worldwide popularity with the release of their second album Toxicity which debuted at No. 1 in the charts. From that album comes two hard-rocking singles, "Chop Suey" and "Toxicity," which deftly mashed speed metal riffs, rapid-fire percussion with angst-ridden vocals. Parokya ni Edgar probably noticed how the songs were very similar and combined them to make an utterly brilliant song parody.  In "The Ordertaker," an extremely hungry man tries in vain to order food at an eatery that has apparently run out of dishes to serve. The man rattles off all the food in the menu to no avail. The video for the song also ranks up there as one of Parokya's funniest.
Best line: Hoy! wala na bang ma-o/Wala na bang ma-order, ma-order/Shet! Meron ngang menu/Wala namang ma-order, oh waiter/Sana naman may siopao lang man o burger/Pa-order! Pa-order! Pa-order!
Compare to: Now, what do you own the world?/How do you own disorder, disorder?/Now somewhere between the sacred silence/Sacred silence and sleep/Somewhere, between the sacred silence and sleep/Disorder, disorder, disorder
ADVERTISEMENT - CONTINUE READING BELOW
3. Filipino Foods - Don Angelo (California Gurls by Katy Perry)
Pop darling Katy Perry's first single from her third album, "California Gurls," was one of 2010's biggest hits. The electropop ditty was Perry's answer to Alicia Keys' "Empire State of Mind," and the song's bouncy rhythms instantly became the new beach party anthem. This carefree vibe is what probably inspired Don Antonio to create his ode to classic Pinoy food. "Filipino Foods" seems to be written by a homesick Fil-Am longing for his native country's cuisine. Sure enough, we get to hear ample lyrical servings of kare-kare, sinigang, lechon baboy, and pinakbet with leche flan and halo-halo for desert. To be honest, this song made us run to the nearest carinderia to look for fresh lumpia and tocino.
Best line: Filipino foods it's unforgettable/Fresh lumpia and lechon baboy/Sinigang so hot/Careful don't touch the bowl/ (ow oh ow oh ow oh..)
Compare to: California girls, we're undeniable/Fine, fresh, fierce, we got it on lock/West Coast represent/Now put your hands up/Oooooh oh oooooh
2. Basurero - Rex Kantatero and Pakito Jones (Dynamite by Taio Cruz)
"Dynamite" is one of the more recent songs to give us LSS (last song syndrome). Sung by British recording artist Taio Cruz, the song skitters on the edges of dance-pop greatness with its unadorned lyrics about dressing up, hitting the club scene, letting it loose, and exploding like the titular dynamite. The dynamic duo of Rex Kantatero and Pakito Jones recycles the melody, trashes the original lyrics and replaces them with something filthier. Adding to their growing list of song parodies, the duo sings about the exploits of a lowly sanitation engineer, or garbage man as he collects everyone's refuse in "Basurero." The lyrics are definitely laugh-out-loud funny for those familiar with "Dynamite."
Best line: Nangongolekta ng inyong kalat/Basurero, ang trabaho/Kung wala ako babaho ang life/Basurero,ang trabaho
Compare to: I throw my hands up in the air sometimes/Saying AYO, gotta let go/I wanna celebrate and live my life/Saying AYO, baby, let's go
ADVERTISEMENT - CONTINUE READING BELOW
1. Bathroom Dance - Michael V. (Bad Romance by Lady Gaga)
The reigning queen of pop Lady Gaga has a string of megahits to her credit in a span of just a few years. "Bad Romance" is a single off her third EP, The Fame Monster. As expected of her, the video of the song is a scintillating mishmash of outrageous visual imagery and avant garde fashion. Michael V. takes the scatological route for his version and leaves everyone flushed with laughter. "Bathroom Dance" is probably one of his best parodic masterpieces, both in terms of style and substance. Listening to the lyrics will give you a tummy ache faster than drinking milk with beer. The must-see video for the song shows Bitoy in full-on Lady Gaga attire as he performs well-choreographed moves in a disco bathroom.
Best lines: Kagat ng labi namimilipit sa sakit/Napapa-Bathroom dance/Nagkandarapa sa pagmamadali ang tindi/Napapa-Bathroom dance
Compare to: I want your love, and I want your revenge/ You and me can write a bad romance/ I want your love, and all your love is revenge/You and me can write a bad romance
---
Help us make Spot.ph better!
Take the short survey
Load More Stories