The SPOT.ph Guide to the 2013 Metro Manila Film Festival (MMFF) Movies
No <em>Tanging Inas, Mano Pos, Enteng Kabisotes, Pandays,</em> and no shake, rattle, or roll. The times, they are a-changin'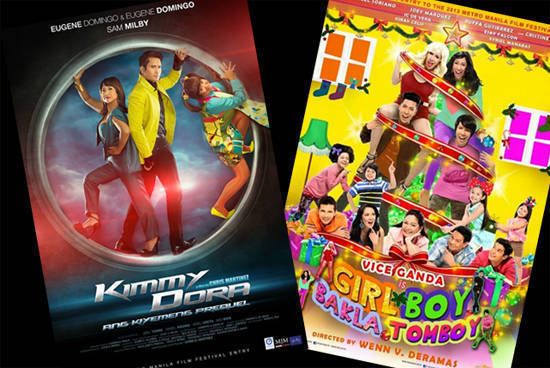 (SPOT.ph) At the risk of sounding elitist, we want to say that the letters MMFF spells two things for us: traffic (because of the float parade) and lulz. Yes, lulz. There are deliberate lulz, like last year's box-office hit Sisterakas (which is funny, if you like that sort of thing), and there are unintentional jokes...like El Presidente, which glorified Emilio Aguinaldo to the point that it wanted to rewrite history completely.
ADVERTISEMENT - CONTINUE READING BELOW
But make no mistake, we always check out the year's line-up. Because sometimes, standing next to the usual suspects, are gems...or at least, diamonds in the rough. Here are the eight films that are set to compete this year, along with a verdict-ion (a verdict and prediction).
10,000 Hours
Directed by: Joyce Bernal
Good cop: Hey look, action movies! It's been a while since we've seen a campy macho flick, complete with leather jacket, and cheesy dialogue. Plus, it stars the original bad boy, Robin Padilla, and they have scenes in Amsterdam!
Bad cop: Didn't we just see On the Job, which would mean that this 10,000 Hours is a step in the wrong direction? What's with the overcast lighting in the trailer? Where's the style? The pizzazz?
Verdict-ion: We won't mind watching this on the bus home when they start playing it there but unless you're a hardcore Robin Padilla fan, you're better off staying at home watching the The Fugitive DVD you already have.
ADVERTISEMENT - CONTINUE READING BELOW
Girl, Boy, Bakla, Tomboy
Directed by: Wenn Deremas
Good cop: OMG, OMG, it's Vice Ganda!
Bad cop: Ugh. It's Vice Ganda. Also, it's obviously a rip-off of Kimmy Dora. Boo.
Verdict-ion: Seeing that you'll be seeing four Vices here, you need to be a fan to get the maximum effect of the jokes. Our two cents is that if a rape joke didn't derail Vice Ganda's career, at this rate, nothing can. We smell box office success.
Kimmy Dora: Ang Kiyemeng Prequel
Directed by: Chris Martinez
Good cop: The first two films were pretty okay and Eugene Domingo is a great actress. And if the third time really is the charm, then this one might be the funniest.
Bad cop: Surely, Miss Domingo has more schticks up her sleeve.
ADVERTISEMENT - CONTINUE READING BELOW
Verdict-ion: Chris Martinez, who wrote the first two movies, is taking over Joyce Bernal's directorial post and it might be worth watching-if only to see the difference. At this point, they're stretching the sketch to the point of breaking but hey, Eugene Domingo is an award-winning comedienne. It might still elicit a laugh or two.
Pagpag: Siyam na Buhay
Directed by: Frasco Mortiz
Good cop: In case you suddenly suffer from Shake, Rattle, and Roll withdrawal, a viewing of this should stop the seizures.
Bad cop: [We value our lives and thus, we won't saying anything to incur the wrath of KathNiel fans.]
Verdict-ion: Kathryn and Daniel held hands in the trailer! Who knows what else they'll do in the full-length feature.
My Little Bossings
Directed by: Marlon Rivera
ADVERTISEMENT - CONTINUE READING BELOW
Good cop: Vic Sotto! Aiza Seguerra! Ryzza Mae Dizzon!
Bad cop: Kris Aquino.
Verdict-ion: Kids.
Kaleidoscope World
Directed by: Eliza Cornejo
Good cop: Hey, the trailer doesn't seem so bad. It's like those dance movies Honey or Step Up, but without Jessica Alba or Channing Tatum.
Bad cop: Admittedly, we can't say something bad about this film based on the trailer.
Verdict-ion: It looks promising but you have to wonder, saan aabot ang star power ni Sef Cadayona? This little film is going to go up against big names from big studios. We wish it luck.
Pedro Calungsod: Batang Martir
Directed by: Francis O. Villacorta
Good cop: It's a film about faith and loving God, above all. Of course the people of this great Catholic nation should watch this movie.
ADVERTISEMENT - CONTINUE READING BELOW
Bad cop: We're tempted to make a comment but the complexity of colonialism and the horrors of the crusades is just beyond our realm of expertise-which is something the makers of this film should have thought about before they made this film.
Verdict-ion: We think the degree of devotion varies from person to person and not watching this film won't mean that we don't respect God. We might try and see it though, if only to figure out why Mercedes Cabral is wearing a white wig. What's up with that?
Boy Golden: The Arturo Porcuna Story
Directed by: Chito S. Roño
Good cop: It's like Manila Kingpin: The Asiong Salonga Story...but in color! Cool, right? Right?
Bad cop: You might as well see this. Support ER Ejercito's film career so he can quit politics altogether!
ADVERTISEMENT - CONTINUE READING BELOW
Verdict-ion: We have a feeling that a lot of people found the reason to watch this film somewhere during the 0:09 and the 0:10 mark. Easy there, KC.
The Metro Manila Film Festival starts on December 25, 2013.
Recommended Videos
Load More Stories