Top 20 YouTube Videos of 2013
Cringe, laugh, and cry...these are the videos that put the word "interesting" in 2013!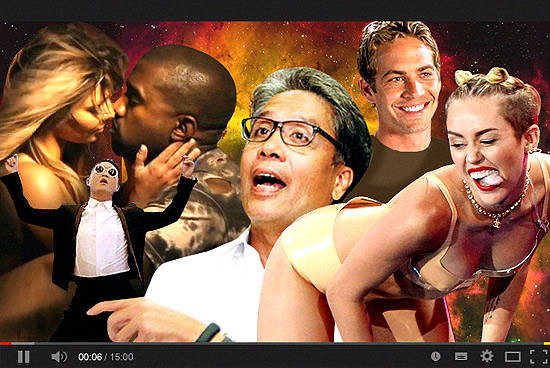 (SPOT.ph) Once credited only for its ability to share and disseminate information at lightning speed, the Internet has evolved to become an avenue for immortalizing virtually anything fathomable to the human mind; an instrument for self-expression and one's gateway to virtual freedom and creative pursuit. The best example for that evolution is YouTube-an online portal responsible for the pervasiveness of videos ranging from mundane to profound.
ADVERTISEMENT - CONTINUE READING BELOW
Nowadays, there's no use fighting the urge to document and upload videos because YouTube has made it so easy. All you need is an ounce of guts and the willingness to be subjected to a certain amount of ridicule and criticism, and you're all set. And with unlimited access to the Internet, the appeal is so tempting there's almost a compulsion to capture even the most inane of experiences. Unfortunately for us, the world doesn't only become our stage, but also our biggest critic.
But let's not get judgmental here. If you think that YouTube is a mere repository of all things useless, this list might somehow change your mind. But that's not to say we didn't throw some (okay, maybe a lot) absurd and gag-inducing stuff into the mix. So, brace yourselves for the top 20 YouTube videos of the year. Who knows, you might just get enough inspiration for your next audio-visual endeavor and make it to the 2014 list.
ADVERTISEMENT - CONTINUE READING BELOW
The number of views are as of December 17, 2013. The videos are ranked based on the number of views alone, and has nothing to do with content and/or treatment.
20. Anderson Cooper's response to Korina Sanchez
Uploaded by: ishareyoushareweshare with 290,602 views
Do not be discouraged from watching this video on the basis of views alone. Korina Sanchez was quick to defend her husband-in the guise of rationalizing the incapacities of the government-but in the end, her mudslinging was no match for how CNN's Anderson Cooper graciously answered the veteran news anchor's allegations. So much for her misguided patriotism.
19. Mar Roxas tells off Tacloban City Mayor Alfred Romualdez (short version)
Uploaded by: Josemari Gonzales with 620,364 views
The Roxas couple can't seem to get enough of the spotlight. DILG Secretary Mar Roxas received a lot of criticism after he released his inner nasty and decided it was more important to antagonize Tacloban City Mayor Alfred Romualdez and compare surnames as if it were putting food on the victims' plates. The stress of being in power appeared to have affected the cabinet secretary's judgment, and apparently, his mouth. Perhaps his moniker early in his political career got the best of him because, from the looks of it, he turned from "Mr. Palengke" to "Mr. Palengkero" in a heartbeat.
ADVERTISEMENT - CONTINUE READING BELOW
18. The Buzz Exclusive: Ai-Ai delas Alas tell-all interview
Uploaded by: ABSCBNOnline with 1,719,244 views
We're used to all the dirty laundry being tossed around in the world of showbiz, but one revelation caught most of us off guard. Known for her comedic prowess, no one knew Ai-Ai delas Alas' marriage would go from a fairytale dream to a nightmare of a reality so soon. But after the publicized demise of her marriage and her heart wrenching tell-all interview on national television, the "Comedy Concert Queen" racked up sympathy votes while serving as living proof that life (and one wrong decision after another) sometimes has a cruel way of teaching us its lessons.
17. Atom Araullo's report on super typhoon Yolanda
Uploaded by: TheABSCBNNews with 1,928,255 views
While super typhoon Yolanda was busy wreaking havoc in the island of Leyte, some were probably preoccupied staring at their television sets, mesmerized by a young man who braved the chaotic weather like a knight in a waterproof armor. In the middle of  the rage of the heavy downpour and the wrath of the storm surge, ABS-CBN reporter Atom Araullo proved his professionalism and unwavering dedication to his work; that, and the indomitable resilience of the Filipino spirit in the face of disasters. And yes, his charming appeal cannot be discounted either.
ADVERTISEMENT - CONTINUE READING BELOW
16. Smart Bro's "Tayo'y mga Pinoy" commercial
Uploaded by: smartcorporate with 2,280,787 views

This video deserves props not only for its unpretentious and brilliant concept, but more so for its attempt to elevate the status of OPM while subtly advertising a product. What's great is that being a music aficionado isn't even a requirement to appreciate this patriotic spot because if OPM pillars Ely Buendia, Barbie Almalbis, Rico Blanco, and Raimund Marasigan making music together can't put a smile on your face, we don't know what can.
15. Jessy Mendiola surprises Teng brothers
Uploaded by: mcdonaldsPH with 2,669,263 views
There's always a huge market for complicated and well made videos, but that's not always a prerequisite for high viewership. Sometimes, all you need is a stunning actress and a simple concept, and you're ready to go. And it also doesn't hurt if you throw in a famous UAAP player in the mix as well.
ADVERTISEMENT - CONTINUE READING BELOW
14. Dove Real Beauty Sketches
Uploaded by: doveunitedstates with 3,488,596 views
A few months ago, Dove US came out with a poignant vignette about one's notion of beauty. Popular for its interesting-and sometimes even controversial-campaigns, Dove's Real Beauty Sketches is a straightforward proof of women's skewed perception about themselves. And with double standards and society's stereotypes taking its toll on women, this social experiment on beauty and perception couldn't be more apt.
13. How not to Instagram
Uploaded by: Preview Mag with 6,091,895 views
Complete with gritty graphics and a jolting factor, Preview Magazine's short film, by Creative Director Kat Limchoc, under the direction of her husband Joel, is a clear demonstration of how the misuse of Instagram could lead to one's unexpected demise. Check out this video and you will never look at a crocodile the same way again.
ADVERTISEMENT - CONTINUE READING BELOW
12. Pantene's "Labels against Women/#WhipIt" commercial
Uploaded by: PantenePhilippines with 7,343,551 views
Double standards against women have never been so blatantly pointed out in an ad until now (read: boss versus bossy, neat versus vain, and smooth versus show-off, just to name a few). And because living in such a highly patriarchal society definitely warrants some form of  wake up call, Pantene Philippines quickly rose to the challenge. What they did was simple yet so startling that a multitude of heads couldn't help but nod in agreement-mostly vindicated females sharing the same sentiments. The ad instantly became an effective reminder for women to stand strong in the face of discrimination.
11. Miley Cyrus' VMA performance
Uploaded by: InformOverload with 11,215,743 views (clip); full version uploaded by Geoffrey Royce Rojas with 6,026,740 views
Like Salvador Dali on ecstasy, Miley Cyrus "twerked" her way to everyone's radar and onto this list, courtesy of her performance during this year's Video Music Awards. With giant teddy bears, awkward dance moves, an immeasurable amount of tongue exposure, and a lot of unnecessary "twerking," this controversial performer just made the word "surreal" the greatest understatement of the year.
ADVERTISEMENT - CONTINUE READING BELOW
10. "If Only for a Second"
Uploaded by: Mimi Foundation with 12,033,831 views
Being inflicted with cancer is no laughing matter, but this French-made video's attempt to make you look at the lighter side of this fatal illness is worth watching. And while this documentary tribute on cancer patients might make your eyes well up in tears, it quietly makes up for it by sparking a tinge of hope in you...if only for a second.
9. "I Wanna Channing All Over Your Tatum" music video by Jamie Foxx feat. Channing Tatum
Uploaded by: Jimmy Kimmel Live with 14,197,324 views
We all know how imaginative Hollywood artists can get, but sometimes we just can't quite put our finger on what they want to say. Enter Jamie Foxx and Channing Tatum's musical collaboration. We may not fully fathom how the song's title came to be or why it chose to turn the actor's name into a verb, but knowing the caliber of Channing's dancing skills and his equally oozing appeal...then yes, we want to "Channing all over his Tatum." Whatever the heck that means.
ADVERTISEMENT - CONTINUE READING BELOW
8. "Bound 2" music video by Kanye West
Uploaded by: KanyeWestVevo 19,007,961 views
This video has gained notoriety for its absurd declaration of Kanye West's love for Kim Kardashian. But we'll spare you the sordid details only because you have to see the video for yourself and for what it's worth. We don't want to discourage potential viewers lest we incur the wrath of Kanye's fans. But take heed: this video is only recommended for those who have nothing better to do and are willing to waste four minutes of their life. If, however, you decide to take your viewing (dis)pleasure to the next level, we encourage you to check out James Franco and Seth Rogen's parody of this video. It might just give the song its redeeming factor.
7. Harlem Shake
Uploaded by: TheSunnyCoastSkate with 26,311,034 views
ADVERTISEMENT - CONTINUE READING BELOW
For the longest time, only motorcycle drivers really understood the importance of wearing a helmet. That is, before the Harlem Shake danced its way into the World Wide Web. The internet meme version by the The Sunny Coast Skate-a group of Australian teenagers-became so viral that a few minutes of dancing like a total lunatic (don't forget the helmet), along with your family, friends, and colleagues became acceptable. This dance craze, much to our dismay (or delight), prompted people from all over the world to upload their own creative rendition. The moral of the story: the more loony the dance, the more views, the better.
6. WestJet's Christmas Miracle
Uploaded by: WestJet with 28,734,636 views
This heartwarming act of generosity would make even the Grinch succumb to the spirit of the Yuletide season, and make the idea of flying bearable to an aerophobic. A marketing stint of sorts, we're almost convinced that WestJet's gift giving gimmick did a whole lot more for the company than its lucky clients. Then again, who would possibly complain about receiving an unexpected present? Certainly not us.
ADVERTISEMENT - CONTINUE READING BELOW
5. A tribute to Paul Walker
Uploaded by: Fast & Furious with 32,121,473 views
A tribute to Fast and the Furious actor, Paul Walker, this video is perhaps the saddest one to ever be included on the list. A compilation of some of the best moments in the entire film franchise, tears, sadness, and regret are allowed after viewing this clip simply because we all know that Walker was an actor who had a generous heart (his last few hours on earth were spent at a charity event for the victims of typhoon Yolanda).
4. "I Forgot My Phone" short film
Uploaded by: charstarleneTV with 34,900,659 views
We have become so engrossed with capturing practically every moment of our lives with our smartphones that we fail to realize we're actually missing out on real experiences. Charlene de Guzman's short film is a disconcerting reminder of that. We may be physically surrounded by other humans, but if we stop and reflect, we're really just all alone in a crowd-mere slaves to our own invention.
ADVERTISEMENT - CONTINUE READING BELOW
3. Volvo Trucks - The Epic Split feat. van Damme
Uploaded by: Volvo Trucks with 60,673,914 views
In this jaw-dropping video, Volvo Trucks not only proved its vehicles' stability and precision, but that, after all these years, Jean Claude van Damme still has what it takes to render us speechless.
2. "Wrecking Ball" music video by Miley Cyrus
Uploaded by: MileyCyrusVevo with 411,910,934 views
Because her drastic change of image and brow-raising stint at the VMA's weren't enough, Miley Cyrus decided to come up with a music video which seemed meant to beg for attention. She creatively lamented on her recent break-up with Liam Hemsworth-complete with a wrecking ball, a lot of sledgehammer licking, and nudity in a mere 4-minute display of emotions-and became both a classic example and a warning to parents that too much Disney may not be so healthy after all.
ADVERTISEMENT - CONTINUE READING BELOW
1. "Gentleman" music video by Psy
Uploaded by: officialpsy with 603,617,903 views
Driving the whole world to the brink of insanity with his "Gangnam Style" apparently wasn't enough. Korean pop sensation Psy was desperate not to disappear into oblivion and literally proved he can douchebag his way to the top of the charts by showing us how not to be a "Gentleman." With over 600 million views to date, this music video not only cemented Psy's status as a bona fide YouTube royalty, but it also proved that we can hate and cringe all we want, but he's not about to relinquish his throne just yet.
Art by Warren Espejo
Recommended Videos
Load More Stories