Things I Realized After Watching the Kimmy Dora Prequel
SPOT.ph blogger Ria Limjap on the 10 things that make this MMFF movie worth watching.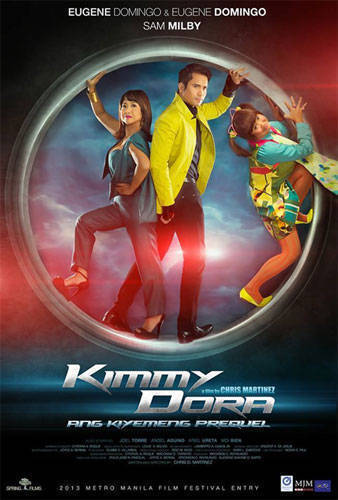 (SPOT.ph) 1. I want to social climb Kimmy Go Dong Hae. (Does Facebook count as social climbing? Because we are friends on Facebook.) Kimmy GDH is the most fabulous heroine to come out of Philippine cinema in the last decade. Part Imee Marcos and part Alexis Carrington,  she is a strong, intelligent, passionate, and slightly ruthless female character-and I would like to see more of her. Thank goodness Chris Martinez had it in him to write a prequel and thank goodness the first two films (directed by Joyce Bernal) did relatively well for independently produced comedies, so that for this one (directed by Chris Martinez) there was a budget large enough to include over-the-top production design and decent computer-generated effects to make it not only funny (in that Chris Martinez way) but also more bongga than any mainstream comedy this year. Franchise na kung franchise, who cares if the second one was not as good as the first! Kimmy Dora is the Austin Powers of the Philippines. My dream: Kimmy Go Dong Hae co-starring in a rom com with Austin Powers one day.
ADVERTISEMENT - CONTINUE READING BELOW
2. Eugene Domingo is one of the hardest working actors around. Just this year:
She flexed her drama muscles, playing a bus conductor in Tuhog:
She played a beleaguered pregnant woman in Instant Mommy:
She held her own in a mainstream playing a competitive matrona in Momzillas:
And then she rocked the red carpet in Japan for her star turn in Jun Lana's Mga Kwentong Barbero (which I would really love to see):
She re-created the role of the untouchable Ms. Rita Gomez in the remake of Bernal's classic sex comedy Salawahan (which is no easy feat, to be sure):
And finally she plays the Go Dong Hae twins in Kimmy Dora: Ang Kiyemeng Prequel:
ADVERTISEMENT - CONTINUE READING BELOW
Kakapagod, teh but I love that she's a huge star, with endorsements and shit, even if she is not a leggy, long-haired hipster/starlet type. Hurrah for alternative body types and true talent!
3. Yes, a Pinoy film can be capable of tongue-in-cheek satire-see opening sequence of Kimmy Dora: AKP and you will witness a satirical gem. It parodies the Bond movies, using the same elements: campy visuals, repeating retro patterns, a catchy Bond-esque theme song (in fact better than Adele's, I dare say!), and Eugene Domingo striking a pose in character as Kimmy and Dora.
4. I have been watching Ariel Ureta all my life (started as a child, when he used to co-host Lea Salonga's show "Love, Lea") and I will never get tired of watching him. He is a classic. Ariel Ureta is freaking awesome.
5. Good comedy comes from good writing. There's a sequence where Kimmy and Dora work as call center agents for the Go Dong Hae company. It's hard to sustain the humor coming out of a long sequence like that (the twins take on various jobs in the family empire) but with the snappy writing and Eugene's comedic timing, it doesn't run out of punch lines or fall flat on its face.
ADVERTISEMENT - CONTINUE READING BELOW
6. It pays to have friends who will do cameos in your film. The prequel, just like the first film, is full of celebrity cameos. Among many, this one has Piolo, Dingdong, and John Lapus. Of course the best cameo belongs to Sweet, who plays a sosyal street person in full duster drag.
7. Joel Torre is the best actor of his generation. Did you see On The Job? I saw it twice. He is so consistent no matter what he does. (The chicken inasal from his chain of restaurants is pretty consistent, too.)
8. Sam Milby is not so bad pala. His martial arts moves are kind of cool. He is a figure skater, after all. In KD he plays a robotic good looking type, and doesn't need to do much acting but a lot of fight sequences. Has he found his niche? Might he transition into 2K14's biggest action star?
ADVERTISEMENT - CONTINUE READING BELOW
9. Someone needs to make a yaya comedy (a really good one) starring Yaya Elena. Hint, hint, Chris Martinez. Please make Moi Bien into a star!
10. Shet. Ang cute pa rin ni Piolo.
***
Happy holidays!
Load More Stories