Boy Golden Ass
SPOT.ph blogger Ria Limjap on ER Ejercito's <em>Boy Golden</em> and the question, "Why does he have the skin of a baby's behind?"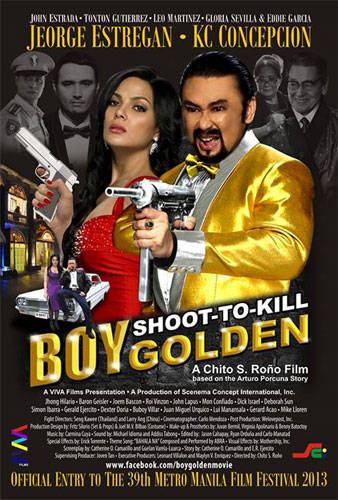 (SPOT.ph) I was saving all my vitriol for Boy Golden: Shoot to Kill. Because, of course.
The thing is I love period movies, especially the biopic. It's sort of like writing a biography-there's lots of research, painstakingly done, that goes into the final product which ideally should be treated sensitively and with taste. Alas, this is not the case for Governor E.R. Ejercito's annual Metro Manila Film Festival offering: the life story of Arturo Porcuna, a 1960s gangster who was famously rubbed out by rival gang members. On my second viewing day at the MMFF I decided to spend my two hundred pesos on Boy, because it was obviously not the popular one at the box office and I like to champion the underdog.
ADVERTISEMENT - CONTINUE READING BELOW
As I sat there for two and a half hours, amused by this movie but mostly appalled, I could only think of one thing: what filter did they use on Gov. ER's face to make him look like he had stem cell therapy? I mean, we're talking rosy white glow here. I was taken aback when Boy Golden reveals his face in the opening scene (shoot out in a bar)-whoa, I thought, why does he have the skin of a baby's behind? Was it placenta cream? Belo treatments? Digital manipulation? My friend JP calls it the "Ate Vi filter" (the Other Governor)-see The Healing and you will notice Governor Vi's face is almost in soft focus, as if they wrapped the camera lens in a stocking and smeared it with gel. On Ate Vi it looks okay but on a man such as the Good Governor of Laguna, it looks ridiculous. Boy Golden's face sets the tone for the rest of the movie, which despite Carlo Mendoza's commendable effort in cinematography, is campy and fake-and it's not even a musical.
ADVERTISEMENT - CONTINUE READING BELOW
To be fair, I fully agree with casting KC Concepcion as Marla Dee, exotic dancer and gangster moll. But it all works out, because paired with Gov. Ejercito's acting, KC looks quite talented.  She's a decent dancer but a huge Christmas ham of an actress, almost theatrical in her obviousness. She is best in the scenes that require her to move but not speak, which only happens twice: the bedroom stripping scene and a super long-ass martial arts sequence with KC battling it out with a Chinese maid inexplicably good at martial arts. Thankfully, KC's hourglass figure fills out her costumes well. If only they had done something to her hair to make it look more appropriate for the period-surely a showgirl would be wearing the proper coiffure and not look like she just stepped out of a Rogue photo shoot. And no, that hideous Amy Winehouse wanna-beehive does not count as period hair. (Also, as a stickler for detail and an ardent makeup junkie, I wish they had really given KC a look as Marla Dee-and not just wingtip eyeliner, false lashes, and matte red lipstick, which felt very 1940s and not at all early 1960s.) Hell, I wish they had the sense to realize that in the super long-ass martial arts sequence, she loses her signature red lips at some point, only to get it back in the next shot.
ADVERTISEMENT - CONTINUE READING BELOW
Moving on, Boy Golden is essentially a revenge plot. The bad guy is Tony Razon, a rival gangster, played by the very un-menacing John Estrada. Razon is portrayed as some sort of maniacal big boss, whose kingdom of organized crime involves a doyenne named Aling Puring (Gloria Sevilla), a Chinaman (Leo Martinez), and an extremely pale hitman called Datu Putla (Baron Geisler). Boy and Marla are bent on bringing down Razon, and the police are determined to catch them all.  In a series of double crosses, bloody showdowns, and a really awkward flashback, Boy Golden chugs on for way too long, seemingly unending when it should have ended with the scene where Captain Marasigan (Tonton Gutierrez) arrests them all. Instead, they give poor Tonton a long and unnecessary monologue about how crime does not pay and they stuff Governor Ejercito in an atrocious golden suit for the rubout scene in the end.
ADVERTISEMENT - CONTINUE READING BELOW
Long story made short: Boy Golden dies. Anyway, he deserved to be shot for that gold suit.
***
If you care to know how the real Arturo Porcuna alias "Boy Golden" really died, look at this.
So he didn't die in a nightclub. He was gunned down in a Mandaluyong apartment, while opening gifts with two henchmen. Marla was changing her clothes in the next room. Sometimes life is really stranger than fiction!
Recommended Videos
Load More Stories