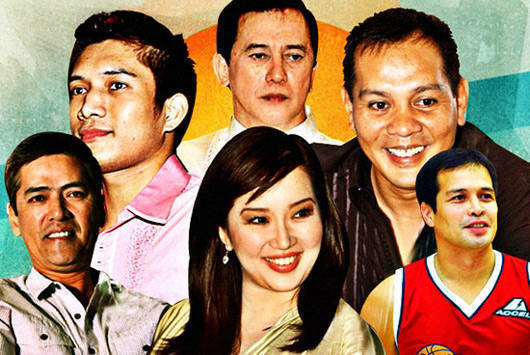 (SPOT.ph) Yes, we know, Kris Aquino again. We just can't help it. The poor girl just seems to be the whole country's favorite damsel in distress. Throughout the decades, her fearless (and highly reckless) search for The One has fascinated us all. In an interview with TV host Boy Abunda in Kontrobersyal around 2002, Kris revealed that she didn't practice "keeping something for yourself" in a relationship so you won't be left empty in case it goes wrong. "I'd rather be left with nothing," Kris said. You have to admire someone who can say they're willing to go for broke in the name of love-and to hell with the rest of the world.
That being said, Kris has rushed into relationships that seemed doomed from the start. But, yes, we hope she'll get lucky and end up with someone who'll give her a happily ever after of her own. Each time her chosen prince turns out to be a frog, we are disappointed, too. Though most of us have wanted to tell her time and again, "I told you so," there are also many of us who hope she'll prove us wrong, that one day she'll finally find a man who won't take her being Kris Aquino against her.
ADVERTISEMENT - CONTINUE READING BELOW
SPOT.ph lists 10 men who could've been Mr. Right for Kris-some of them were just linked to her, a few hooked up with her, and others were simply potential mates who didn't get the chance to follow through.
This article was originally published on July 13, 2010.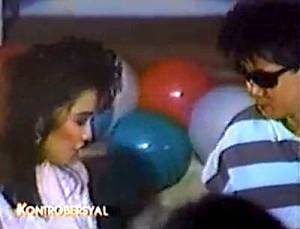 1. Randy Santiago
Hook-up specs: He was Kris' high school prom date. Dubbed "Mr. Shades," he was one of the hottest Pinoy pop idols in the late 1980s, with hits like "Hindi Magbabago" and "Babaero."
Public verdict: Though there was talk that Randy was interested in Kris, the two were really just friends. In 1996, he married model Malu Coronel. Randy was one of the good guys in Kris' life. In hindsight, he may have been more of a surrogate brother since Kris' own kuya was not into showbiz. (Not back then, anyway.)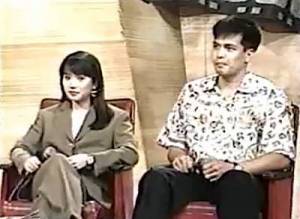 ADVERTISEMENT - CONTINUE READING BELOW
2. Alvin Patrimonio
Hook-up specs: The 6'3" forward of the Purefoods TJ Hotdogs was Kris' ultimate crush. In an interview with the late Inday Badiday in Eye to Eye for Kris' 18th birthday, the basketball player said that Kris possessed all the qualities he admired in a woman.
Public verdict: Kris and Alvin starred in Tasya Pantasya (1994). Despite constant teasing from showbiz reporters, they never formally hooked up. Then, in 2000, when Alvin and wife Cindy Conwi were briefly estranged, the Alvin-Kris coupling nearly happened for real. Unfortunately, Kris ended up in tears on The Buzz. Alvin went back to his wife. It was heartbreaking to hear the Queen of All Media thank Alvin's wife for not judging her. Kris said, "If there is one woman who has behaved with so much dignity through all this, that is Cindy Conwi Patrimonio. And if she can behave so much like a lady, ano ang karapatan ko ngayon na manisi ng tao?" In his Philippine Star column, "Alvin, how could you?" Ricky Lo revealed that Alvin actually had another girlfriend (not Kris) during his estrangement from Cindy.
ADVERTISEMENT - CONTINUE READING BELOW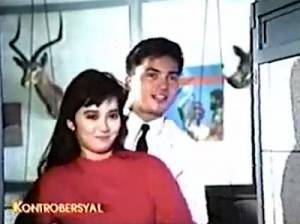 3. Gabby Concepcion
Hook-up specs: He was Kris' co-star in Pangako ng Puso (1990). He reportedly started making the moves on her on set. Teodoro "Teddy Boy" Locsin, Jr., who served as President Cory Aquino's spokesperson, told Kontrobersyal that when they got wind of this, the Presidential Security Group (PSG) did a background check on Gabby.
ADVERTISEMENT - CONTINUE READING BELOW
Public verdict: Gabby was estranged from then-wife Sharon Cuneta. His bid for Kris' heart didn't seem to be successful. He went on to marry and divorce Jenny Syquia. He is now married to Genevieve Yatco Gonzales. He and Kris co-starred in the ABS-CBN primetime soap opera Kung Tayo'y Magkakalayo.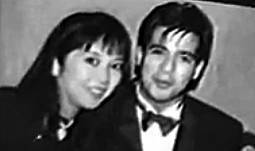 ADVERTISEMENT - CONTINUE READING BELOW
4. Aga Muhlach
Hook-up specs: Kris and Aga co-starred in 1993's Humanda Ka Mayor! (Bahala na ang Diyos) and 1994's Bakit Pa Kita Minahal?
Public verdict: Theirs was a movie set flirtation that never got fleshed out in real life. Later on, Aga was linked to Kris' cousin, Mikee Cojuangco, who starred with Aga in Forever (1994). Aga went on to marry Charlene Gonzales.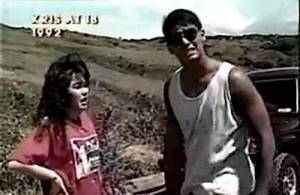 ADVERTISEMENT - CONTINUE READING BELOW
5. Richard Gomez
Hook-up specs: He was Kris' leading man in Ang Siga at ang Sosyal (1992). Richard was at his peak as a matinee idol and endorser.
Public verdict: This was another pairing that never materialized. Had Kris and Richard actually gotten together, they would have been a formidable showbiz-and-politics couple. Kris and Richard have remained friends. Kris and Richard's wife Lucy Torres-Gomez are also good friends.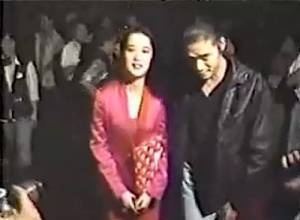 ADVERTISEMENT - CONTINUE READING BELOW
6. Robin Padilla
Hook-up specs: Though Robin became Kris' boyfriend in the early 1990s, when he was still messed up, it wasn't until 2003 that they made a movie together called You and Me Against the World.
Public verdict: Rumor has it that Kris almost eloped with Robin. The papers also had a field day when Robin and Richard Gomez engaged in a fistfight at the Arlegui Mansion, where Kris had asked them to meet to make peace since they had gotten into an argument during the Star Olympics. The Adonis and the Bad Boy were allegedly stopped by President Cory Aquino herself.
7. Phillip Salvador
Hook-up specs: He hooked up with Kris on the set of Nandito Ako (1994). Phillip had made a name in critically acclaimed films like Jaguar (1980) and Orapronobis (1989). By the time he met Kris, however, his career was on the wane.
ADVERTISEMENT - CONTINUE READING BELOW
Public verdict: Phillip was still married to first wife Asuncion "Sony" Dabao, so he and Kris couldn't get hitched. They lived together instead. Kris was 24 when she had their son, Joshua, in 1995. Kris and Phillip called it quits in 1999. Phillip went on to marry Emma Ledesma. Phillip has remained friends with Kris, emphasizing that she is "a very good mother."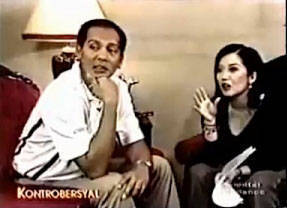 ADVERTISEMENT - CONTINUE READING BELOW
8. Joey Marquez
Hook-up specs: He was Kris' interview subject on The Buzz, when he had just broken up with Alma Moreno in 2002. They became an item sometime afterwards. They then lived together. Kris became a glamorous mother figure to Joey's other kids.
Public verdict: Kris and Joey called it quits in 2003 after a very hostile encounter. It was, we have to say, the Mother of All Bad Breakups. There was a cocked gun, talk of STD, and a dramatic flight from the love nest. In an interview with Korina Sanchez about her split from Joey, Kris admitted, "Sinasabi nila that I grabbed at his genitals. I did. I wanted to crush it. Then, sinabi ko, 'Ano pa ba ang kulang sa akin?' Ilang beses mo ba akong kailangang gaguhin?'" The public certainly cheered when Kris finally decided to leave Joey. (By the way, Joey also used to be a basketball player for teams like Alaska, Ginebra, and Great Taste.)
ADVERTISEMENT - CONTINUE READING BELOW
9. Mark Lapid
Hook-up specs: He was Kris' rebound romance. Mark, son of action star-turned-politician Lito Lapid, was with Kris for such a short time. It seemed to be over faster than we could say, "Leon Guerrero!"
Public verdict: Though it seemed like they could have made it work, the Kris-Mark tandem lacked excitement. If Kris got bored, we can't blame her. Mark went on to have a child with actress Tanya Garcia.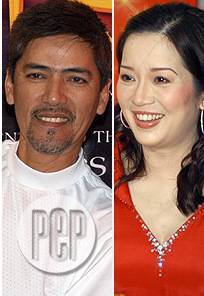 ADVERTISEMENT - CONTINUE READING BELOW
10. Vic Sotto
Hook-up specs: He was Kris' leading man in the comedy My Funny Valentine (1990). They stayed in touch when the movie was done.
Public verdict: Joey Marquez reportedly chided Kris for exchanging text messages with Vic. He was allegedly accused as the source of Joey's jealousy. Alas, his involvement with Kris never became a full-blown romance. Vic, whose marriage with Dina Bonnevie has been annulled, went on to hook up with TV host Pia Guanio.
Special mention: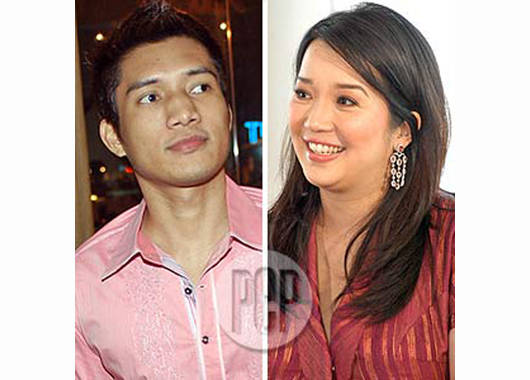 ADVERTISEMENT - CONTINUE READING BELOW
James Yap
Hook-up specs: Kris wed James, who played basketball for the Purefoods Tender Juicy Giants, in 2005. She had their son, Baby James (nicknamed Bimby) in 2007. Kris is 11 years older than James. After all the complicated romantic entanglements she went through, she finally got the chance to say "I do" with the seemingly unassuming young man from Escalante City, Negros Occidental.
Public verdict: Many critics dismissed the marriage right from the start, saying that Kris and James were mismatched. It didn't help when, later on, James' alleged involvements with Hope Centeno and Mayen Austria were publicized on national TV. The marriage was annulled in February 2012. Early in 2013, they had a legal feud, with Kris accusing James of "amorous advances." She sought a protection order against James, but eventually made a compromise when it comes to visiting Bimby.
Art by Warren Espejo, screen captures from Kontrobersyal and Eye to Eye, and photos from PEP.
ADVERTISEMENT - CONTINUE READING BELOW
Share this story with your friends!
---
Help us make Spot.ph better!
Take the short survey
More Videos You Can Watch
Load More Stories