10 Favorite Soundtrack Songs
A playlist that combines our two great interests: movies and music.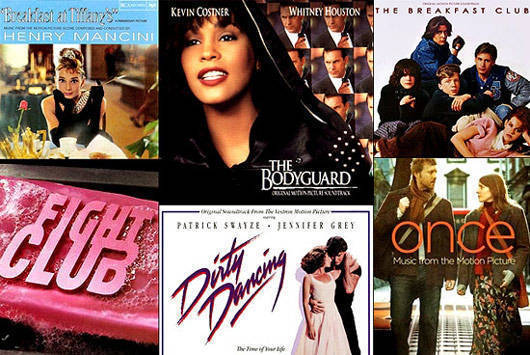 (SPOT.ph) When you think of the movie Titanic, you automatically recall the tin whistle intro of Celine Dion's "My Heart Will Go On." And when you think of Saturday Night Fever, the first image you'll have is John Travolta's Tony Manero strutting down the street to the Bee Gees' "Stayin' Alive." Theme songs are sometimes inextricably linked to their movies, and they even stay with us long after we've forgotten what the movie was about.
We've compiled a list of our favorite soundtrack songs, picking tunes that crossed over from the screen to the radio, or choosing songs which helped to create indelible movie moments. Also, it's a purely subjective thing. Feel free to sound off on your favorite soundtrack songs in the comments section.
ALSO READ:
Top 10 Favorite Movie Soundtracks
"I Will Always Love You" by Whitney Houston
Soundtrack: The Bodyguard
Best line: If I should stay / I would only be in your way / So I'll go but I know / I'll think of you every step of the way
Thanks to the late great Whitney Houston's tour de force performance, the song became a massive worldwide success and made The Bodyguard the bestselling soundtrack of all time. Whitney was at the peak of her powers, demonstrating her virtuosity from the a cappella intro to the stratospheric notes. She originally intended to record Jimmy Ruffin's "What Becomes of the Brokenhearted" as the lead single. But because the song would be used for another movie, they went with "I Will Always Love You," which was written and originally released by Dolly Parton.
ADVERTISEMENT - CONTINUE READING BELOW
"Don't You (Forget About Me)" by Simple Minds
Soundtrack: The Breakfast Club
Best line: As you walk on by / Will you call my name? / When you walk away
No one knew this would be an anthemic song for an entire generation. Bryan Ferry and Billy Idol passed on it and Scottish band Simple Minds had to be persuaded to do it. Lead singer Jim Kerr gave plenty of attitude through his brooding delivery. And we will always associate this song with the freeze-frame shot of Bender's (Judd Nelson) triumphant fist pump.
"Over the Rainbow" by Judy Garland
Soundtrack: The Wizard of Oz
Best line: Somewhere over the rainbow, bluebirds fly / Birds fly over the rainbow / Why then oh why can't I?
CONTINUE READING BELOW
Recommended Videos
"Over the Rainbow" was nearly cut from the film; MGM felt that it made the Kansas sequence too long. Good thing they kept the song because it went on to become a timeless classic. It also became Judy Garland's signature song. She wrote in a letter to composer Harold Arlen: "'Over the Rainbow' has become part of my life. It's so symbolic of everybody's dreams and wishes that I'm sure that's why some people get tears in their eyes when they hear it. I've sung it thousands of times and it's still the song that's closest to my heart."
"Wise Up" by Aimee Mann
Soundtrack: Magnolia
Best line: It's not going to stop / 'Til you wise up

Director Paul Thomas Anderson used Aimee Mann's music as inspiration for the ensemble film Magnolia. He encouraged her to write songs for the film by sending her a copy of the script. "Wise Up" was featured prominently in a surreal sequence wherein several characters are seen simultaneously singing the tune. The song's sweet melody and gentle, orchestral swells contrast with the gritty message of waking up to reality.
ADVERTISEMENT - CONTINUE READING BELOW
"Falling Slowly" by Glen Hansard and Marketa Irglova
Soundtrack: Once
Best line: I don't know you / But I want you / All the more for that

A heartbroken busker meets his musical soulmate in Once. The characters, played by musicians Glen Hansard and Marketa Irglova, were largely based on them. They composed and performed all of the original songs in the film. The two leads had strong chemistry and they became a real-life couple-when you see their beautiful duet, you'll know why.
"Unchained Melody" by Righteous Brothers
Soundtrack: Ghost
Best line: Oh, my love, my darling / I've hungered for your touch / A long, lonely time

Has pottery making ever been so sexy? Not since Demi Moore and Patrick Swayze molded clay in Ghost. The silky smooth and pure voice of singer Bobby Hatfield slowly builds to that stunning high note. Everyone, from Elvis Presley to Lykke Li, has covered this song, but the Righteous Brothers made the definitive version.
"I've Had The Time of My Life" by Bill Medley and Jennifer Warnes
Soundtrack: Dirty Dancing
Best line: I've had the time of my life / No I never felt this way before / Yes I swear it's the truth / And I owe it all to you

Our fan love for Patrick Swayze was cemented by his killer dance moves in Dirty Dancing. The feel-good song reaches its climax in that soaring moment when Swayze lifts Jennifer Grey in the air.
"Moon River" by Audrey Hepburn
Soundtrack: Breakfast at Tiffany's
Best line: Two drifters, off to see the world / There's such a lot of world to see / We're after the same rainbow's end, waiting round the bend / My Huckleberry friend, Moon River, and me
ADVERTISEMENT - CONTINUE READING BELOW

Dressed down in jeans and strumming her guitar, Audrey Hepburn's glamorous call-girl Holly Golightly has an unguarded moment when she sings this wistful tune on the fire escape. Henry Mancini wrote "Moon River" specifically for Audrey Hepburn. He later said that while many versions of the song have been done, he felt that Audrey's was the best.
"Where Is My Mind?" by The Pixies
Soundtrack: Fight Club
Best line: With your feet in the air and your head on the ground / Try this trick and spin it, yeah / Your head will collapse / But there's nothing in it / And you'll ask yourself / Where is my mind?

This innovative pop song from the band's highly influential Surfer Rosa LP suits the dark tone of Fight Club. Edgy and haunting, the song's anarchic energy is perfect for the movie's final scene where buildings are blown up one after another and institutions are destroyed.
"All I Want Is You" by U2
Soundtrack: Reality Bites
Best line: But all the promises we make / From the cradle to the grave / When all I want is you

The Reality Bites soundtrack is filled with great songs like The Knack's "My Sharona" and Lisa Loeb's "Stay (I Missed You)," but the most soulful is easily U2's epic power ballad. Little wonder then that it was used in the climactic montage. The sheer poetry of the lyrics, Bono's world-weary yet impassioned rendition, and The Edge's rambling guitar playing off the orchestral strings convey longing on a visceral level.


ADVERTISEMENT - CONTINUE READING BELOW
Share this story with your friends!
---
Help us make Spot.ph better!
Take the short survey
Load More Stories