Macho for the Art Month: The Philippine Macho Dancing Academy, Exhibit by Eisa Jocson
Woman undulating to the tune of "Total Eclipse of the Heart"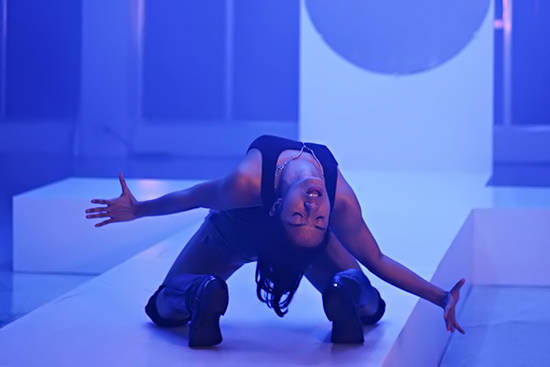 (SPOT.ph) He may not be the best actor in Hollywood but when Magic Mike came out, Channing Tatum gave us a chance to see the life of a male stripper when he's off the stage. He's never been shy about his old job, and with the help of Eisa Jocson's art, it's something he can be proud of. Here in the Philippines, we don't reduce it to simple stripping. We call it dancing. Macho dancing.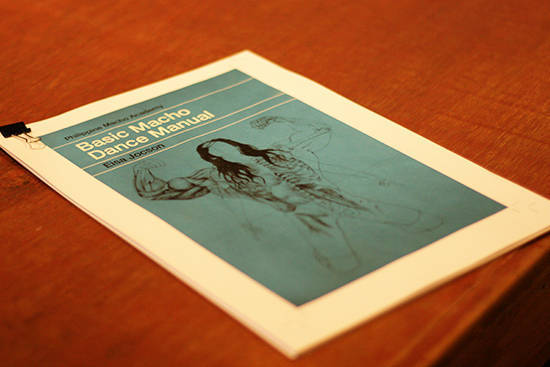 Forget "Moves Like Jagger." Move like a macho!
On February 17, Jocson opened The Philippine Macho Dancing Exhibit at the Vargas Museum in U.P. Diliman. The exhibit includes sketches of macho dancing moves, videos of Jocson's performance, and free lessons every Friday until March 8. If you can't guess by her name, she's a woman. A woman who saw the art of dance in something typically seen in small rooms with flashing neon lights.
ADVERTISEMENT - CONTINUE READING BELOW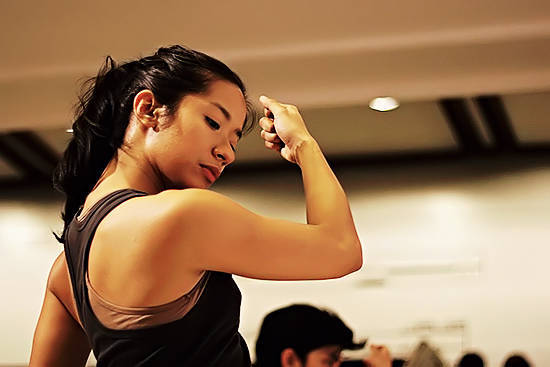 CONTINUE READING BELOW
Recommended Videos
Eisa Jocson
It's not a modified version of the undulations performed by men on narrow catwalks in bars. The vocabulary of choreography adheres to the movement and articulation of male macho dancing. Prior to her exhibition, Jocson demonstrated what dance lessons with her are like and we were introduced to the "macho pose" and the "macho walk." It sounds silly and the recorded instructions embrace it, commanding you not just to expand but to, "expaaaaand!"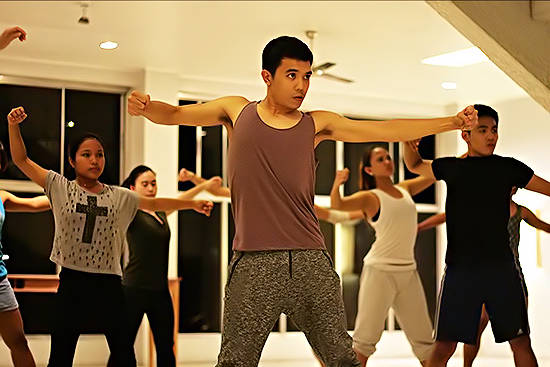 ADVERTISEMENT - CONTINUE READING BELOW
Expaaaaaaand!
Taken out of the context of secluded spaces thick with the concupiscent gaze of patrons, Jocson's performance reminded the audience that, to quote a meme, one does not simply sway and call oneself a macho dancer. It's designed to highlight the enticing bits of the male anatomy-typically to seduce, but if so, what are the mirrors on the stage for?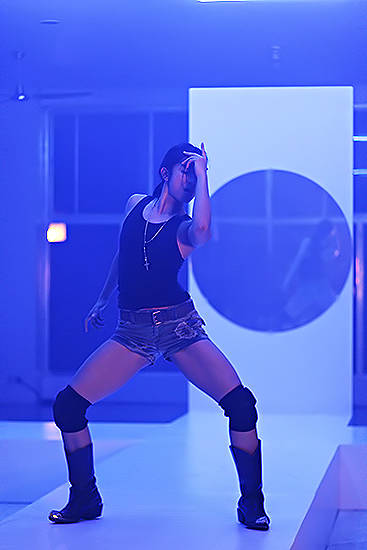 Through Jocson's exploration, we the audience were invited to spare a thought or two to contemplate what's unfolding when shirts and other articles of clothing come off. There's a certain (ahem) cockiness to the way she struts down the stage, chewing on gum. It's part of the act-an excessive amount of love for your body is a must if you want to convince people that they're missing out because they can't have you. It's part of the gwapo ako mentality and remember, we represent pride in CNN's Asia's Most Sinful Cities.
ADVERTISEMENT - CONTINUE READING BELOW
Jocson in motion
Jocson's perfomance added another layer of excitement to the dance. There's discipline here, similar to ballet, and she brought with her the entire culture that was tucked in gay bars and a few bachelorette parties-cheesy music included (you can bet your entire life's fortune that there's "Careless Whisper" here). She wore the cowboy boots and the confidence in her stance dispel any notion that she was simply mimicking the steps but is she being a man? Of course, that question is tied to, "what makes a man?"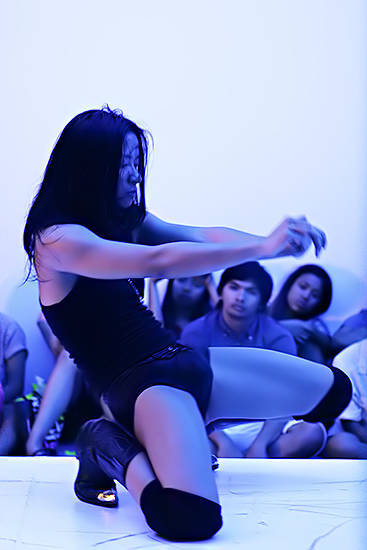 The bulge is part of the package
At the sight of Jocson stuffing her briefs with a "crotch enhancer," we realize that maybe the reason why these questions have never been answered or why the battle of the sexes hasn't been won is because the fight is fictional and the question is stupid. This isn't a show about gender politics. This is art as an equalizer.
ADVERTISEMENT - CONTINUE READING BELOW
This is a tribute to dance. Enjoy.
The Philippine Macho Academy runs until March 8 at the Vargas Museum in U.P. Diliman. Macho Dancing Classes will be held every Friday from February 21 to March 7.
Share this story with your friends!
---
Help us make Spot.ph better!
Take the short survey
Load More Stories