MOVIE REVIEW: Gabriel Fernandez's Mana
A top-notch cast tackles a family mystery, and cinema refocuses its spotlight on evocative Negros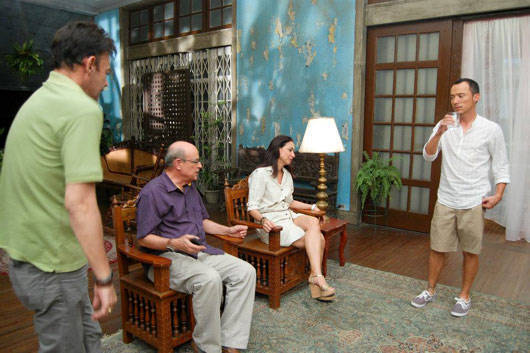 The fine ensemble of Mana. Photo from themanamovie.com
(SPOT.ph) Gabriel Fernandez's Mana opens with complete darkness, accompanied by horrid sounds of pained wailing. The image of rustic mansion replaces the black screen. Drowning the incessant moaning are impassioned voices of several arguing adults, all brothers and sisters who are heirs of their dying mother. Instead of fighting tooth and nail over their inheritance, they seem to be ironically arguing their way out of it. What exactly is it that the siblings are to inherit from the dying Conchita Villareal that is threatening to break familial bonds? The answer to the question is the central conceit of Mana, one that would open for Fernandez an opportunity to explore his own native Negros and the island's peculiar familial structures and attitudes.
Fernandez is not the first Negros filmmaker to dissect the Negros family through film. Peque Gallaga, in his World War II-set epic Oro, Plata, Mata (1982), carefully laid down the excesses of the province's many aristocratic families on the eve of their eventual despair. In the face of near nothingness and stark desperation, they bend and cling to an illusion of privilege their social class has imposed on them. Although it concerns a more modest family, Richard Somes's Yanggaw (2008) criticizes the very concept of family by testing a patriarch's resoluteness and fealty to his when his daughter arrives home a monster. Draped in genre conventions, Somes's film utilizes local folklore to allude to more real horrors. Although their films are set far from their hometowns, Erik Matti and Borgy Torre, in Pa-Siyam 2004) and Kabisera (2013), respectively, have crafted genre works that also tackle the delicate threads that bind families.
ADVERTISEMENT - CONTINUE READING BELOW
Fernandez similarly clothes Mana with an atmosphere of mystery and waiting. Deliberately paced, embellished with a visual and aural design that is spare but effective, and delightfully unhinged, the film manages to balance its horror aspirations with what it tries to allude to. The film could have done away with some of the computer effects, which, while passable, is not really necessary.
Although it dabbles in the occult, Mana is still pretty much an ensemble piece. Fernandez thankfully understands this and has his film be carried from start to finish not by cheap shocks but by the fantastic performances of his cast. Fides Cuyugan-Asensio, who gives life to the ailing Conchita, is a continuous presence despite the very limited time that she is actually onscreen. She exudes the physical and emotional suffering that would push her sons and daughters to action despite the stakes. Cherie Gil exemplifies the desperate hesitation that consumes her character Sandra who returns to Negros from her many travels to provoke her siblings to decide quickly. Jaime Fabregas, Mark Gil, Ricky Davao, Tetchie Agbayani, and Epy Quizon, all of whom play the remaining members of the Villareal clan, work together to enunciate the family dysfunction that seems to overshadow all other horrors.
CONTINUE READING BELOW
Recommended Videos
Mana is far from perfect. It tends to linger longer than necessary. Its essential depictions of the supernatural are also compromised by an insistence on computer graphics instead of entrusting the same to the audience's imagination. However, it is successful in reshaping centuries-old folklore into something that is relevant amidst more modern concerns.
ADVERTISEMENT - CONTINUE READING BELOW
Share this story with your friends!
---
Help us make Spot.ph better!
Take the short survey
Load More Stories