10 Things We Love About Cock
This Red Turnip production isn't all about sex.
(SPOT.ph) In 2009, Mike Bartlett penned a play and he chose the title Cock. You really have to wonder why. It's not a graphic play, and it is by no means crude or crass. But as Red Turnip Theater's staging of his work ended, the title was the last thing on our minds.
For those who are unfamiliar (no shame in that, we were Cock virgins too), the play is about a man named John. John is a gay man...or so he thought until he slept with a woman...but then goes back to his lover...while still seeing the woman. Half the time, you want to yell at him for being a douchebag, but when the play gets to where it wants to take you, John could very well be any one of us.
Before we spiral down to a conversation best had with drinks in hand, here are 10 things we love about Red Turnip's Cock.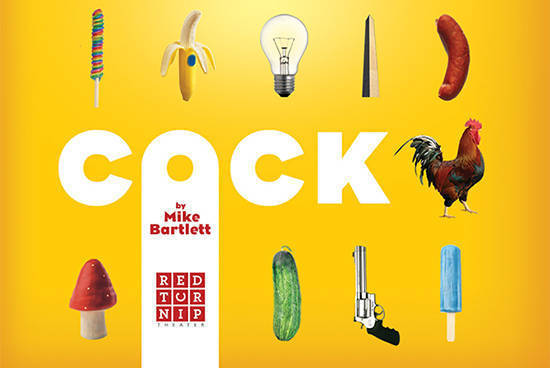 ADVERTISEMENT - CONTINUE READING BELOW
1. The bare set.
The area where the actors move in Cock looks like...well, a cockpit. It's a challenge for the actors, because the audience can't help but look at them (nothing else to see there!). We're guessing that the minimalist approach to everything else was meant to let the wit of the play fly. Fortunately, Topper Fabregas, Niccolo Manahan, Jenny Jamora, and Audie Gemora keep the rhythm of the repartee snappy and sharp, and the circle where they move is filled with energy.
2. My Husband's Lover Redux.
It's not an old classic play with a modern twist: it's a modern play about modern times. In a world where every mistress story has been told, Red Turnip Theater presents one of the last decade's best-written plays, which actually adds something new to the equation. Cock posits a question that too few allow themselves to ask, but more importantly, it does not shove an answer down your throat.
CONTINUE READING BELOW
Recommended Videos
3. Bisexuals: they probably exist.
The progressives of the world are doing "ra-ra-ras" for LGBT rights, but the B is usually forgotten. Bisexuality is seen as fence-sitting or just plain old kalandian. While this is true in some cases, Cock lends a voice to people who are actually attracted to both men and women. Or as we like to call them: humans. People.
4. The great sex scene (with clothes).
The title is Cock, and yes they have a sex scene. It's "corn on the cob" and all aural. Jenny Jamora (as W) and Topper Fabregas (as John) perform a ridiculous (thus, hilarious) and exciting spoken-word ditty, where they undress each other through verbs.
ADVERTISEMENT - CONTINUE READING BELOW
5. The bitchy banter (admit it, you like it!)
It's like watching a brilliant British sitcom live-without the accent, of course. Bartlett's script is pure words, with very little punctuations, and thus, the cast had to develop respect for how the words flow. The result is dialogue that seems dynamic and organic, and we tip our hats to them.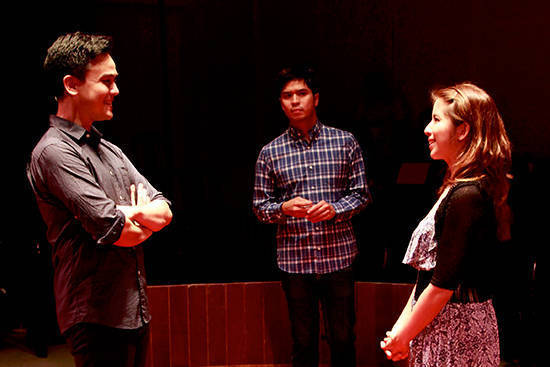 M (Niccolo Manahan) meets F (Jenny Jamora) for the first time. Good luck, John!
6. F (played by Audie Gemora)
Who wouldn't want a father who rallies for his gay son all the way to a confrontation dinner? Gemora is an imposing presence on stage, willingly stepping into the shoes of a protective parent. We don't know much about the character, but Gemora is able to flesh him out well enough for us to understand where he's coming from.
7. W (played by Jenny Jamora)
There's something about the way W speaks that makes us feel like she's hoping the world requites her tenderness, and Jenny Jamora plays her with a great mix of coy and cunning. It's not an easy feat to convince the audience that you're a woman shrewd enough to persuade a gay man to sleep with you.
ADVERTISEMENT - CONTINUE READING BELOW
8. M (played by Niccolo Manahan)
He's stern, he's dominating, and yet Niccolo Manahan is able to hint at his fragility. It seems strange that such a "controlling" partner would turn to his father for support, but that's insecurity for you. Manahan gives an emphatic performance, with the personality of his character resounding in every little thing he does on stage.
9. John (played by Topper Fabregas)
When the character M points to John and expresses his exasperation because they are fighting over someone who is somewhat unremarkable, Fabregas' charm works for him. He may not be the best-looking actor, but there's something captivating about him when he's on stage. He's exactly the kind of actor who can give John's character justice.
10.  Rem Zamora's direction
Sometimes, the simplest things are the hardest to execute. Bartlett's script is so powerful (it reminds us of the best of Woody Allen's works) that it needs a director who understands what it wants to say without complicating it. With a script that has zero instructions on blocking (and everything else), Ren Zamora had to rely on everything he knows about everything theater, and the result is phenomenal.
Cock will be staged at Whitespace (2314 Chino Roces Avenue Extension) on March 7, 14, 21, 28 and April 4 (9 p.m.); March 8, 15, 29 and April 5  (8 p.m.); April 5 (4 p.m. and 8 p.m.); March 9, 16, 23 and April 6 (4 p.m.); and a special closing gala on April 6 (8 p.m.).
ADVERTISEMENT - CONTINUE READING BELOW
UPDATE: Cock  will be staged at Whitespace  (2314 Chino Roces Avenue Extension) on October 3, 4, and 5.
For tickets, log on to TicketWorld or check out Red Turnip's Official Facebook Page.
Share this story with your friends!
---
Help us make Spot.ph better!
Take the short survey
Load More Stories