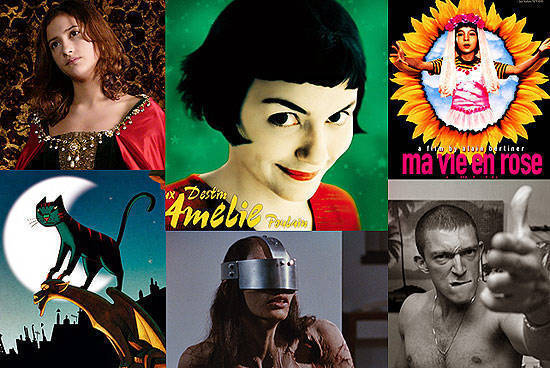 (SPOT.ph) They say that the French invented cinema itself, so it's worth pointing out that there are more than 10 great French films. Michel Gondry, Jean-Pierre Jeunet, Jean-Luc Godard, and François Truffaut are masters of this visual art, and, yes, we all love Amélie and The Science of Sleep and Vivre Sa Vie but to mark Month of Francophonie, we gathered 10 more French films that showcase the diversity of the cinematic landscape of France.
Whether you're in the mood for some light rom-com or you want to get down and dirty with some hard to swallow truths about the world, the French have something that will satisfy your needs.
This list is not ranked.
1. Animated: A Cat in Paris / Une vie de chat
Directed by: Jean-Loup Felicioli and Alain Gagnol
Primer: A little girl and a cat get caught in a series of heists around Paris.
ADVERTISEMENT - CONTINUE READING BELOW
Recommended for: Cat-loving people of the Internet, of course! The animation is crisp and stunning visuals is always a plus!
Also see: Fears of the Dark
2. Romantic Comedy: Priceless / Hors de prix
Directed by: Pierre Salvadori
Primer: Inspired by Breakfast at Tiffany's, Priceless follows the adventures of gold-digging Irène, who targets a waiter from a hotel whom she mistakes for a millionaire.
Recommended for: Anyone who loves chick flicks...and fans of the sweet looks of Audrey Tautou. She's a ball of quirk in Amélie, but here, she shines as an actress that's truly comparable to the equally stunning Audrey Hepburn.
Also see: Coco Avant Chanel
3. Slick Mobster Film: The Mesrine Series (Mesrine: L'instinct de mort and Mesrine: L'ennemi public № 1)
Directed by: Jean-François Richet
Primer: Mesrine is a two-part French film inspired by the life of French gangster Jacques Mesrine. Think Manila Kingpin: Asyong Salonga but en français.
Recommended for: Fans of films like Scarface, which document the rise and fall of a criminal mastermind-with style.
4. Small Time Crooks Gone Awry: The Beat That My Heart Skipped / De battre mon cœur s'est arête
Directed by: Jacques Audiard
Primer: A real estate broker involved in shady deals tries to pursue his dreams of becoming a concert pianist.
Recommended for: Fans of film in general. The Beat That My Heart Skipped is one of those well-crafted contemporary films that will soon be a classic. Audiard carefully composes scenes that express the complexity of people. We all strive to be something good-but life doesn't always work out the way we want it too.
Also see: A Prophet / Un prophète
5. French Gore: Martyrs
Directed by: Pascal Laugier
Primer: Crazy people doing crazy things. Trust us, this is the only way to describe this film.
ADVERTISEMENT - CONTINUE READING BELOW
Recommended for: People who want to be disturbed. It's violent and will cause a lot of discomfort, but it's not for nothing. The message is a little obscured by blood and guts, but think of it this way: it's a good way to determine what kind of person you are. Watch this with someone you fancy, and see how they react. It will reveal certain things about you and your perception of humanity. (We have officially entered the "deep" zone.)
Also see: Inside / À l'intérieur
6. Social Commentaries: Hate / La Haine
Directed by: Mathieu Kassovitz
Primer: La Haine follows the lives of three young men who live in the impoverished parts of France.
Recommended for: Finding inner peace. The film is harsh and heavy...sort of like life, but it also clearly demonstrates what the phrase "hate begets hate" means. Yes, that's where the title comes from.
ADVERTISEMENT - CONTINUE READING BELOW
7. LGBTQ: My Life in Pink / Ma Vie En Rose*
Directed by: Alain Berliner
Primer: A little boy feels more like a little girl.
Recommended for: Everyone. Everyone should watch this film. The themes are understated and the story is told with such thoughtfulness that you realize that sexuality is such a secondary, nay, almost negligible part of being human. It's an incidental trait, and something that shouldn't be used to define anyone.
Also see: Blue is the Warmest Color / La Vie d'Adèle
* Ma Vie en Rose is directed by Berliner, who is Belgian, but the language of the film is French.
8. Slice of Life: I've Loved You So Long / Il y a longtemps que je t'aime
Directed by: Philippe Claudel
Primer: Juliette Fontaine is released from prison after 15 years, and the film chronicles her struggle to live a normal life once more.
ADVERTISEMENT - CONTINUE READING BELOW
Recommended for: Watch this when you need to remind yourself why it is important to have empathy, or conversely, when you feel like no one can understand your situation. Kristin Scott Thomas, who plays Juliette, is engrossing and the world she moves in is composed and framed in a way that allows you to clearly see her isolation. You'll find yourself singing the children's song where the title is from after you've watched it.
9. Complex Narratives: Incendies*
Directed by: Denis Villeneuve
Primer: We'd rather not spoil anything, but it's about family, family secrets, harsh truths, and the importance of forgiveness.
Recommended for: Watch this when you're so happy, you need to take it down a notch. Incendies really burns (the title means destruction by fire) away at all that you hold dear about what is right, what is wrong, and how people live with incomprehensible problems that life throws at them. (Maybe also watch it with wine? And a friend to comfort you after?)
ADVERTISEMENT - CONTINUE READING BELOW
* Incendies was produced in Canada, but uses Arabic and French in the dialogue
10. Folktales: Bluebeard / Barbe Bleue
Directed by: Catherine Breillat
Primer: An adaptation of a folk story attributed to Charles Perrault, Bluebeard is a cautionary tale...for men who want to murder their wives. As they say, what goes around comes around.
Recommended for: People with a taste for the absurd, and are interested in diving in and exploring French culture in a different way. Folktales are always generally fascinating, so for anyone who is curious about the kind of stories the French used to tell when the Internet wasn't around (i.e. 1697), this is a film that's right up your alley.
Share this story with your friends!
---
Help us make Spot.ph better!
Take the short survey
More Videos You Can Watch
Load More Stories