(SPOT.ph) Remaking the classics of OPM has become a cottage industry in our music scene. Yet many of these revivals stand out from the rest-some, by way of a creative vision, and others, by a sheer passion for this legacy that already qualifies as musical patriotism. This wasn't an easy list to complete, and there are many other gems in what is after all the vast treasure of our music-recording history. That said, here are 10 remakes that you might actually like better than the originals.
10. "Binibini" by Daniel Padilla
Daniel Padilla's cover of this archetypal Manila sound by the Rainmakers features a surprisingly hip arrangement by renowned sessionist and Berklee alumnus Karel Honasan, who plays most of the instruments here. Not a bad idea to line up this cover in a club-party playlist. Daniel's rough-textured voice and earnest singing provide a nice contrast to this chill-out remake.
9. "Ikaw Lang ang Aking Mahal" by Brownman Revival
In the '70s heyday of VST & Co. (and of this exquisite ballad co-written by Tito Sotto), the accompanying scene of Pinoy Rock was already grooving to the global phenomenon of reggae. This punchy remake by Brownman Revival offers an alternative what-might-have-been to the Manila Sound of the '70s defined by VSTand other artists. It's one of many OPM renditions by the Pinoy reggae band that affirm that anything foreign becomes uniquely Filipino, as rendered by our artistry.
8. "Doo Bidoo" by Kamikazee
The APO Hiking Society goes punk with this Kamikazee deconstruction that actually pays due homage to the original, in a way this band couldn't accord to Ariel Rivera with their annihilation of "Sana Kahit Minsan." From the all-star tribute CD Kami nAPOMuna, which also features several outstanding APO remakes. Now, will Ryan Cayabyab or Noel Cabangon care to lounge up anything from Mamatay sa Ingay by the Dead Ends?
ADVERTISEMENT - CONTINUE READING BELOW
7. "Tatsulok" by Bamboo
Bamboo's power-pop rendition of this anthemic song-story, by the activist-folk band Buklod, is an inspired cover choice, one that carries over the social-realist themes of Buklod to a mainstream audience. Totoy's story as a child caught in a crossfire gets a vivid retelling in this heartfelt recording.
6. "Humanap Ka ng Panget" by Radioactive Sago Project
Like their idols, the multinational ensemble Weather Report, Lourd de Veyra and his fellow travelers in the Radioactive Sago Project have always been essentially an avant-folk band-taking off from Pinoy pop culture, mutating that chimera according to their diverse (and perverse) sensibilities. These guys are really beyond category. But above all, they're exalted populists-like another of their idols, Pete Lacaba, whose landmark essay, "Notes on Bakya," may well serve as a manifesto for Sago's alchemy. It's no wonder they had the lunacy to do some fission work on Andrew E's post-Yoyoy Villame novelty hit-taking it to a realm out of this world, somewhere in the galaxy of Darna and the Planet Women.
5. "Bulag Pipi at Bingi" by Noel Cabangon
His growing body of OPM remakes attests to Noel Cabangon's strength as a musical visionary, apart from his stint with Buklod. And it's the highly inventive renditions of the classics that distinguish his work, such as this striking version of the Freddie Aguilar signature (written by Snaffu Rigor), which finds Cabangon very adept in the sounds of Brazil, although he could also be channeling Bong Peñera.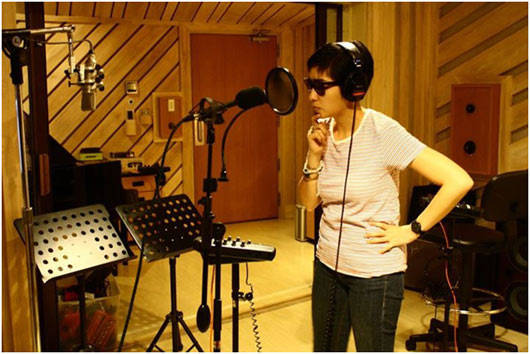 Armi Millare of  Up Dharma Down evokes soul power to revive the Manila Sound. Photo from Up Dharma Down's Facebook page.
4. "Pag Tumatagal, Lalong Tumitibay" by Pasta Groove (with Nikki Cabardo, Armi Millare, and Junji Lerma)
Trust music maven Pasta Groove (Paolo Garcia) to unearth and give new vitality to well-kept secrets in the OPM canon. Here he enlists the support of some of the most critically acclaimed artists in Filipino music today (Freestyle keyboardist Nikki Cabardo, singer-keyboardist Armi Millare of Up Dharma Down, and Radioactive Sago guitarist Junji Lerma)-and their inspired collaboration, in this remake of a Pinoy soul wonder by '70s band Wadab, shows how modern artistry is defined by a keen sense of tradition with an eye (or ear) toward the future. This recording would make a wonderful B-side to the rich, colorful original.
3. "Tuwing Umuulan at Kapiling Ka" by The Eraserheads
This often-covered Basil Valdez signature (written by Ryan Cayabyab) undergoes a garage-rock overhaul in the hands of the Eheads. Probably an acquired taste to those who are used to the original and its similar-sounding remakes, yet it still conforms with the song's cathartic spirit. Ely Buendia and Sharon Cuneta had also performed an eloquent duet that draws from the qualities of both Basil's recording and the Eheads remake.
ADVERTISEMENT - CONTINUE READING BELOW
2. "Ikaw Na Nga" by Basil Valdez
Basil Valdez's recent recordings still show his keen ear for picking out choice material, even from unlikely sources-in this case, the Willie Revillame hit. Talk about a rough diamond finding its jeweler-this one sparkles better than any Basil standard.
1. "The Kayanihan Song" by Various Artists
Or what some might call "The Yellow Army Song," and shame on them for their cynical senior moment. But, yes, this revamping of Ryan Cayabyab's"Kay Ganda ng Ating Musika" had been widely touted as being co-written by the Filipino people, until somebody's appearance toward the end of the music video betrayed this to be an altogether different animal. It's still a stirring, feel-good number-like Jose Mari Chan on overdrive. Call this agit-pop, given the context which this song will outlast in just two years. Gloc 9's rap interlude reveals the modernist in Cayabyab who shepherded this project. And dig that bass line echoing Roger Herrera, the late great OPM bassist. "Kayanihan" is a swinging companion piece to Ryan C's a cappella version of his own song, apart from the award-winning performance by Hajji Alejandro at the 1978 Metropop Festival.
Share this story with your friends!
---
Help us make Spot.ph better!
Take the short survey
More Videos You Can Watch
Load More Stories