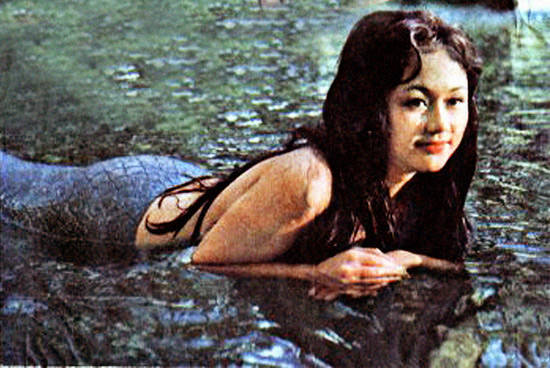 (SPOT.ph) Anne Curtis' big splash, as the latest actress to portray Dyesebel, is a good time to remember any of her predecessors in that role. How old school can that get? Why, as old school as Anne Curtis herself! She was more than happy to secure this dream role being revived by ABS-CBN. And so Dyesebel she is-the latest in a roster that includes Marian Rivera, Charlene Gonzales, Alice Dixson, Alma Moreno, Vilma Santos, and, from way back in the '50s, Edna Luna. (We're not even counting the two or three actresses who appeared in the Anak ni Dyesebel "sub-franchise.")
All these versions vary to some degrees but riff on the same, by-now familiar story of a mermaid who is too independent from her marine world, falls in love with a man, and endures a series of unfortunate events before finding redemption in love. Perhaps the most iconic of the actresses who played Dyesebel is Vilma Santos, whose Dyesebel, as directed by veteran filmmaker Emmanuel H. Borlaza, is still around in video stores and even in YouTube. It's not a masterpiece by any measure, but like a film scholar once said, no film is worth the dust-bin. Every movie is a document of its era.
ADVERTISEMENT - CONTINUE READING BELOW
From 1973, one year into martial law, Borlaza's Dyesebel at ang Mahiwagang Kabibe comes across as a lofty piece of vintage kitsch. Its shoddy production gives this movie a curious visual appeal, which makes it somehow superior to the polished teleserye currently showing. It doesn't rank among Vilma's greatest work, but the film is still worth checking out because it evokes its time-and also rejects that milieu, being a fantasy in the martial-law era.
Here are 10 highlights of Dyesebel at ang Mahiwagang Kabibe.
This list is not ranked.
Also read:
SPOT.ph's Top 10 Favorite Movie and TV Mermaids
Top 10 Most Memorable Pinoy Mermaids
1.  The score and the song numbers.
In the freewheeling fashion of '60s and early-'70s cinema, this Dyesebel steps past its storytelling and becomes a musical, with folk-styled numbers (as exerpted in the video above) featuring lyrics such as this, as sung by the mermaids:
Habang dito sa dagat ay mayroon pang tubig
Ay tiyak narito ma'y isda.
At kahit sabihin walang nagtuturo
Ang isda'y lalangoy ng kusa.
The songs alternate between the sublime and ridiculous as the movie proceeds. But this facet doesn't necessarily detract from the movie if one remembers how the French often played around with their cinema, with empty song-and-dance numbers also popping out of nowhere in the middle of the storytelling (such as this scene from Jean-Luc Godard's Band of Outsiders). Tito Arevalo's kundiman-influenced score, as played by a full orchestra, is a rarity in today's film scoring. It's solid work that excels over the movie itself. But there are moments when the music becomes a loose, pointless jam, as if the scorer realizes in the course of this project that it's a dog.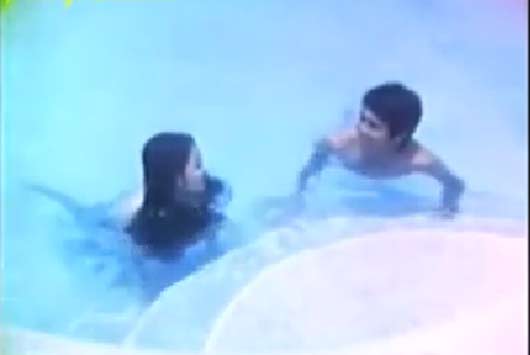 ADVERTISEMENT - CONTINUE READING BELOW
Dyesebel (with Fredo) doesn't seem to mind the chlorine.
2.  The sound "design."
One hears a lot of splashing in this movie, and you know right away that the sound engineers were recording beside a swimming pool. Then you're proven right almost halfway into the film, because it's in the pool where some major scenes are situated. As B-movie technical merits go, this one is so bad it became great.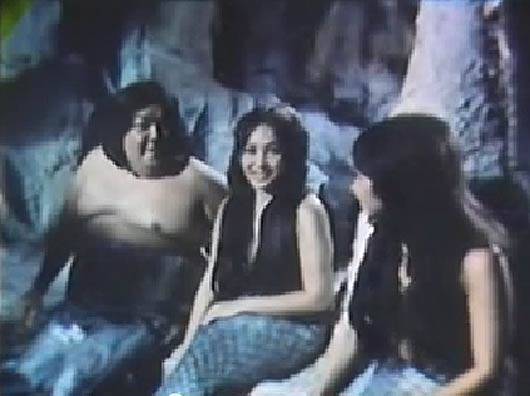 ADVERTISEMENT - CONTINUE READING BELOW
The late comedian-TV host Ike Lozada as the merman Balyena.
3. German Moreno and Ike Lozada
These two comedian-TV hosts ruled the showbiz world for decades, even if much of their careers was limited to roles as small as their parts in this film. They were mostly politically incorrect parts, moreover-during a time when gay and fat-men stereotypes provided the laughs, without the sensitivities we observe today. And they played these parts with panache: Moreno (in the video footage accompanying No. 1 on this list) performing a derivative flamenco with his song number, and Lozada flopping around in his performance as Balyena, the only merman in this film's waterworld.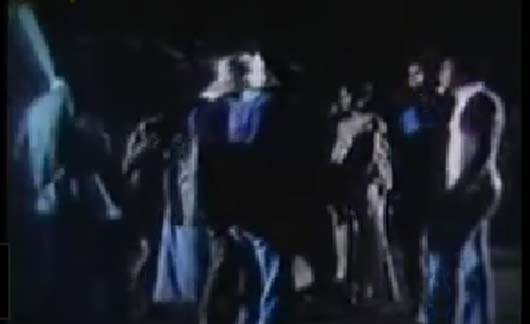 ADVERTISEMENT - CONTINUE READING BELOW
The townsfolk panic at the sight of a mermaid.
4. The theme.
Anne's Dyesebel is updated to current issues-the environment, of course. This earlier Dyesebel merely played up the clash between parochial and modern thinking, with the latter ironically defending an extravagance of nature like the titular mermaid. Moreno's character Kulas refers to the townsfolk somewhat derivatively as "mga taong nayon." But he shares their regard of Dyesebel as "buwisit," "nagdadala ng peste at gutom," "kailangan mahuli't mapatay"-a case of a stereotypical gay going conservative-until he is persuaded otherwise by the young amo he adores, Fredo, whose sympathy for Dyesebel is, of course, romantically motivated. "1973 na ngayon," he tells Kulas. "Mahirap sikmurain ang mga pamahiin na yun." It was 1973, all right-a year into democracy's demise and the great leap backward to dictatorship. Somehow that line didn't jibe with the times, unless it was intentional.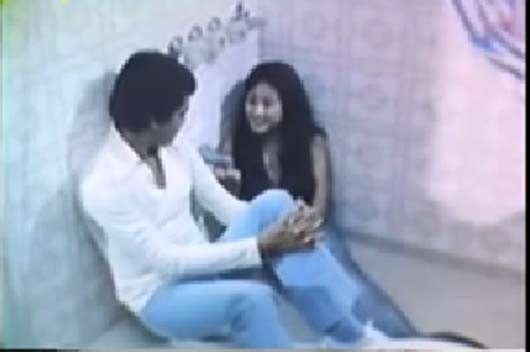 ADVERTISEMENT - CONTINUE READING BELOW
Fredo and Dyesebel get intimate on the bathroom floor.
5. Dyesebel and Fredo on the bathroom floor.
Some scenes are too mind-blowing, they really speak for themselves. Here's how this one goes:
Dyesebel (Vilma Santos) and Fredo (Romy Miranda) are seated on the half-flooded bathroom floor, which they've converted into a bathtub. That Dyesebel manages a seated posture means she has hips.
Dyesebel: Nakakatuwa ano? Saan galing itong tubig na to?
Fredo: Sa dam.
Ano yun?
Pinag iipunan ng mga tubig tapos dumadaan sa mga tubo tapos napupunta sa mga bahay bahay.
Eh. hindi ko maintindihan. Ang kati. (Dyesebel tastes the water dripping from the faucet.) Kaya pala, matabang.
Oo nga pala. Maalat pala ang tubig sa dagat. Sandali lang.
Fredo gets up, goes to the kitchen, and gets the table salt. He returns to the bathroom and spreads salt on the bathroom floor and on Dyesebel's scales like he's marinating fish.
ADVERTISEMENT - CONTINUE READING BELOW
Dysebel: Ayan, nagiginhawaan na ako. Konti pa.
Fredo looks at Dyesebel as if he's about to kiss her.
O bakit ka nakatingin sa akin?
Eh wala. Asin pa pala.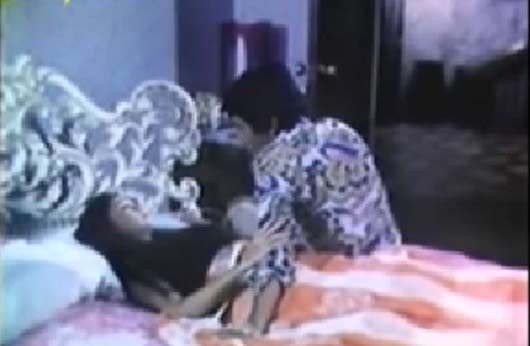 The lovers confess their feelings. Note the coral-styled headboard.
6.  The old-fashioned dialogue.
As a filmmaker, Emmanuel H. Borlaza was rarely the auteur-oriented type, like the great directors who defined our cinema in the '70s, the period he was also most active. But there were many cinematic moments in his work, and as a writer, he was quite lyrical in his slapdash style. Consider Fredo's line which should conjure some sight gags in your imagination, and Dyesebel's old-school response, which goes back to the singsong diction of Filipino-movie dialogue during the '50s.
ADVERTISEMENT - CONTINUE READING BELOW
Fredo: Nang una kitang makita sa swimming pool, takot ako. Pero nung tulog ka na sa banyo, magdamag akong hindi galangin ng antok.
Dyesebel: Natakot din ako nung una kitang makita....Pero nung iabot mo sa akin ang iyong kamay, at nakita ko sa mata mo ang katapatan mong hangarin na ako'y tulungan, nadama ko na maari kitang pagkatiwalaan.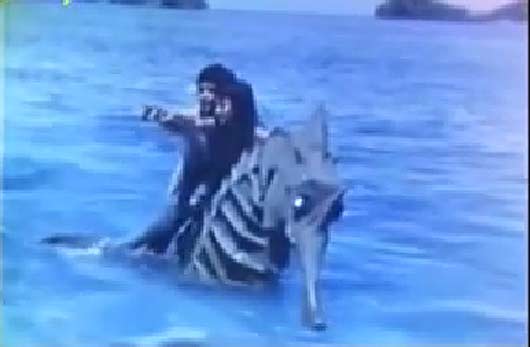 ADVERTISEMENT - CONTINUE READING BELOW
Dyesebel and Fredo go seahorse-riding.
7.  The seahorse.
Dyesebel and Fredo decide to go on a joyride in the open seas, and she whistles out at the ocean from where emerges this animal that's a cross between a car tire and a merry-go-round horse. Art direction never got trippier than this and the next "set piece."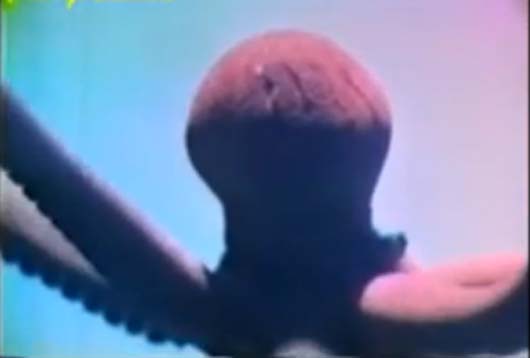 ADVERTISEMENT - CONTINUE READING BELOW
An "octopus" threatens to devour Dyesebel.
8.  The octopus.
Dyesebel's home "land" is ruled by the domineering, facially deformed mermaid Dyangga (played here by Divina Valencia, Jodi Sta. Maria's grandmother in the noontime teleserye Be Careful with My Heart). Dyangga's hostility to the human race finds its roots in a romantic debacle that ended with her human lover throwing "pinakulong tsokolate" at her face - which looks like it had been really dabbed with chocolate. Naturally, Dyesebel's developing love story provokes Dyangga's wrath. "Ihulog siya sa balon ng kamatayan!" she orders her trident-wielding guards. So they drop Dyesebel in that balon, to be devoured by an octopus that looks more like a throwpillow. But Dyesebel is rescued by a school of electric eels, her favorite pets, who zap the life out of the poor octopus as it perishes in its own ink. This entire scene is a pastel-colored visual scheme that qualifies as children's art. Dyesebel's surviving this ordeal provokes rejoicing among the mermaids on her side. "Purihin ang kabutihan ng bathalang Neptuno!"
ADVERTISEMENT - CONTINUE READING BELOW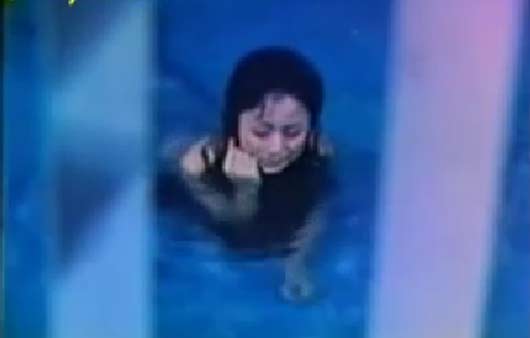 Dyesebel as the relucant star of a freak show.
9.  Dyesebel's kidnapping and rescue.
A story like this would really need not just one but a whole gallery of villains-among them, the materialistic Betty (played by '70s sexy star Rossana Marquez), who aspires to be Fredo's girlfriend because of his wealth. As expected, Betty becomes jealous of Dyesebel and has her kidnapped by a group of men who, for some reason, are wearing cowboy hats - perhaps a symbolic reference to the dreaded Philippine Constabulary during martial law? The next scene finds Dyesebel as the star of a freak show in a circus ("Ang Mutya ng Karagatan" or so the billboard goes), drawing huge crowds who try to feed her ("Pakainin natin ng sinangag.") as well as the ire of the guard who whips her when she refuses to entertain her audience. "Magsalita ka!" "Kumanta ka!" Dyesebel obliges between tears: "Sa pag ibig, huhuhu, naghahanap , nananabik. Huhuhu. Ngunit bakit, huhuhu, nagkakait ang daigdig." But soon enough, Fredo and his sidekick Kulas come to the rescue, and German Moreno comes out spectacularly in this fight scene! Fredo also subdues his attackers, dumping one of them in the seat of an octopus ride, of all things.
ADVERTISEMENT - CONTINUE READING BELOW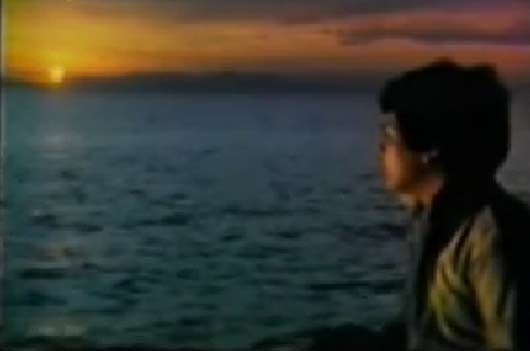 Romy Miranda as Fredo in kundiman mode.
10.  Fredo's soliloquy and song
This has got to be the piece de resistance of this film, and one that shows Borlaza's knack for art films if he had the inclination for it. Dyesebel disappears back into the sea, to save Fredo from the attendant troubles of their love affair. But this doesn't ease matters. Dyesebel and Fredo each fall into a spell of heartbreak in their respective worlds. Fredo faces the sea as he begins this monologue before breaking into a dirge.
ADVERTISEMENT - CONTINUE READING BELOW
"Noon, ang pook na ito'y nakayayamot para sa akin. Pakiramdam ko ba ang oras at araw ay lumilipas dito na walang nagaganap. Bakit ngayon, pagkatapos kong makaranas ng pag-ibig at masaktan, bawag saglit ay kaganapan?....Alon. Hangin. Tubig. Lahat kayo'y aking kinaiinggitan. Ang alon ay may tinutunguhan. Ang hangin ay may nilalaro. Ang tubig ay may hinahagkan. Ako'y wala. Ako'y nag-iisa. [Enter orchestra soundtrack as Fredo begins his song number.] Kahit puso'y wasak nang iyong iwanan,/Luha sa pagpatak ay pinigilan./Pagkat mga landas ng ating buhay/Kung wawari magkaibang tunay...."
But all turns out well in the end. (Spoiler from here; not that this resolution is difficult to figure out.) Dyesebel's allies alert her about the magic seashell in Dyangga's safekeeping that could turn her into a human. After a struggle with Dyangga that ends in a seaquake that destroys their abode, Dyesebel swims to shore with the "mahiwagang kabibe" in hand. The treacherous Betty happens by and tries to kill Dyesebel, just as she's working up the seashell's magic, which takes effect finally, transforming Betty into a mermaid and Dyesebel into a full woman. The townsfolk then happens by this beach and runs after the transformed Betty, who crawls frantically toward the sea.
ADVERTISEMENT - CONTINUE READING BELOW
Fredo is nowhere in all this. He's alone in the hills overlooking the sea, deep in thought, when Dyesebel appears in the distance, walking toward him. Seeing her in her new form, Fredo erupts in joy, holding Dyesebel's hands as they spin around each other.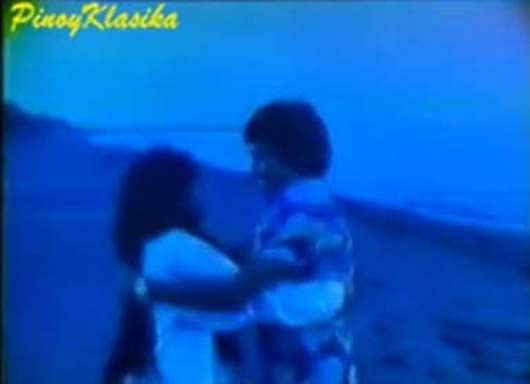 Dyesebel and Fredo in their happy finale, before Vilma Santos goes to greater heights.
ADVERTISEMENT - CONTINUE READING BELOW
Happily ever after? Not quite. Dyesebel, or rather Vilma Santos, would transform herself further, into the truly iconic characters of Burlesk Queen, Rubia Serbios, Baby Tsina, and Sister Stella L-leaving Romy Miranda with this retro-curio and a few other films as his contribution to Philippine cinema.
Share this story with your friends!
---
Help us make Spot.ph better!
Take the short survey
More Videos You Can Watch
Load More Stories