MOVIE REVIEW: Diary ng Panget
An internet-age Cinderella story that is betrayed by poor craftsmanship.
(SPOT.ph) The charm of Diary ng Panget, a bestselling book that started out as a serial published online, is hardly surprising. It is basically the timeless tale of poorly-treated Cinderella and her Prince Charming transported into the Internet-age and embellished with colloquial humor. It feeds on almost every girl's fantasy of overcoming current hardships and be rewarded with a romance that is impossible in realistic terms. With the addition of culture-specific comedy and other details, the trope has turned into a sensation big enough to be filmed.
Andoy Ranay's film adaptation is therefore pleasing enough just as a story of a supposedly ugly girl winning her handsome prince. Unfortunately, Ranay delivers something woefully unfocused. The film is all gloss but with very little glee. A lot of the jokes are hampered by drab execution. A lot of the romance is killed by dull filmmaking. A lot of what could have been fun and hip is squandered by relentless posturing.
ADVERTISEMENT - CONTINUE READING BELOW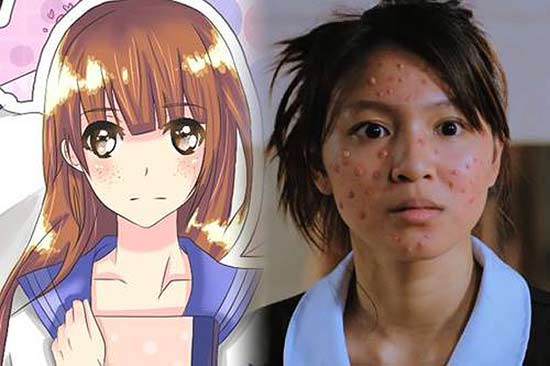 Nadine Lustre as the titular character. Photos from the film's Facebook page.
If there is one thing that Ranay was able to do correctly, it is the creation of a world where Eya (Nadine Lustre), the pimple-faced and poverty-stricken girl, is a definite outsider. Willford Academy is a school populated by fair-skinned and English-speaking students. Eya's existence within such a community evidently becomes an anomaly, which is basically the seed for much of the film's humor. Ranay obviously enjoys creating an exaggerated portrait of the upper class, as what he has done in Sosy Problems (2012) and When the Love Is Gone (2013), films that depict the upper crust of Philippine society with a certain sense of both adoration and sarcasm.
ADVERTISEMENT - CONTINUE READING BELOW
Cross (James Reid), the handsome rich boy with personality issues who becomes Eya's love interest, resides in a mansion where his troop of maids is headed by a leader with militaristic instincts. Lory (Yassi Pressman), Eya's best friend, is both proficient in Filipino and British-accented English. Chad (Andre Paras), Lory's fervent admirer, drives a Ferrari to school and dishes out P1,000 bills for taxi fares like they were growing out of trees. Ranay adequately turns Eya into such an impoverished eyesore, making his audience forget that the poor girl's problem is just acne, and nothing more.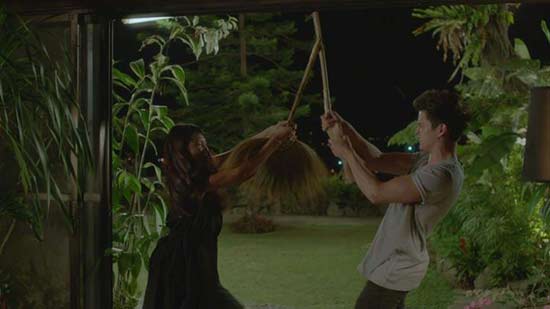 ADVERTISEMENT - CONTINUE READING BELOW
Eya and Cross (James Reid) thresh out personality issues.
Ranay, while an able observer of class excesses, is crippled by mediocre crafting. Diary ng Panget is riddled by a lack of rhythm, which causes the film to pathetically drag its way to the predictable ending instead of sashaying confidently towards it. It is heavily scored, with a lot of the jokes and the romantic moments drowned by loud melodies or spoiling stingers. Moments that should have been climactic end up becoming duds because of awkward staging. It really is quite a pity because Ranay may have something up his sleeve but he just couldn't properly expose them because he does not have the tools to do so.
Ranay's adaptation of Diary ng Panget is only fueled by built-in fanfare. Sure, it will elicit the necessary shrieks of delight from its target audience, but it will not win new admirers who have an entire library of local formula-based romantic comedies that are done with a lot more finesse and expertise. The glimmer of intellect that the film tried to inject into the Cinderella tale is sadly tainted by Ranay's lack of skill. The film drowns in its own gloss and ends up the ugly one, with no Prince Charming to save it from being ultimately forgotten when the thrill has died down.
ADVERTISEMENT - CONTINUE READING BELOW
RATING: •• 2 spots out of 5
Diary ng Panget is currently showing in cinemas.
CONTINUE READING BELOW
Recommended Videos
Share this story with your friends!
---
Help us make Spot.ph better!
Take the short survey
Load More Stories