Top 10 Scenes from Wes Anderson Films
We take a look back at some of the best scenes from the director's colorful cinematic history.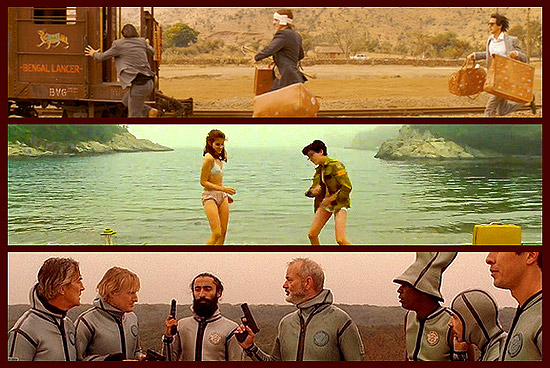 (SPOT.ph) The Grand Budapest Hotel is in theaters today, April 19, and to celebrate Wes Anderson's newest movie, we take a look back at some of the most memorable scenes from the director's filmography.
10. Love in the laundry room, Bottle Rocket (1996)
Anderson's full-length debut is a coming-of-age road trip, featuring a trio of slackers (Robert Musgrave and Owen and Luke Wilson) who venture into the illicit enterprise of syndicated burglary. In the course of this misadventure, a tender love story develops-along with the most romantic moment ever to take place in a laundry room, as Luke Wilson gets to know better a Latina housekeeper (played by Lumi Cavazos) whom he falls for.
9. The crew is taken hostage, The Life Aquatic with Steve Zissou (2004)
Anderson, who was 35 by this time, realizes his personal tribute to an idol of his generation, the French oceanographer and filmmaker Jacques Cousteau, in this uneven yet delightful dramedy set in the open seas. Arguably the best of his internationally oriented films, The Life Aquatic features a colorful ensemble, as well as a band of Filipino extras as modern-day pirates who take the titular character (played Bull Murray) and his crew hostage. Anderson originally planned to hire Indonesians but couldn't find any in Italy's coastal locations where this film was made.
8.  Meet the Tenenbaums, The Royal Tenenbaums (2001)
Narrated by Alec Baldwin, the audience is introduced to Tenenbaums at present, most of them fallen from their former glory. Royal is kicked out of his hotel room, Richie (Luke Wilson) is lost in travel after a dip in his tennis career, and Margot (Gwyneth Paltrow) is distant towards her husband. The Royal Tenenbaums is perhaps Anderson's most popular film, being both a critical and box office success. The screenplay, co-written with Owen Wilson, was nominated for an Academy Award for Original Screenplay.
ADVERTISEMENT - CONTINUE READING BELOW
7. The wolf, Fantastic Mr. Fox (2009)
Anderson's adaptation of the classic Roald Dahl movie stays true to the book, while adding his own quirks to enrich the movie, which can actually be viewed as something of a heist film. Another dash of Anderson-ism is the scene towards the end of the movie, when Mr. Fox (George Clooney), Ash (Jason Schwartzman), Kristofferson (Eric Anderson), and Badger (Bill Murray) drive away triumphant after fooling Boggis, Bunce, and Bean, and spot a wolf. The wolf stands, alone, at a distance, not replying to any of Mr. Fox's greetings (whether in Latin or in French). Many audiences disliked the scene, but Anderson said, "That scene is why I'm making the movie."
CONTINUE READING BELOW
Recommended Videos
6. Rescue op, The Life Aquatic with Steve Zissou (2004)
The crew sneaks up on the island, where the pirates are, to retrieve their money as well as a "bond company stooge." It all seems like everything is going according to plan, as they race across the island-until Zissou (Bill Murray) discovers they're covered in leeches. This scene is just one of the many fine examples of Anderson's precise style in terms of cinematography (the long take of the crew running from the beach to the jungle, the camera sweeping over the island) and his excellent comic timing.
5. The dinner, Rushmore (1998)
The precocious Max Fischer (Jason Schwartzman) is a bit tipsy and the whiskey brings out the green-eyed monster and bad puns. This scene still has us cackling years after.
ADVERTISEMENT - CONTINUE READING BELOW
4. Sam and Suzy's dance party, Moonrise Kingdom (2012)
Moonrise Kingdom is a sweet, coming of age film, in the scene where the young runaways have reached their destination-a beach all to themselves. Free from their families, Sam and Suzy dance to Francoise Hardy in their underwear and share their first French kiss. We witness and remember the pangs of growing up and awkwardness and delight of being with the opposite sex.
3. Chasing the train, The Darjeeling Limited (2007)
Anderson is known for his fantastic use of music in film. One of the most memorable sequences in Anderson's films is when Peter (Adrian Brody) runs after the train-along with three pieces of his father's custom Louis Vuitton luggage-set to The Kinks' "This Time Tomorrow." Another scene by the end of the film, when the three brothers chase their train, mirrors this opening scene. But this time, they leave their baggage-literally and figuratively-behind them.
2. Richie's suicide attempt, The Royal Tenenbaums (2001)
One of the most powerful scenes in Anderson's movies-and dare we say, in recent cinematic history-Richie Tenenbaum (Luke Wilson) quietly breaks down in the bathroom. After seeing this movie, we could never listen to "Needle in the Hay" by Elliot Smith the same way again.
1. By way of the Green Line Bus, The Royal Tenenbaums (2001)
We conclude the list on a more upbeat note with a beautiful scene from The Royal Tenenbaums. Margot arrives to meet his brother, Richie, at the pier. As Richie spots her, Nico's "These Days" plays over the haunting, slow motion sequence. It's sweet, romantic (don't worry, Margot's adopted), and we sure wish a scene as incredible as this could happen to us in real life.
ADVERTISEMENT - CONTINUE READING BELOW
Share this story with your friends!
---
Help us make Spot.ph better!
Take the short survey
Load More Stories