10 Favorite Koreanovelas
K-dramas are now part of our pop culture. Here are 10 shows worth revisiting.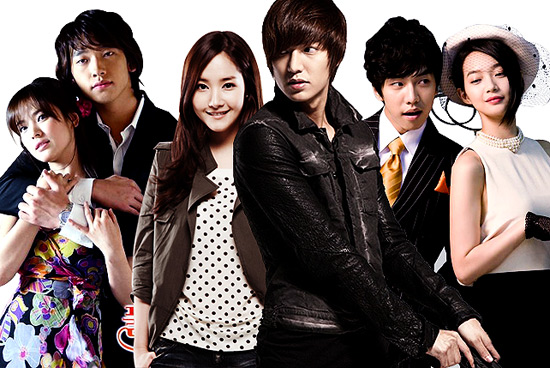 (SPOT.ph) The first wave of Asianovelas in 2003 had Filipino men making questionable choices on their hair and throwing the feminine market into a frenzy over rom-coms again. To date, over 100 Koreanovelas or K-dramas have aired on Philippine TV, and they have become a staple of every leading channel's daily programming. Perhaps this fondness for K-dramas is because they depict our collective cosmopolitan dreams, satiate our evolving taste or demand for a more novel-viewing experience, or they have enamored us with their chiseled, pretty actors-all that, plus the growing Korean sector in our country. For sure, Kdramas have our hearts in hook, line, and sinker.
To help you navigate your way through the hundreds of dramas barraging their way to our screens (and the Internet), here are 10 Koreanovelas worth watching or revisiting. They are ranked here chronologically, according to the year of their broadcast in the Philippines.
ADVERTISEMENT - CONTINUE READING BELOW
1. Winter Sonata (2002)
Director Yoon Seok-Ho's Endless Love series are a pillar of the K-drama, paving the way for this genre's conquest. Everything about this series runs under the same "love and destiny" theme, but Winter Sonata gave it the most visual flair. While we watch Fate make cruel japes at our lovers-fake death, amnesia, birth secrets, among others-we console ourselves with the picturesque Nami Island covered in a sleet of white. Director Seok-Ho's masterful assembly of this drama-with its gorgeous landscapes, stirring music, and moving performances-brings Winter Sonata practically to the level of cinema. Prepare to be emotionally all spent.
2. Lovers in Paris (2004)
Where else to start a charming love story but in the most romantic city in the world? Lovers in Paris captivated its audience with its modern Cinderella story, but instead of a damsel in distress, we have a clumsy, feisty, and plucky Kang Tae Young. What could have been a typical romantic comedy has become a memorable, affecting drama, enhanced by a first-rate cast and production. You may develop a serious Second Lead Syndrome for scruffy Lee Dong Gun playing the tortured soul and forlorn young lover in his bad boy motorcycle, but the palpable chemistry of our chaebol (family corporation boss or owner) prince with his charismatic heroine will make you root all the way for their love. Aja! Aja! Fighting!
3. Full House (2004)
Full House is a sentimental favorite: Ji-eun and Young-jae have played a big part in inducing the Filipinos' Kdrama fever. Sure, this is a formula romance comedy between an arrogant superstar and a stubborn, aspiring screenplay writer, but the leads are adorable, and there are sparks between all that bickering. The storytelling takes a tiresome turn down the road, but the cohabitation and contract marriage hijinks are a fun and addictive watch. Plus, Rain was a hoot.
ADVERTISEMENT - CONTINUE READING BELOW
4. My Name is Kim Sam Soon (2005)
Kim Sam Soon is not your typical skinny, frail, meek lead girl: She is nearing the big 30, and she's plus-sized, crass, loud, and has an old-sounding name that she hates and attributes to her spinsterhood-yes, she's single. Until she meets her aloof, seemingly unfeeling chaebol boss, with whom she begins a sweetly satisfying romance. Popularly referred to as the Korean Bridget Jones, My Name is Kim Sam Soon drew a steadfast following in Asia-even inspiring a local adaptation with Regine Velasquez donning a body suit-as it reintroduced a Kdrama heroine from a different mold. A classic rom-com that's tender and relatable and will make you clutch your chest in laughter or tears.
5. Coffee Prince (2007)
Our heroine is a tomboyish girl who often gets mistaken for a boy, but due to money problems, she is forced to take a job at a café that only hires good-looking princes. A cross-dressing hero/ine is not new, but what this show did was weave a refreshing, realistic portrayal of the glossed-over topic this genre broaches: the brewing romantic feelings for a person of the same sex. The sensitive writing and the solid, nuanced performances of its leads gave this show a heartwarming appeal.
6. My Girlfriend is a Gumiho (2010)
Penned by those famous Kdrama writers, the Hong sisters (who wrote Delightful Girl Chun-Hyang, My Girl, and Master's Sun, among others), My Girlfriend Is a Gumiho is a gender-bender romance with a supernatural twist. A beta male-alpha female pair is always fun to watch. But a wimpy hero faking a relationship with a 500-year-old, gorgeous nine-tailed fox? Tons better. The tightly woven mythology serves this narrative, upping the stakes for our leads. Throw in this mix a forlorn gumiho hunter, a powerful grandmother, the heavens turning crazy, and the Hong Sisters' trademark of high-flying banter, perfect comic timing, and a recurring, lovely metaphor-and you have a youthful, winning romance 500 years in the making.
ADVERTISEMENT - CONTINUE READING BELOW
7. City Hunter (2011)
There's a stylish, good-looking Lee Min Ho out there in K-drama world that won't make you scratch your head for unsure directing and endure his hideous goldilocks perm: He'll make you swoon while he jumps off roofs, kicks asses, fights off baddies, and makes the world a better place. City Hunter features a pulsating, fictional world with everything in it: intrigue, mystery, politics, action, humor, romance, daddy issues notwithstanding, and a touching hero story. The show was far from perfect, but Lee Min Ho in his swirly hair and skinny pants delivered a solid performance as a troubled, vulnerable hero out to save the day.
8. Gaksital (2012)
History is, of course, rife with stories, and Gaksital made full use of the Japanese occupation of Korea in the 1930s as the perfect foil to drive character development and depict a universal story of humanity and war. This drama was not without flaws, but the emotional payoffs were overwhelming. The committed performances and a steady direction make this show leave a great impact on its audiences.
9. Answer Me, 1997 (2012)
Told as a reverse love story (a la How I Met Your Mother), Answer Me, 1997 evokes nostalgia for the year of dance revo, dial-up Internet, radio dedications, fan clubs, and just good old high school days. The show captured the embarrassment, awkwardness, bravado, and blind optimism of our teens, especially that phase of our overwhelming, self-consuming, cringe-worthy First Love. Rewatching this show, you'd find a fresh cast transporting you to being young and in love once again, and the indie vibe is a welcome treat amid the slew of trendy dramas today.
ADVERTISEMENT - CONTINUE READING BELOW
10. You Who Came from the Stars (2014)
Our favorite (My) Sassy Girl from 2001 is back, swapping her trademark "Wanna die?" line to "Saw-ry." This time, she's a haughty A-list star who happens to live next door and fall in love with a 400-year-old alien professor. The premise sounds clunky, but once you get past that and have negotiated well with your faculties on suspending disbelief, this drama will pull you in for laughs, wring tears out of you, and make you wish for your own extraterrestial romance-especially if the charming superhero is really an old soul trapped in a 20-something body. This is Jeon Ji Hyun's lovable sassiness bewitching hearts all over again.
Load More Stories