10 "Summer" Songs to Fight the Rainy-Day Blues
"Summertime, and the livin' is easy..."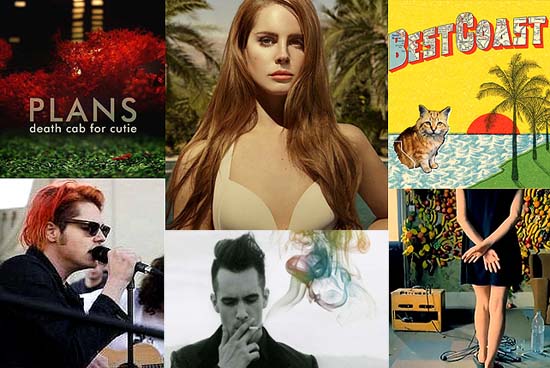 (SPOT.ph) Time to bid adieu to the season of sun, sand, sea, relaxation, and short-lived flings-it's no wonder summer is a musician's constant muse. For your rainy-day soundtrack needs-to fight off the blues-we've rounded up 10 of the most summery songs (both melancholy and merry) of all time...ones that just happen to have the word "summer" in them.
1. "Summertime" by The Sundays
If there's only one song you should listen to for the whole summer, make it "Summertime" by The Sundays. Seriously, do it. Or better yet, share the other earphone with a special someone as the two of you bask and picnic under the sun. Harriet Wheeler's voice on this track is all you need to forget all your troubles.
2. "Summertime" by My Chemical Romance
When Gerard Way let go of all drugs, all angst and all depression, My Chemical Romance produced an album that sounded more radiant and hopeful than their previous ones. Danger Days was the calm after the storm that was The Black Parade, and Summertime was the sunrise that came with it. With sweet lyrics originally written for his wife, Gerard'swords will nonetheless pull you in: "You can run away with me anytime you want."
ADVERTISEMENT - CONTINUE READING BELOW
3. "Summer Skin" by Death Cab for Cutie
Like most of Death Cab for Cutie's songs, "Summer Skin" evokes a special kind of sadness that resonates back and forth. It comes and goes and comes back. Ben Gibbard narrates of a summer fling with depth, regret, and heartbreaking nostalgia ("And I knew your heart I couldn't win/'Cause the season's change was a conduit/And we'd left our love in our summer skin"). On top of that, the musicality of the rhythm section (bass and drums) especially excels in this track, contributing to its sublime mood.
CONTINUE READING BELOW
Recommended Videos
4. "Summer Breeze" (Seals & Crofts cover) by Peter Bjorn and John
Peter Bjorn and John have made what just might be the best cover of a classic hit ever. The track's tasty beat, scrumptious bass line, and sprinkles of chimes and strings all make up a fresh brilliant take of the original that will blow the minds of Seals & Crofts fans. The version is dark and compelling, like a singing siren luring you into a promiscuous death.
5. "Summer Mood" by Best Coast
What good is a summer playlist without Best Coast? Any song by the surf-pop band would be worthy of putting in such a list. But this one is especially perfect for those lazy, moody afternoons when you can't move and get up from the couch because it's too hot. Filled with Bethany Cosentino's slow and torpid ooh's and aah's, it's a true anthem for summer couch potato days.
ADVERTISEMENT - CONTINUE READING BELOW
6. "Summertime Sadness" by Lana Del Rey
Is your past a battered one? Does it sting like being baked in the afternoon? Don't worry, Lana Del Rey feels you. Her cinematic voice sounds just like a refreshing pool dive, without getting wet (unless you tear up). "Summertime Sadness" is a keep-sake for emotions to come full circle.
7. "So Nice (Summer Samba)" by Astrud Gilberto
Nothing like all-natural, bossa nova ambiance this time of year, and the Grammy Award-winning Astrud Gilberto hits the right notes for your sweet summer spot. You might feel this particular season throughout the year with her song lyrics about someone that would make life "so nice".
8. "Middle Of Summer" by Panic! At The Disco
You can already picture Brendon Urie and his band waltzing in front of you while you sit outside, just before the sun makes its way over the horizon, alongside chirping birds and a warm breeze. Modeled straight from their baroque pop and vaudevillian style of music, Panic! fits snuggly into our list. This song's prominent carnival finish and feel-good vibe is sure to paint a smile on anyone's face.
9. "Summer" by Calvin Harris
This year's quintessential summer anthem is another EDM hit from Calvin Harris. You've probably already danced like crazy to this at a club (or in your bedroom). But once you pay close attention to the lyrics, you'll notice that he's singing about a summer fling that's fizzled. Haven't we all had one of those?
ADVERTISEMENT - CONTINUE READING BELOW
10. "The Song of Purple Summer" by The cast of Spring Awakening, the musical
For our musical enthusiasts out there, and those who will soon be after you indulge your ears into this magnificent piece from Spring Awakening, the musical. American soul singer Lauren Pritchard (stage name: Lolo) masterfully belts out, along with her veteran cast, "The Song of Purple Summer." Feel free to recommend it to your friends and in time "all shall know the wonder of purple summer."
Share this story with your friends!
---
Help us make Spot.ph better!
Take the short survey
Load More Stories