Retro Review: Pusong Mamon
Joel Lamangan's landmark film with Eric Quizon is a classic gay-themed rom-com but also, at heart, simply a love story.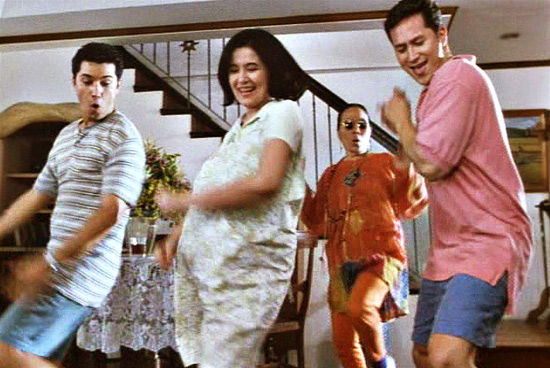 Albert Martinez, Lorna Tolentino, Caridad Sanchez, and Eric Quizon do an impromptu dance number. All images and video clips from the Pusong Mamon DVD (Viva Video Inc., 1999)
(SPOT.ph) Fifteen years before My Husband's Lover, the LGBT-themed hit teleserye of 2013, there was Pusong Mamon (1998)-Joel Lamangan's landmark film, co-directed with Eric Quizon. There were other such pioneering movies before, like Lino Brocka's Tubog sa Ginto (1971), which explored same-sex relations in a less tolerant time. (Also check out SPOT.ph's Revisiting the Lesbian-Themed Film Classic T-Bird at Ako. ) The hit movie by Lamangan and Quizon, who also played Albert Martinez's lover, was another big step for that cause-with its confident direction, sharp dialogue, and inspired narrative about a woman who imposes herself into the lives of the gay couple after one of them gets her pregnant on a drunken night. But the real highlight of this dramedy is a steamy love scene that makes My Husband's Lover a kiddie show in comparison. Yet for all its boldness, Pusong Mamon is, at heart, simply a love story. And a charming one too. Here are 10 highlights of the film. (Warning: some spoilers.)
ADVERTISEMENT - CONTINUE READING BELOW
CONTINUE READING BELOW
Recommended Videos
This list is not ranked.
1. Meet Ron and Nick
Pusong Mamon stands out as a rare film in gay-themed cinema, because it veers away from the unflattering, outright-beki stereotype in movies by Danny Zialcita and even by Dolphy. Ron (Albert Martinez) and Nick (Eric Quizon) look like your typical middle-class, career-oriented men-character blueprints you'd find in the real world, especially the closet gay Ron. Nick has a certain quality that would be defined, about a decade later, as metrosexual. These are the lives whom Annie (Lorna Tolentino) encounters, as she tries to force Ron into a shotgun situation after a one-night stand leaves her pregnant. Ron decides to bring Annie to his home, to give her a glimpse of his private life. This whole exposition turns into slapstick, and it's a wonderful showcase for the three vibrant actors. Ron would find his exact progeny in Tom Rodriguez's Vincent Soriano character in My Husband's Lover. But unlike Ron, Tom's Vincent is played as anything but for laughs.
ADVERTISEMENT - CONTINUE READING BELOW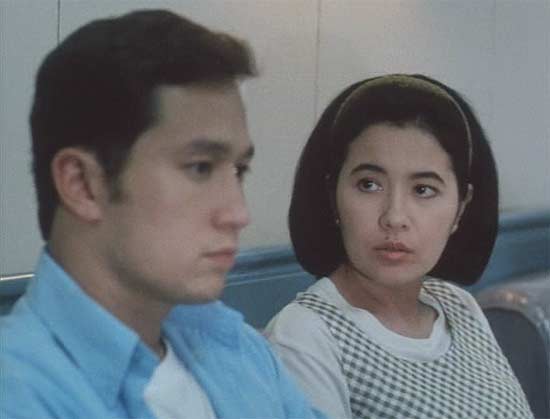 After an open war with Nick (Eric Quizon), Annie tries a different tack.
2.  Nick and Annie's rivalry
As in all rom-coms, everybody loves each other in the end. But it's a rough road leading to that bliss, and, for all his feminine side, Nick encounters quite a feisty karibal in a real woman like Annie-who gears up their animosity with some sexual tension as well. "Kung idikit ko sa iyo ang suso ko, hindi ka ba na-e-L?" "Pati pala ang pag-iisip mo, burara." "Halika nga dito! Pahalik!" "Ano ka, lesbian?" Kudos to writers Ricky Lee and Mel del Rosario for the crackling script.
ADVERTISEMENT - CONTINUE READING BELOW
3.  The comic foils
Throw an ultraconservative into this lopsided ménage à trois and you have the right powder keg of a sex comedy. Character actor Ernie Zarate is great in his bit part as Ron's homophobic dad. Then Caridad Sanchez enters the picture as Nick's groovy, liberal lola, who knows everything about Nick and Ron. When the lola and dad meet, she relishes this encounter with macho prudishness to Nick and Ron's anxiety. Eugene Domingo is also here, a decade before the phenomenon of Kimmy Dora. Even in the bit roles of her long climb to stardom, she ate up her scenes-showing big talent in small, fleeting moments.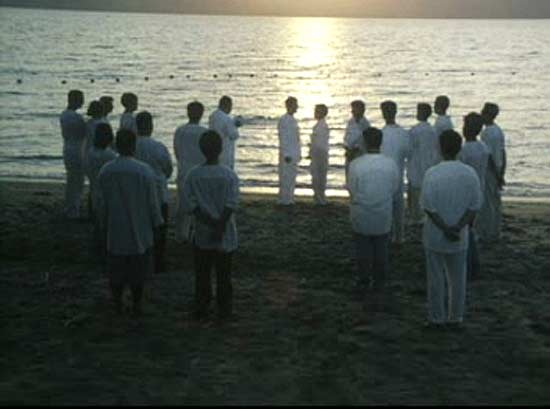 ADVERTISEMENT - CONTINUE READING BELOW
Wedding rites outside the sphere of organized religion
4. A glimpse at the LGBT milieu during the '90s
Pusong Mamon must have been quite an eye opener to the general public when it first came out- particularly the wedding attended by Ron, Nick, and Annie. This being a comedy, the film also pitches into its loop the Catholic ritual of baptism, with another gay couple, also friends of the film's bewildered trio, presenting their adopted baby to the officiating priest. "Aba, bakit kayo puro mga ninong? Kinakailangan ang nanay ang kakalong sa bata. Eh, kayo ba ang nanay?" "Hindi ho, bisita lang ho ako."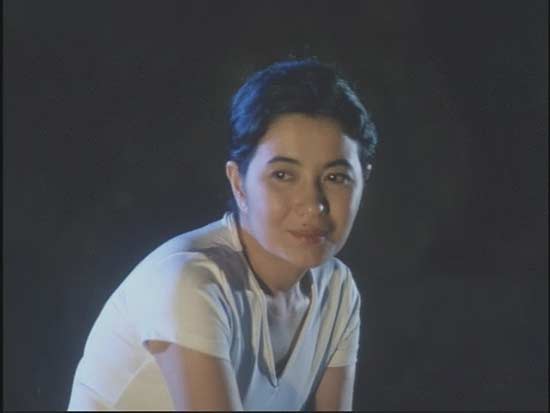 ADVERTISEMENT - CONTINUE READING BELOW
Annie is the heart of this gay-themed picture.
5.  The camera loves LT
And Lorna Tolentino, having made more than enough heavy-duty melodramas by this time, fulfills her wish to do a comedy for a change. One of the lovely ironies of Pusong Mamon is that the heart of this gay-themed picture is a woman, LT's character, Annie.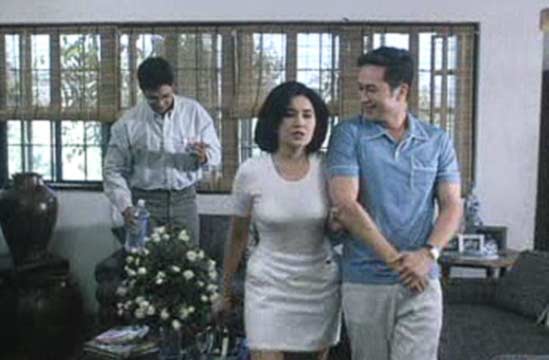 ADVERTISEMENT - CONTINUE READING BELOW
Annie: "Tigilan niyo. Titili na ako." Nick: "Hhmmp!-ang poise."
6. Hooking up Annie
Soon enough, Annie comes to accept Ron's relationship with Nick, and the couple, in turn, convinces Annie to be open to dating. The search for the right date for Annie doesn't always turn out well, but soon she finds a man to her liking, and Ron and Nick are happy for her-even giddy, to her exasperation.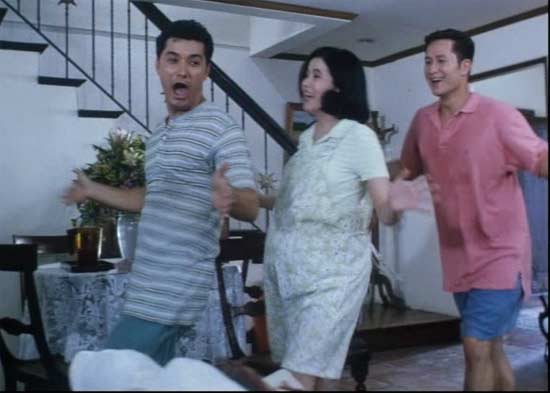 ADVERTISEMENT - CONTINUE READING BELOW
The threesome cut it loose to the tune of "Bongga Ka 'Day" by The Hotdog.
7.  The dance scene
The usual consensus about this overlong scene is that it undermined an otherwise tightly structured movie. But we beg to disagree, because for all we know, this was meant to be a post-modern interlude. Think of it as a pause in the storytelling, with the filmmakers taking this moment to do some cinematic referencing-from Maryo J. de los Reyes to Jean-Luc Godard to the mananayaw phase of Lorna T's early film career, which this dance scene subverts. (This would have been in SPOT.ph's Top 10 Dance Scenes in Philippine Cinema, except that LT had better, immortal moments on the dance floor, trust us.) In other words, how so very French, this scene. But, yes, it's a bit too basic for Romy Vitug, the critically acclaimed cinematographer who filmed this movie.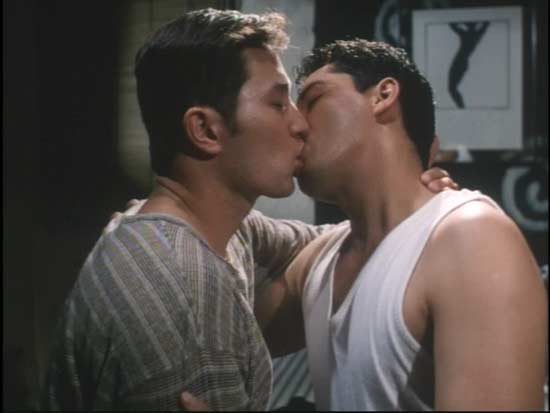 ADVERTISEMENT - CONTINUE READING BELOW
His dad drops by for the night, but that doesn't stop Ron's quality time with Nick.
8.  Ron and Nick's sexy time
Do they look like they're really into it? But Albert Martinez also turned in a committed performance opposite Joyce Jimenez in Scorpio Nights 2.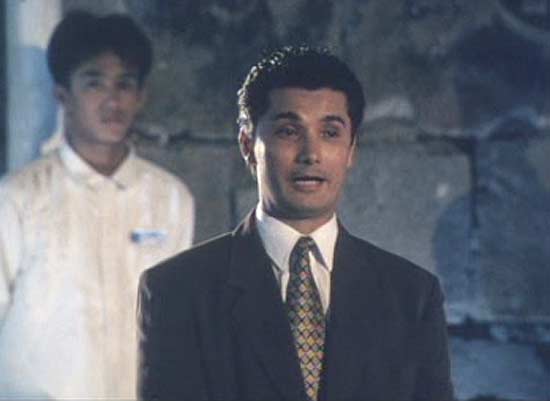 "Gusto kong simulan muli ang aking buhay ngayong gabi."
ADVERTISEMENT - CONTINUE READING BELOW
9.  Ron's big speech in office party
It's business mixed with pleasure in this affair, and Ron takes this occasion of his birthday (and promotion too!) to disclose what everybody has been whispering about behind his back until this moment. As expected, Ron's father has to be among his audience. But it helps that Ron has the support of his boss (played by Tony Mabesa), who's also in the closet. Whoever thought only the Brits are good at setting up this complicated fluff?
10.  Ron's big speech to Nick
You just have to adore the quiver of Albert Martinez's voice in this tender scene, about which we need not say anything more.
But do check out the trailer.
Load More Stories