Retro Review: Kung Mangarap Ka't Magising
Mike de Leon's contribution to the kilig canon glows better with the passing of time.And Hilda Koronel is at her most radiant.
(SPOT.ph) For this retro review, we feature this evocative romance by Mike de Leon-starring Hilda Koronel and Christopher de Leon-about a campus vagabond finding purpose in his affair with an older, married woman: a double prototype that must surely appeal to some. Released in 1977, Kung Mangarap Ka't Magising (which we abbreviate as KMKM) has been praised, in our time, by bloggers as a precursor of Star Cinema's rom-coms-of John Lloyd and Bea and of Xian and Kim. It might just be the classiest kilig movie in our cinema. (For a comprehensive essay on kilig, check out this piece from Ateneo.) Yet this movie is also about adultery-the very stuff of Filipino melodrama-in which theme Hilda and Boyet would later up the ante in their work together and separately. Here are 10 highlights of this much-admired film.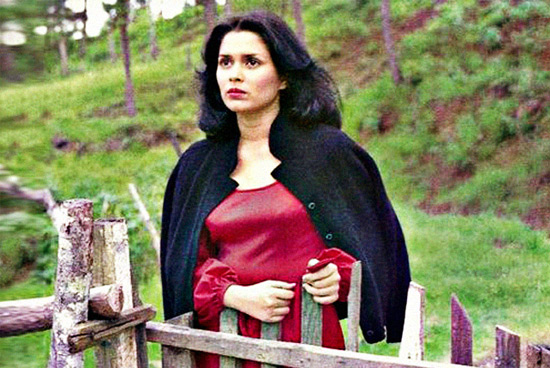 Hilda is a sight to behold in Mike de Leon's love story.
1. Hilda Koronel is a vision.
ADVERTISEMENT - CONTINUE READING BELOW
We start off with the most striking feature of this film-its lead actress. Hilda Koronel, who grew up before the public eye, had blossomed into full femininity by the time of this picture, leaving behind the neneng persona of her teen years which Lino Brocka tapped so well in movies like Stardoom. He would also utilize Hilda's maturity to great effect in his social-realist dramas like Insiang. The slum girl Insiang would find her glamorous counterpart, Ana, in this picture, and, like Brocka, Mike de Leon had that special talent of illuminating his lovely actresses. If framing Hilda were the only quality of this film, it would still be a classic. Is there any better mirror of the Filipina than our cinema?
CONTINUE READING BELOW
Recommended Videos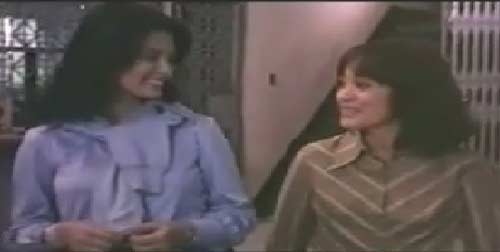 Laurice Guillen (right) as a cousin and variation of Ana
2. The solid supporting cast
Like any rom-com (which this film is, except that the comedy part is too subtle), KMKM relies as much on its vibrant supporting ensemble as on its leads to pull off its charm. Moody Diaz stands out as a Jiminy Cricket to Boyet de Leon's Joey, the overstaying college student whom he portrays adeptly as a brooding, sensitive youth. Actress and screenwriter Bibeth Orteza is a delightful comedienne, and she and Danny Javier and BoboyGarovillo, as Joey's barkada, bring the right comic relief to Joey's developing love story with Ana. The elegant Laurice Guillen, as Ana's cousin, Cecile, comes across as an alternative Ana, but here she is full of jest toward Joey, teasing him for his lack of money and other things.
ADVERTISEMENT - CONTINUE READING BELOW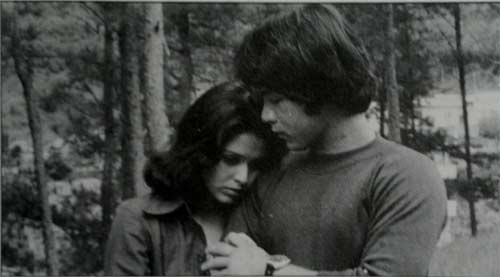 Setting as character in the City of Pines
3. Baguio City as romantic setting
The other star of this film, besides the lead actors, is the City of Pines itself-before its transformation today into something else that eludes appreciation here and there. Make no mistake. The Baguio captured in this film is a lost world, one that reminded Ingrid Bergman of her native Sweden when she visited the Philippines in the '60s. The production made an inspired choice in this location as the setting of Joey and Ana's romance. KMKM is a fine example of film as a chronicle of a certain time.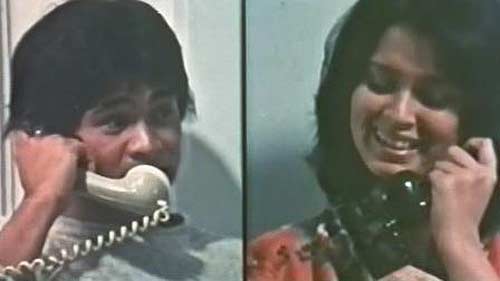 ADVERTISEMENT - CONTINUE READING BELOW
Cineastes who associate Mike de Leon with the violence of Batch'81 remain baffled by this kilig moment of Joey's phone call to Ana.
4. Love at first sight, and Joey's phone call
UP Baguio is the campus setting in this film, and Joey's encounter with Ana in the auditorium and later in the parking lot (and their introduction by mutual friends) establishes this movie's kilig character (check out this video). Here's where KMKM distinguishes itself as being a departure from the somberness of Mike de Leon's other films, notably Kisapmata, Itim, and Batch '81. (The charm of KMKM would be replicated in another luminous pop romance also starring Christopher de Leon-Hindi Nahahati ang Langit, a box-office film which, unfortunately, isn't officially credited to de Leon because of disagreements with the final cut.) Joey manages to get Ana's number and their phone conversation (at 9 minutes in said video) is a marvel of courtship at play.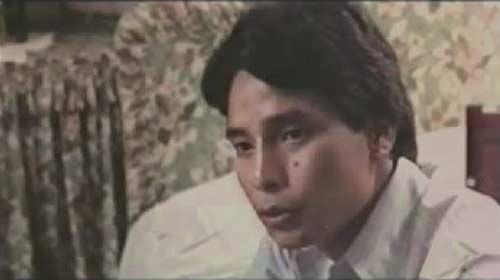 ADVERTISEMENT - CONTINUE READING BELOW
Briccio Santos as Ana's husband, Freddie
5. Ana's back story
Ana may be a goddess in Joey's eyes, but she's as much a mortal as anyone else, coping with her own frustrations-in this case, her increasing detachment from a husband (played by Briccio Santos, now the chairman of the Film Development Council of the Philippines) who is always tied up with work, and who has turned out to be quite a boor. Freddie, as this back story of his marriage to Ana unfolds, is also a chauvinist, yet a complete charmer when he's in his element-in a way that the angst-ridden Joey could never equal. Even Freddie's quarrels with Ana (beginning at 4:38 of this video) have a muted quality akin to French cinema, and it becomes clear that we the viewers are appreciating this character from Joey's fascinated perspective. On the other hand, Joey's personal problems are presented with the usual tantrums we are all prone to, particularly his argument over the telephone with his dad about his overstaying in school. Why did Ana fall for this lesser man? Why, for that matter, do people make similar choices?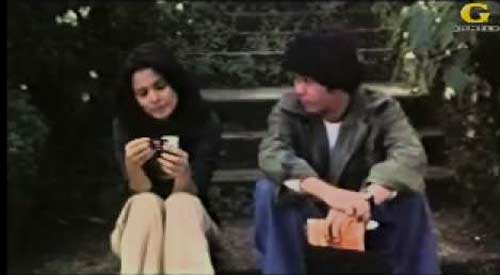 ADVERTISEMENT - CONTINUE READING BELOW
Joey drops by Ana's home once again.
6 and 7. Love on a lazy afternoon. Plus walking in the rain
This is basically a back-to-back pair of two highlights from the film. And again, as rom-coms go, KMKM depicts many consecutive scenes designed, as it were, to step up the kilig. It's as true about our movies as anything by Hugh Grant. Here are Hilda and Boyet having a tender time, way before their treacherous affair in Lino Brocka's Babangon Ako't Dudurugin Kita, 12 years later.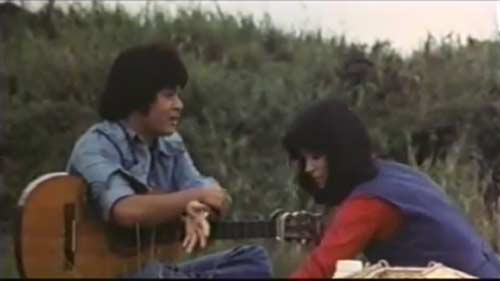 Joey and Ana enjoy an extra-marital excursion.
8. Picnic, guitar, girl
Or what may well be the centerpiece of this film (at 4 minutes of this video), which is soaked in such loveliness that we needn't really say anything more. This scene would later be reenacted and subverted in Hindi Nahahati ang Langit, this time without the guitar and the romantic sparks.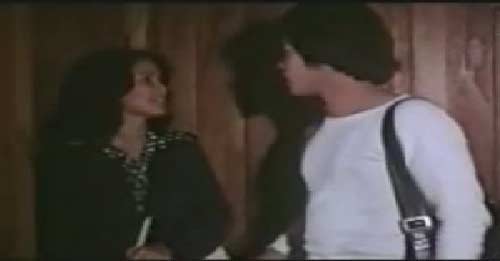 ADVERTISEMENT - CONTINUE READING BELOW
Their first night outside the city is a comedy, then this escapade takes another turn.
9. Checking in, sleeping together
The illicit romance actually begins almost near the end of this film-which is another inspired tweaking of cinematic trope. Nothing happens in the first night this "couple" drive out of the city and go further north. But extend this vacation and...(1:28 of this video).
10. "Joey's Theme"
As love stories go, this romance is driven by music, of which the highlight is this theme, featuring the rarely appreciated facet of Christopher de Leon as singer. "Joey's Theme" is a motif in the film, notably the picnic scene. Boyet de Leon recently re-recorded this song as part of a CD of film-inspired music, and that new version is featured in this video posted by Jun Latonio, the composer of "Joey's Theme" (with lyrics by Joseph Olfindo) and the music scorer of KMKM.
Share this story with your friends!
---
Help us make Spot.ph better!
Take the short survey
Load More Stories