Around The World in 10 Movies
See some of the world's most beautiful cities...right from your living room couch.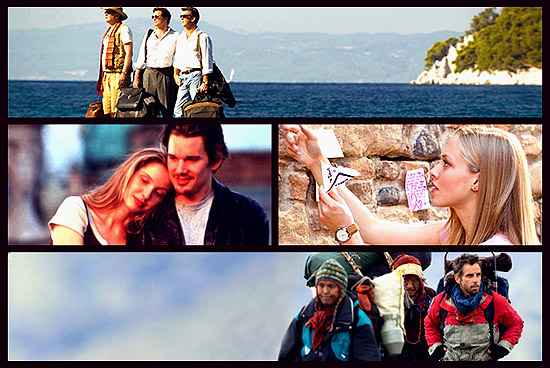 (SPOT.ph) It's a good thing movies have the power to transport us, because some of us can't afford the time or the spare funds to travel. So while you're stuck behind your desk this summer, take a tour around the globe with these 10 films that'll get your wanderlust going...to as far as your TV screens anyway.
Would you take a chance to go on a weekend trip with a charming artist that you just met?
1. Vicky Cristina Barcelona (2008)
Two Americans, Vicky (Rebecca Hall) and Cristina (Scarlett Johansson) spend summer in Spain, where they meet an artist, Juan Antonio (Javier Bardem). He's attracted to both women, but he's also still enamored with his ex-wife Maria Elena (Penelope Cruz). Que horror! This romantic drama-comedy is directed by Woody Allen and it was all shot on location in the stunning cities of Barcelona and Oviedo in Spain. Fans of art and architecture will note the film's use of sites like Sagrada Família and Park Güell as backdrops. Romantic, sensual, completely entertaining-this movie will make you want to hop on a plane to Spain.
A serenading Colin Firth on a boat may not be included in your travel package, unfortunately.
2. Mamma Mia! (2008)
On an idyllic Greek island called Kalokairi, it seems totally normal to burst into ABBA-inspried song and dance numbers. Bride-to-be Sophie (Amanda Seyfried) has never known her father, but after reading her mother's journal, she's narrowed it down to three men who could give her away at the altar. The star-studded cast includes Meryl Streep and Pierce Brosnan in this film adaptation of the West End/Broadway musical. As it was shot on the small Greek island of Skopelos and the seaside hamlet of Damouchari, we're sure this movie inspired a lot of gorgeous beach weddings.
ADVERTISEMENT - CONTINUE READING BELOW
A fight with a shark in freezing waters definitely beats a boring day at the office!
3. The Secret Life of Walter Mitty (2013)
If this movie doesn't get your feet itching to travel, we don't know what will. Mild-mannered Life magazine employee Walter Mitty (Ben Stiller, also the film's director) gets a chance to actually live out his daydreams when a missing negative puts him on the trail of famous photographer Sean O'Connell (Sean Penn). The problem with Sean's crazy job of photographing everything from snow leopards to volcanic eruptions means Walter has to search for Sean through whatever clues he can find. Walter ends up going to places like Greenland and the Himalayas, jumping off a helicopter and meeting warlords. This movie is truly a grand spectacle of wanderlust and, trust us, the shark fight is just the tip of the iceberg.
CONTINUE READING BELOW
Recommended Videos
The spoiler-filled (albeit predictable) final scene set on the beautiful cliffs at Dun Aengus.
4. Leap Year (2010)
Frustrated but determined, Anna (Amy Adams) flies to Dublin, Ireland in pursuit of her longtime boyfriend Jeremy (Adam Scott)-because they need to get married, damn it! But this is a rom-com and nothing goes to according to plan (of course). Anna lands in Cardiff, Wales, ends up in Cork and then the Dingle Peninsula, and meets a handsome, surly innkeeper (Matthew Goode), who agrees to drive her to Dublin. Leap Year hits all the best rom-com tropes and Matthew Goode is a total charmer in this role. The movie's geography isn't accurate (Dingle was never actually shot in Dingle and the castle ruin in one scene had computer-generated embellishments) nonetheless, it showcases the undeniable charm and beauty of Ireland's countryside.
ADVERTISEMENT - CONTINUE READING BELOW
Fun fact: the lovely country house just outside London, where Jamie (Colin Firth) likes to write, is actually in France.
5. Love, Actually (2003)
Christmas in London! The snow, the lights, the music...and the madness of romance  that even this movie's prime minister (Hugh Grant) cannot seem to avoid. Love, Actually paints a pretty picture of London during the holidays with relationships (friends, family, lovers) that are amusing and heartbreaking all at once.  If you're a fan of this classic Christmas romantic drama-comedy, you should check out About Time, which was also directed by Richard Curtis and stars Bill Nighy too (no holiday-themed rendition of "Love Is All Around" in this one, though). The movie once again gives us a romantic view of London as well as the postcard-perfect seaside county of Cornwall.
All the details-so pretty!
6. Memoirs of a Geisha (2005)
It's mostly shot in California and set in a different time...but it still makes us want to fly to Japan! The movie shows off beautiful botanical gardens, old Kyoto, and several sites that still stand today, like the orange gateways at the Fushimi Inari Taisha shrine in Fushimi-ku, Kyoto.
Amélie would make a great tour guide, we think.
7. Amélie (2001)
Montmartre is a hill north of Paris, France, and that where is most of our story takes place. This French movie is as bright and vivid as its story, which centers on Amélie Poulain (Audrey Tautou). In sharp greens, reds, and yellows, we're shown another side of Paris through the eyes of its imaginative and fanciful heroine.
ADVERTISEMENT - CONTINUE READING BELOW
Who could resist cute old people in love and gorgeous vineyards?
8. Letters to Juliet (2010)
During her pre-honeymoon in Italy, Sophie (Amanda Seyfried) meets Claire (Vanessa Redgrave), an elderly woman, trying to find her long-lost love. As the two women drive around Verona, Italy (where three of Shakespeare's plays are set, FYI) to find Claire's beloved Lorenzo, we're taken through vast vineyards and ancient ruins.
Jesse and Celine discuss life and love (as they always do) at the Prater.
9. Before Sunrise (1995)
The first in the trilogy is set in Vienna, Austria, where Jesse (Ethan Hawke) and Celine (Julie Delpy) meet for the first time. They decide to spend several hours together, taking in the city and each other. They begin to fall in love with each other, and we do too...with Vienna. The two stop by cafes, an old graveyard, the Prater, and walk along the Danube canal. Each film is set apart by nine years. The second reunites the couple in Paris and the third shows us Jesse and Celine taking a family vacation in Greece. While all three movies are great romantic dramas from director Richard Linklater, they also provide breathtaking eye candy.
New York-romanticized and idolized all out of proportion, but for a good reason.
10. Manhattan (1979)
Nobody loves and knows the city of New York like Woody Allen does. Manhattan is a black-and-white romantic comedy-drama that, if anything, is the relationship between Allen and his beloved city. Iconic and unforgettable scenes showcase the Brooklyn Bridge and a carriage ride in Central Park. The opening scene above says it all-"New York was his town and always would be."
ADVERTISEMENT - CONTINUE READING BELOW
Share this story with your friends!
---
Help us make Spot.ph better!
Take the short survey
Load More Stories