10 Catchiest TV Theme Songs
For some peppy LSS-worthy music.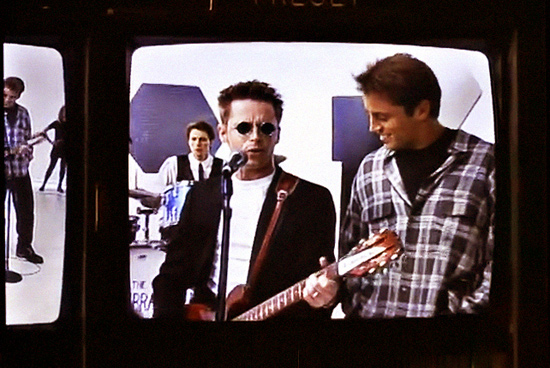 (SPOT.ph) Everybody loves a good TV series, but we love a good theme song more. You might not watch half the shows on this list, but you probably know the words or at least can hum their tunes. We've rounded up 10 unforgettable songs originally created for TV shows.
ADVERTISEMENT - CONTINUE READING BELOW
This list is not ranked.
1. "The History of Everything" by Barenaked Ladies (The Big Bang Theory)
For a show about nerds, it's only fitting that the The Big Bang Theory's theme song is pretty much a crash course on Earth's evolution since the dawn of time.
2. "Where Everybody Knows Your Name" by Gary Portnoy (Cheers)
The 1980s sitcom centered around friends relaxing in a bar...where everybody knew their name. It's a sentiment we all share, to run into the arms of alcohol and friends, when "all your girlfriends wanna be your wife and the laundry ticket's in the wash."
3. "Tossed Salads & Scrambled Eggs" by Kelsey Grammer (Frasier)
A spin-off of Cheers, this show follows psychiatrist Dr. Frasier Krane from Boston, where Cheers was set, to Seattle. Capping each episode is this jaunty tune made up of rather sensless lyrics. The song's lyricist Darryl Phinnesse explains that, like Frasier's patients, the words to the songs are just as "mixed up."
ADVERTISEMENT - CONTINUE READING BELOW
4. "Boss of Me" by They Might Be Giants (Malcolm in the Middle)
This song certainly epitomizes the woes of a teen boy growing up in a dysfunctional family in the suburbs, which was what Malcolm in the Middle was about. Nineties kids were prone to turning up "you're not the boss of me now and you're not so big" whenever a parent would pass by the TV.
5. "I'll Be There For You" by The Rembrandts (FRIENDS)
The Rembrandts never intended to make this song run for more than a minute, but the feel-good lyrics and vibe (much like FRIENDS) could not be denied, and the band went on to record it as a full three-minute hit.
ADVERTISEMENT - CONTINUE READING BELOW
6. "Saved by the Bell" by Michael Damian (Saved by the Bell)
Doesn't this upbeat, funky song just want to make you jump out of bed and put on your rollerblades?
7. "Hey Sandy" by Polaris (The Adventures of Pete and Pete)
For a kids' series, The Adventures of Pete and Pete was delightfully offbeat and surreal. The band Polaris was behind much of the music for the show, including its zany, danceable theme song.
8. "The Nanny Named Fran" by Ann Hampton Callaway and Liz Callaway (The Nanny)
Does Fran Dreschner's nasal laugh still haunt you to this day? The Nanny, which provided big laughs (and big hair), was a pretty fun take on the Cinderella trope, and the opening theme tells how Fran of Flushing, Queens ended up being the nanny of an Upper East Side family.
ADVERTISEMENT - CONTINUE READING BELOW
9. "Hey, Beautiful" by The Solids (How I Met Your Mother)
Hardcore How I Met Your Mother fans already probably know this, but the show's creators, Carter Bays and Craig Thomas, are also the guys behind that "papaparadadada" you're always mindlessly singing out loud.
10. "Yo! Home To Bel-Air" by DJ Jazzy Jeff and The Fresh Prince (The Fresh Prince of Bel-Air)
You can't talk about epic earworm TV theme songs without mentioning this jam.
Load More Stories