10 Movies That Will Make You Hungry
Caution: Julie & Julia, Woman on Top, Chocolat-these films are guaranteed to cause food cravings.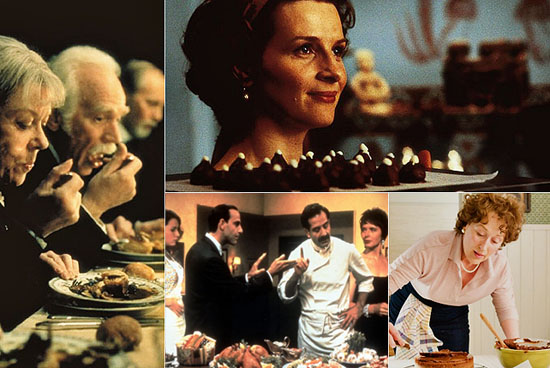 (SPOT.ph) There's nothing like relaxing in front of your TV after a long day with good food on your lap and a good movie waiting in your DVD player. That delicious home-cooked meal you labored over (or the take-out order you patiently waited for) is made even better when you're watching a movie that gives you a (literal) feast for the eyes. We've rounded up 10 films that put food at the center of the story, so make sure you've got something to snack on as you read.
1. Julie & Julia (2009)
Julia Child (Meryl Streep) revolutionized home cooking in the '60s with her books and TV shows. Child, in turn, inspired modern-day blogger Julie Powell (Amy Adams) to take a stab those now-famous Julia Child recipes in one year. The film cuts back and forth between Julie's project and Julia discovering her culinary talents. The movie runs for nearly 2 hours and presents everything from pastries to pizza, so ready yourself with a good spread.
2. Chocolat (2000)
Expert chocolatier Vianne (Juliette Binoche) drifts from town to town in Europe and lands in a sleepy French village. She opens up her chocolate shop just before Lent-quite the scandal! She also dresses more provocatively than most of the women in town, has an illegitimate daughter, and doesn't go to church. But her chocolate creations soon cast a spell over the village, including the charming gypsy Roux, played by Johnny Depp.
ADVERTISEMENT - CONTINUE READING BELOW
3. Willy Wonka &  the Chocolate Factory (1971)
Further entertain your sweet tooth with a viewing of the original adaptation of the Roald Dahl classic, Charlie and the Chocolate Factory. This trippy film from the '70s may just be more bizarre (but just as delightful) than the 2005 movie starring Jonny Depp as Willy Wonka.
4. Babette's Feast (1987)
If you're in the mood for something fancier, pop this Danish period drama into your DVD player. Babette (Stéphane Audran), a refugee fleeing bloodied, counterrevolutionary Paris, appears at the doorstep of two sisters and serves as their cook for several years. Babette later wins the lottery for 10, 000 francs and decides to spend it on-what else?-cooking the sisters a fabulous French dinner.
CONTINUE READING BELOW
Recommended Videos
5. Woman On Top (2000)
Cooking up something spicy? Pair this movie with that meal. Isabella (Penelope Cruz) is a renowned chef in Brazil and runs a restaurant with her husband, who simply can't stand having Isabella on top during sex (due to her motion sickness), so he has an affair with the neighbor. Isabella heads to land of the free San Francisco, USA, where her culinary skills (among other things) lead to her own cooking show.
6. Jiro Dreams of Sushi (2011)
If you want to explore the intricate world of sushi preparation, you'll want to accompany Jiro Ono on his quest to master the art. The documentary follows the 85-year-old sushi chef along with his two sons who are also sushi chefs. Jiro also happens to own Sukiyabashi Jiro, a Michelin three-star restaurant, so you're sure to get displays of the some of the most delectable sushi in the world.
ADVERTISEMENT - CONTINUE READING BELOW
7. Waitress (2007)
Sad, small-town waitress Jenna (Kerri Russell) is trapped in an unhappy marriage, so she makes baking a form of therapy and the results are incredible and inventive pies. For every bad experience or sad thought, Jenna retreats into her mind, coming up with pie creations that may just entice you to try them out yourself. The film became a hit in Sundance that year, and also struck a poignant chord in the wake of the 2006 murder of its director-screenwriter, Adrienne Shelly, who also played one of the waitresses. Russell and the other cast members expressed their heartfelt appreciation for their work with Shelly.
8. Soul Food (1997)
This close-knit extended family makes sure to have Sunday dinners together every week, but things take a turn when the matriarch Mama Joe suffers a stroke and later slips into a coma. A drama ensues, but this heartwarming movie is also about good times around the table, with good food.
9. Like Water for Chocolate (1992)
Crying into a tub of ice cream? This movie will go well with your sadness and food coma. Tita (Lumi Cavazos) shares a deep connection with the kitchen, where she happened to be born. As the youngest daughter, she is forbidden to marry and the boy she has fallen in love with ends up marrying her sister. Tita bakes the wedding cake with tears, causing everyone who eats it to get sick and long for their true love. Tita continues her lonely life taking care of her mother and bringing out her true passions in cooking.
ADVERTISEMENT - CONTINUE READING BELOW
10. Big Night (1996)
Trade your Americanized pizza for some authentic Italian when sitting down for this movie. Starring (and also co-directed by) Stanley Tucci, Big Night tells the story of two immigrant brothers running a failing Italian restaurant in 1950s New Jersey. Their rival, Pascal (Ian Holm), promises he'll persuade Italian-American jazz singer Louis Prima to dine at "Paradise" so that his celebrity patronage might revitalize the restaurant. Will their gamble pay off? This wasn't the first time Louis Prima was referenced in cinema. His hits, like "Angelina, The Waitress at the Pizzeria," were also featured in the gangster comedy Analyze This.
Share this story with your friends!
---
Help us make Spot.ph better!
Take the short survey
Load More Stories