MOVIE REVIEW: Maybe This Time
Jerry Lopez Sineneng serves recycled wood and a recycled romance in a satisfying-enough rom-com with a recycled plot.
(SPOT.ph) Steph (a rather subdued Sarah Geronimo), a Manila-bred lady from a well-to-do family, meets Tonyo (Coco Martin), an unsophisticated man with simple dreams and pleasures, during an outreach program in the province. What initially starts as a string of flirtatious encounters between the two develops into what could have been the perfect romance between individuals from opposite worlds. Unfortunately, fate and other realizations intervene. The love affair is aborted before it even begins.
Seven years later, Steph, now a public relations professional, is given the task to groom and train her new client to fit into the world of the rich and influential. As it turns out, her new client is Tonyo, who, throughout the seven years they were apart, has been bequeathed with a lot of wealth and has turned Steph's boss, Monica (Ruffa Gutierrez), into his girlfriend. Their roles have been reversed, forcing Steph and Tonyo to try their best not to rekindle the romance they have abandoned years ago.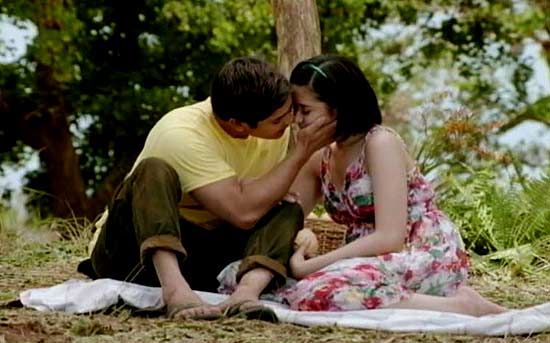 ADVERTISEMENT - CONTINUE READING BELOW
Tonyo (Coco Martin) and Steph (Sarah Geronimo) spend a day in the country. Stills of Maybe This Time from Sarah Geronimo's Facebook page
There is absolutely nothing new to Jerry Lopez Sineneng's Maybe This Time. It strictly follows the rom-com formula with two destined lovers pulled away from each other by fate only to be reunited by the power of love. All the elements are there, including the disposable third wheel who serves as the hindrance to the happy ending, the colorful and humorous support, and the overly concerned family, all to complete the package that would suit the film's tried and tested market. A bit of George Bernard Shaw's Pygmalion is sprinkled along the way in how Steph trains her rough-on-the-edges student to become more refined, only to end up falling for him throughout their lengthy sessions.
CONTINUE READING BELOW
Recommended Videos
Sineneng, Star Cinema's go-to director during the late '90s and early 2000s for its run-of-the-mill products like Flames: The Movie (1997), Esperanza: The Movie (1999), and Otso-otso Pamela-mela Wan (2004), drapes Maybe This Time with the conventional gloss and themed music to accommodate the film's primary intent to have its audience swoon over again at the rehashed love story. There is really nothing more to say about the production except that it is, like the plot formula, unexcitingly predictable.
It is all recycled material, much like the driftwood that Tonyo converts into furniture, much like the romance that Steph attempts so hard to forget. There is not a single attempt for adventurism, for the film to stray too far from formula. This is not exactly a bad thing. The familiarity with the narrative arc provides a semblance of comfort to the viewers who are mostly there to follow the careers of the movie's two stars, who actually perform rather well.
ADVERTISEMENT - CONTINUE READING BELOW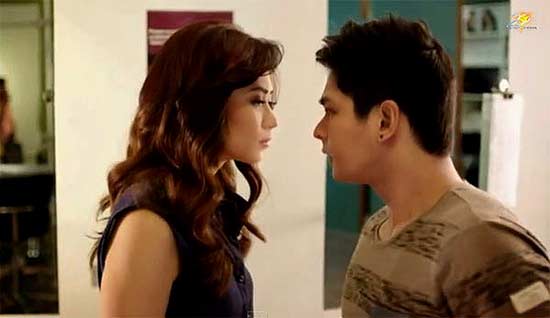 Steph and Tonyo find themselves in a complicated setting-the office, the big city.
Geronimo is gifted with inherent charm. She plays the underdog with remarkable ease. Pitted against Gutierrez, who mostly channels her real-life persona to inhabit a character obsessed with outward appearances and social status, Geronimo has ample space to stretch her acting muscles only for the purpose of making herself look even more deserving of a happily-ever-after.

Martin, who has already proven his acting prowess with his collaborations with Brillante Mendoza, has a difficult time transitioning into becoming a matinee idol that he is being groomed by Star Cinema to become. Despite his looks which fit the part, there is a certain something in his demeanor that prevents him from portraying certain roles. In Maybe This Time, however, his deficiencies, like his noticeable lisp or his boorish exterior, are melded into the narrative, eventually turning them into instruments, instead of distractions, to up the rom-com ante.
ADVERTISEMENT - CONTINUE READING BELOW
Maybe This Time is comfort food, the type that you eat not for the nutrients it provides your body but because it is the only thing available that won't have you throwing up. It is the type of movie that would serve well during an afternoon when there is nothing else left to do. It is harmless, fleeting, and forgettable, a veritable thing of the past, especially now when everybody else is attempting to reinvent the wheel or to track new paths within genre conventions. The movie is not exactly trash. It's just not junk art.
RATING: ••. 2 1/2 spots out 5
Maybe This Time is currently showing in cinemas.
Oggs Cruz is a lawyer by profession and a cineaste by vocation.
Share this story with your friends!
---
Help us make Spot.ph better!
Take the short survey
Load More Stories