Top 10 Must-Watch Filipino Period Films
Because who doesn't like costumes?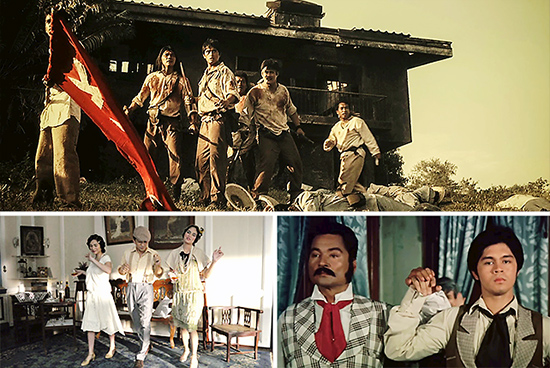 (SPOT.ph) Whatever happened to looking presentable in public? Our resident ranter blogger Lourd de Veyra wrote about the sando in social situations, and we can all agree that encountering a topless man on the streets makes us long for the days when people did their best to look spiffy. They even wore hats. Whatever happened to hats?
We're listing 10 Filipino period films with visuals that make us want to suit up...sometimes for a revolution. Or war.
10. El Presidente (2012)
Period: 1901, onset of the American occupation
Are the costumes and production design enough to cover up the historical inaccuracies? The perpetuation of errors in our nation's records is the primary fault of this biopic-Interaksyon columnist Jessica Zafra called it a "disservice" to Emilio Aguinaldo-but as far as style goes, it's worthy of praise. Jorge Estregan's portrayal of the general-turned-president may not have convinced everyone, but he certainly looked the part. The threads worn by the cast didn't feel like it would unravel anytime they would move, and even Baron Geisler's moustache looked spiffy. Cristine Reyes in traditional Filipiniana attire was also quite refreshing. Goodbye, Eva Fonda. (Cesar Montano as Andres Bonifacio was a little confusing-he will always be the tall Jose Rizal in Rizal.)
9. Supremo (2012)
Period:  1896, the Spaniards discovered the existence of the KKK.
Even with a thick layer of sepia added to the scenery, it's quite obvious that the crew wanted to paint a vivid picture of the 1890s. The hushed colors remove the gaudiness that typifies period films. A stronger script would have made this film an epic beyond the visuals, but, alas, the actors were at times stiffer than the guardia civil's uniforms.
ADVERTISEMENT - CONTINUE READING BELOW
8. Aparisyon (2012)
Period: 1971, Martial Law era
Women in habits. Porn has ruined that image for some of us, but the nuns in Aparisyon are far from that blasphemous depiction. It brings back the other stereotype, the scary Catholic-school nuns-strict and stiff. There's always something frightening about rigidity, and the crisp sleeves and the long skirts that never crease are great visual aids for the eerie sense of discipline nuns have.
7. Panaghoy sa Suba (2004)
Period: Japanese occupation
The earthquake that damaged the churches in Cebu and Bohol broke the hearts of many, even those who are not of the Catholic faith. This tragedy makes watching Panaghoy sa Suba a little more bittersweet. The film's director, Cesar Montano (now more famous for his tiff with Sunshine Cruz), crafted a sweet ode to a town he considers home. The film received phrase for its poignancy and although the screenplay faltered here and there, the atmosphere helped it over humps and lags.
CONTINUE READING BELOW
Recommended Videos
6. Dekada '70 (2002)
Period: Martial Law
Recent history is a little trickier to present than dust-covered history, mostly because there are people alive who remember what it was "really" like. Two industry powerhouses, Vilma Santos and Christopher De Leon, carried the film to great heights, while Piolo Pascual proved himself to be quite the actor too. The design team didn't go overboard with the production design, bringing the focus to the political climate (not funky wigs and tight, tight pants).
5. Rosario (2010)
ADVERTISEMENT - CONTINUE READING BELOW
Period: 1920s
The themes of the film are heavy, and the makeup was too. It's the 1920s after all. There's a scene where Rosario (Jennylyn Mercado) is waving to the crowd on a float, and we're reminded of the striking beauty of the women of the flapper era. We're sure Mercado had tons of fun wearing fabulous costumes (hats included!), before her character became subject to societal scrutiny. Very Anna Karenina-maybe not as lavish, but it's still one of those tragedies that are styled so well you can't help but look.
4. Markova: Comfort Gay (2000)
Period: Japanese occupation
One of Dolphy's most touching films, Markova: Comfort Gay is a gem of a film and one that looks and feels authentic. Eric Quizon performing a dance number for military officials was quite the spectacle, but the film never goes too far with the flashiness. It has just the right amount of flair to add character to Markova, and everything else works to highlight her struggles.
3. Oro, Plata, Mata (1982)
Period: Japanese occupation
Epic movie is epic. This is the movie that permits Peque Gallaga to say and do crazy things. There's a sizable amount of things that might make people uncomfortable in this movie (rape and dismemberment of fingers, to name a few) and the transition from the life of luxury to fleeing to the mountains is more than a little unsettling. The movie is an experience, and one that you can have more vividly with the restored version. One of the notable "characters" in this film is, of course, the Gaston mansion itself in Negros Occidental-the scene of the lavish party that begins this movie.
ADVERTISEMENT - CONTINUE READING BELOW
2. A Portrait of the Artist as Filipino (1965)
Period: Japanese occupation
Three National Artists are involved in this film, so you can bet that it's good. SPOT.ph blogger Ria Limjap notes the "archaic air" that one might get while watching it, but the film's production wins against time. The play and the film were presented so close to the period it portrays, preserving details about it with great clarity. This is the must-watch film for those curious about Old Manila.
1. Ganito Kami Noon, Paano Kayo Ngayon (1976)
Period: Turn of the 20th century
It's Christopher De Leon and that hat! Nicolas "Kulas" Ocampo is the kind of character you can wear as a costume to parties, and those familiar with Philippine cinema history will get it in a heartbeat (or faster). You can also go as Gloria Diaz-with the abaniko, por favor, and don't forget your sass! Eddie Garcia's sideburns could rival one of the most famous ones out there (FPJ's, of course), but we think his garb is a little too hot for comfort. The best part of this period film is the humor, because there's not much of it in the others. Aba e, nood na.
Share this story with your friends!
---
Help us make Spot.ph better!
Take the short survey
Load More Stories