Top 10 Classic Filipino Films You Can Watch at Home
Himala, Insiang, Manila by Night-a list of great cinema that's still available to their audience.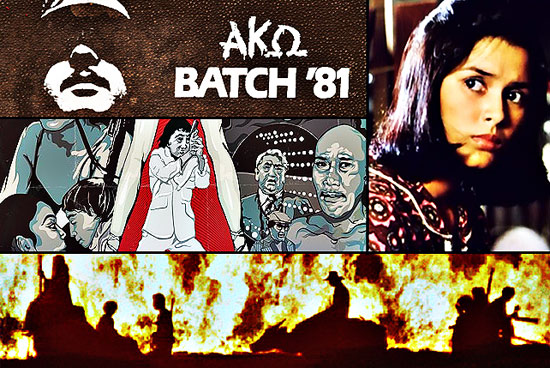 (SPOT.ph) Let us start with definitions and disclaimers.
First, The "Top 10" in the title of the article should not by any means be regarded as a ranking in terms of quality or importance. It only serves the purpose of providing what could possibly sum up the beautiful chaos that is Philippine cinema. Canonical, campy, and commercial films are hopefully aptly represented, just to give a glimpse of how varied the cinematic products of the country were.
Second, the "Classic" in the title refers to films released prior to 1990. While this definition may seem arbitrary, especially since there are films released after 1990 that deserve attention, the goal here is to promote films that an entire generation may be forced to forget. This, of course, should not mean that the films created during the advent of digital filmmaking, or the rare gems that were churned out during the period of titillating and pito-pito films, should be neglected.
ADVERTISEMENT - CONTINUE READING BELOW
Finally, we say that you can watch these movies at home because they are currently available in VCD or DVD, whether commercially released here or abroad. This then rules out streaming video, which was predicted to take over VCDs and DVDs in a couple of years. However, considering the stubbornness of the Philippines' Internet providers, it is a safe bet that the VCD and DVD formats will live on a lot longer than prophesied.
Now on to the list: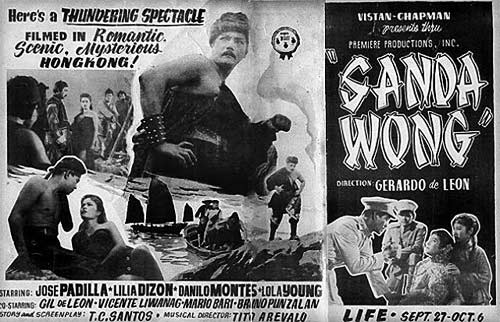 ADVERTISEMENT - CONTINUE READING BELOW
Poster of Sanda Wong. Image from the Video 48 blog
10. Sanda Wong (Gerry de Leon, 1955)
National Artist Gerry de Leon has the misfortune of being a filmmaker who will probably be recalled for works that no longer exist in watchable form. His reputed masterpiece, Daigdig ng mga Api (1965), is reportedly lost to rot and neglect. The rest of his finest works, from noir-ish 48 Oras (1950) to his adaptation of Jose Rizal's El Filibusterismo (1962), are in desperate need of expensive restoration. Sanda Wong, which de Leon directed as a co-production with Hong Kong, was discovered by film historian Teddy Co in a warehouse in Hong Kong. Immediately repatriated to the Philippines, the film was shown to the public and was then released on VCD. Sanda Wong, a delightful adventure that featured swashbuckling heroes, damsels in distress, and tons of slithering snakes, is a delight to watch. It also represents how most of film preservation in the Philippines is reliant on good old luck.
ADVERTISEMENT - CONTINUE READING BELOW
Alternative picks: Banaue: Stairway to the Sky (Gerry de Leon, 1975); Terror Is a Man (Gerry de Leon, 1959); Walls of Hell (Gerry de Leon, 1964).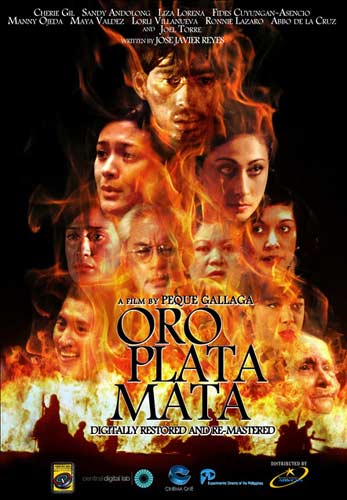 The DVD copy of Gallaga's masterpiece, as restored under the auspices of ABS-CBN
9. Oro, Plata, Mata (Peque Gallaga, 1982)
Restored and remastered to high definition, Peque Gallaga's Oro, Plata, Mata represents the type of period film that is rarely done so exquisitely in Philippine cinema. Gallaga's spectacle, which is grounded by Jose Javier Reyes' screenplay that dissects the evident social gaps prior to and during the Japanese invasion of Negros, is made even more prominent by how the hard-working people who were responsible for the restoration have painstakingly cured the defects that time and apathy have inflicted on this masterpiece.
ADVERTISEMENT - CONTINUE READING BELOW
Alternative picks: Ganito Kami Noon, Paano Kayo Ngayon? (Eddie Romero, 1976)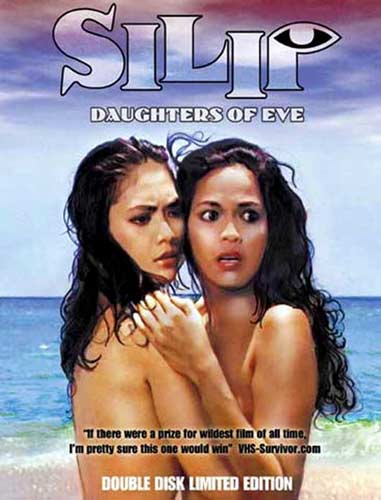 Elwood Perez's relentlessly salacious masterpiece
8. Silip (Elwood Perez, 1985)
Peddled as Daughters of Eve for several decades in underground circles that cater to cineastes with more eccentric tastes, Elwood Perez's Silip was finally picked up by Pete Tombs and his company, Mondo Macabro. His team restored the film to near-pristine levels, re-introducing the cinematic madness that reportedly forced a seminarian to rethink his vocation. There is a reason why Silip has gained such notoriety. There is Mark Joseph and his penis, which was playfully referred to by barrio lasses (played by Maria Isabel Lopez and Sarsi Emmanuelle) as the devil's horn. There is that penultimate gang rape scene. Of course, there is also that overpowering feeling that beyond all the insanity depicted onscreen, the film still relays a truth about the Philippines that we'd rather repress than expose.
ADVERTISEMENT - CONTINUE READING BELOW
Alternative picks: Scorpio Nights (Peque Gallaga, 1985); Company of Women (Mel Chionglo, 1985)
7. For Y'ur Height Only (Eddie Nicart, 1981)
For every Hollywood creation, there will always be a Filipino counterpart. Who would have thought that Weng Weng, the debonair 2'9 action star, would be the Philippines' version of James Bond. Complete with gadgets and girls, Weng Weng would jump out of buildings, destroy criminal masterminds, and make love with the most beautiful women oblivious of the fact that he is less than half the size of both his opponents and his love interests. Eddie Nicart's For Y'ur Height Only is the pinnacle of the type of filmmaking that most snobs would readily forget because of its seemingly exploitative intent. However, the film, for all its misgivings, is also representative of the country's immaculate sense of humor and indubitable ingenuity.
Alternative picks: Brown Emmannuelle (Celso Ad. Castillo, 1982); Brides of Blood (Gerry de Leon and Eddie Romero, 1968)
ADVERTISEMENT - CONTINUE READING BELOW
6. Temptation Island (Joey Gosiengfiao, 1980)
Outside Lino Brocka's social realist films, Joey Gosiengfiao's Temptation Island is arguably one of the most influential Filipino films of all time. The camp classic, upon first viewing, is a hodgepodge of elements that make up an awful film. Upon closer look, its seemingly disparate parts meld into a consistently intriguing spectacle of wry humor, witty social commentary, and astounding directorial vision. Temptation Island is that awkward kid that grows up to be a genius. Hugely underrated for decades, it was later rediscovered, reassessed, and has now given birth to a lot of copycats.
Alternative picks: Bagets (Maryo J. De Los Reyes, 1984)
5. Himala (Ishmael Bernal, 1982)
This collaboration between Nora Aunor and Ishmael Bernal is an absolutely breathtaking film. Written by Ricky Lee, the film, set in a remote town that is surrounded by desolation and nothingness, dissects the prevalence of hypocrisy within a largely Catholic Philippine society. Restored and remastered to high definition, Himala deserves to be seen, if only for one to be smitten by Aunor's amazing performance.
ADVERTISEMENT - CONTINUE READING BELOW
Alternative picks: Tinimbang Ka Ngunit Kulang (Lino Brocka, 1974)
4. Manila by Night (Ishmael Bernal, 1980)
Manila by Night is Ishmael Bernal's reply to Lino Brocka's Maynila sa mga Kuko ng Liwanag (1975). While Brocka depicted the city of Manila as some sort of hell, where his anti-hero, Julio Madiaga, would descend to rescue his beloved, only to be trapped, Bernal depicted the city as a perpetual purgatory, where his characters exist without anything or anyone to live for. Manila by Night is stark and distressing, to the point of disturbing Imelda Marcos, who was then the governor of Manila, to protest and have the title changes to City after Dark, removing the name of the city from the title of the film that captures its dark essence so very well.
Alternative picks: Macho Dancer (Lino Brocka, 1988)
3. Batch '81 (Mike de Leon, 1982)
Mike de Leon could have simply made a film that bluntly exposes the evils of the culture of fraternities. However, genius is not content with blunt expositions. Batch '81, which centers on a group of neophytes who are about to be initiated into a university fraternity, tackles the very concept of fascism by depicting the various exercises that the young men will be undergoing just to be admitted into the group. On a larger scale, the film's narrative mirrors the excesses of Ferdinand Marcos' regime.
ADVERTISEMENT - CONTINUE READING BELOW
Alternative picks: Kakabakaba Ka Ba? (Mike de Leon, 1980)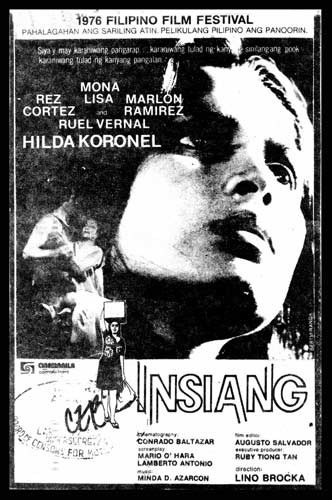 Hilda Koronel's breakthrough film with Lino Brocka
2. Insiang (Lino Brocka, 1976)
Insiang is arguably Lino Brocka's tightest film. Penned by his frequent collaborator, Mario O'Hara, the film, about a young woman who is trapped between the love affair of her mother and her mother's lover, examines a society devoid of any semblance of dignity and privacy. Brocka aptly captures the sweltering heat of Manila, adding much more pressure to the already boiling relationships of his miserable characters.
ADVERTISEMENT - CONTINUE READING BELOW
Alternative picks: Bona (Lino Brocka, 1980)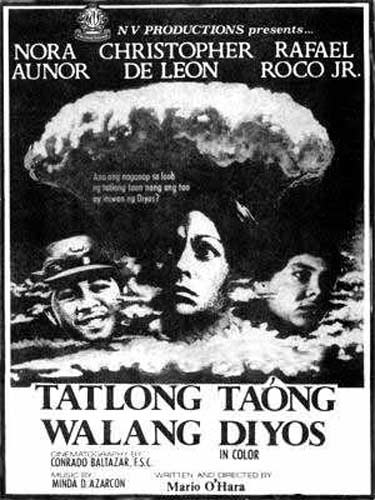 O'Hara's wartime masterpiece combines grittiness with a distinct folk atmosphere.
1. Tatlong Taong Walang Diyos (Mario O'Hara, 1976)
Set during the Japanese Occupation, Mario O'Hara's Tatlong Taong Walang Diyos showcases the blossoming relationship between a half-Japanese soldier, played by Christopher de Leon, and a Filipino woman, played by Nora Aunor. Critic Noel Vera proclaims O'Hara's film as one of the best the Philippines has ever produced, and rightly so. Tatlong Taong Walang Diyos depicts the faults of humanity at a time when virtues are rare. Sure, the film is elevated by Nora Aunor's predictably exquisite acting, but it is O'Hara's acute understanding of the complicated nature of human beings that grants the film such an intriguing complexity.
ADVERTISEMENT - CONTINUE READING BELOW
Alternative picks: Bakit Bughaw ang Langit (1981); Kastilyong Buhangin (1980)
ALSO READ:
Top 10 Must-Watch Filipino Period Films
Top 10 Lino Brocka Film Actors
The Story of The Search for Weng Weng
CONTINUE READING BELOW
Recommended Videos
Share this story with your friends!
---
Help us make Spot.ph better!
Take the short survey
Load More Stories