Top 10 Iconic Nuns in Movies
Here are 10 more nuns who rock just as hard as Sister Cristina Scuccia of The Voice of Italy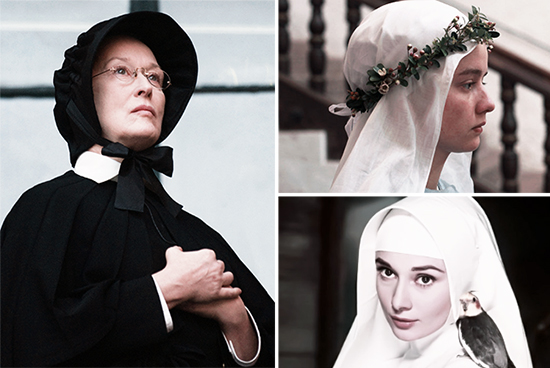 (SPOT.ph) There's a very specific genre dedicated to the exploitation of nuns (nunsploitation) and this is not that kind of list. What you will find here are the women of faith whom we were reminded of after Sister Cristina Scuccia won The Voice of Italy. She pleasantly shocked the nation (and the world) by grooving to "What a Feeling" and "Time of My Life," and we felt like doing an homage to her fictional sisters who left  a similar effect on us.
Brothers and sisters, here are 10 iconic nuns in movies.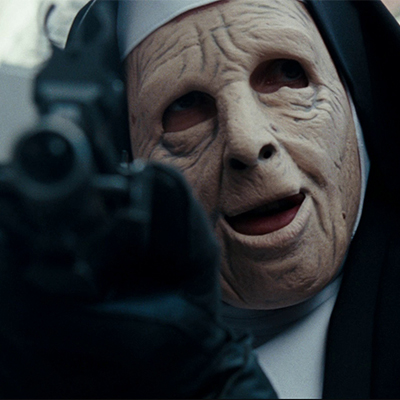 10. The Town (2010)
This is the film that proved that Gone Baby Gone wasn't a fluke. But aside from introducing Ben Affleck as a director that should be taken seriously, the promotional materials prominently feature these creepy nun masks that "inspired" copycat robbers. Not exactly positive, but it's proof that they are iconic. They're not actually nuns, so they rank low on our list...but that heist scene! Habits and high-powered firearms are the very definition of iconic. Speaking of which...
ADVERTISEMENT - CONTINUE READING BELOW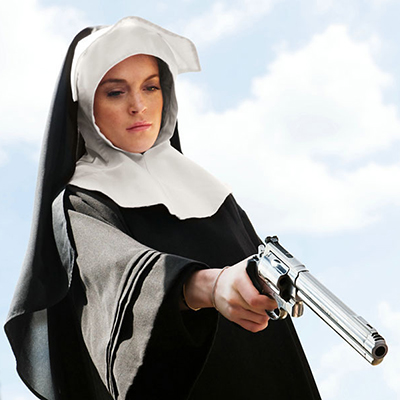 CONTINUE READING BELOW
Recommended Videos
9. Machete (2010)
Lindsay Lohan as April Booth a.k.a. The Sister? Are we out of our minds? We didn't say it's the list of most devout nuns. Robert Rodriguez's homage to B-movies was an incredible ride for fans of the genre and it gave people a chance to see LiLo again. It's blasphemous and obscene, sure, but is it also etched in your memory? We have a feeling that the answer is a resounding affirmation.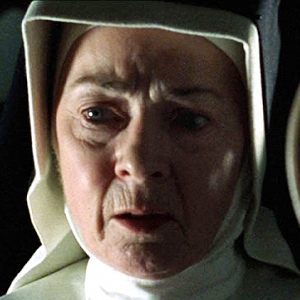 ADVERTISEMENT - CONTINUE READING BELOW
8.  The Magdalene Sisters (2002)
Sister Bridget reminds us of Nurse Ratched from One Flew Over the Cuckoo's Nest...and seeing as she's one of the most iconic villains in cinema, it gives away a little too much of what Sister Bridget is like. If Sister Jude from American Horror Story gave you nightmares, it'll bring you no comfort to know that Sister Bridget is nearly as cruel (minus the aliens and supernatural activities) and is based on a real person. Sadistic and oppressive, Sister Bridget is the face of nuns from your worst fears.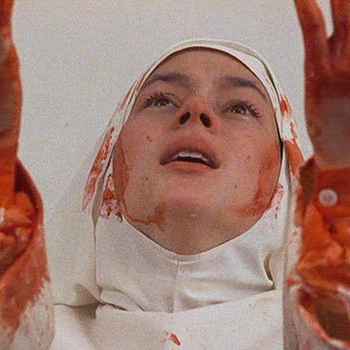 7. Agnes of God (1985)
Despite lukewarm reviews of the film, Meg Tilly received praise for her portrayal of Sister Agnes, a novice nun who is under investigation for hiding a pregnancy and killing the baby after she gives birth. The father of her child is never revealed and although she has fits of doubt after suffering from stigmata, it is heavily implied that Agnes enjoys being blessed by her Savior. It's a film that makes you think about the nature of miracles and the audience is invited to go through a test of faith-just as Sister Agnes did.
ADVERTISEMENT - CONTINUE READING BELOW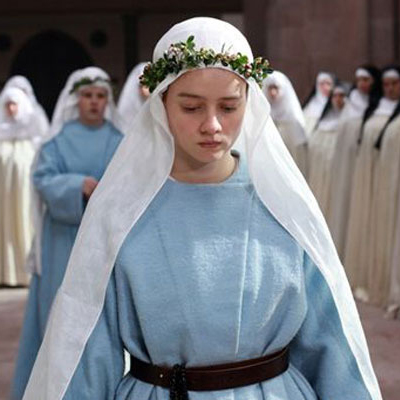 6. The Nun (La Religeuse, 2013)
This is one of those films that you have to work up the courage to watch. To clarify, this is not the Spanish horror film released in 2005, but it's just about as scary (if not more). Our nun-in-training is Suzanne, a 16-year-old girl forced to enter a nunnery to atone for her mother's sin. Her case is a curious one, because although Suzanne actually believes in God, she just doesn't want to be a nun. Throughout the film, she holds on to her faith despite the cruelty she suffers from Sister Christine and the entire convent. It's interesting how she separates the hypocrisy of the Church and what she really believes in. You go, sister. Stay strong.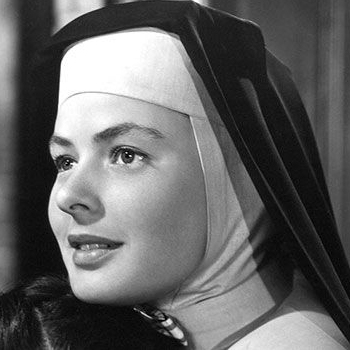 ADVERTISEMENT - CONTINUE READING BELOW
5. The Bells of St. Mary's (1945)
Sister Mary Benedict has the benefit of being brought to life by the beautiful and brilliant Ingrid Bergman. As the bottom half of this list has proven, nuns don't exactly have a shining reputation in film. But in Sister Mary Benedict, we find a well-meaning woman of God. She believes in discipline, and is understandably strict, but her devotion to her vocation is something to be admired. We'll always remember this from her, "You don't become a nun to run away from life. It's not because you've lost something. It's because you found something."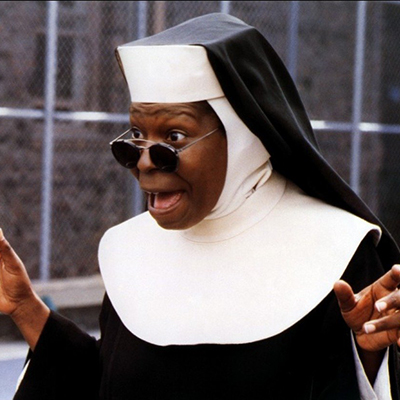 4. Sister Act (1992)
Sister Mary Clarence is probably the first face anyone from a certain generation thinks of when someone says "nun." Reverend Mother (expertly portrayed by Maggie Smith) might have been mortified at first, but as the story developed, Sister Mary Clarence shows that she can charm herself into anyone's heart. She's so legendary, she was called on to introduce another film with iconic nuns during the 2009 Academy Awards.
ADVERTISEMENT - CONTINUE READING BELOW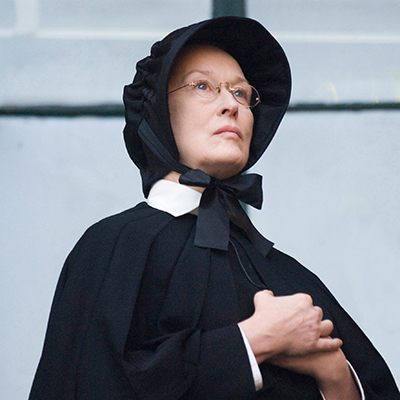 3. Doubt (2008)
We'd never want to cross Sister Aloysius Beauvier. She's frighteningly determined and practically bulldozes anything that's in her way. It's admirable, sure, but when she's convinced, nothing's going to get through to her. That's sort of the way faith works, which is good for her, but doesn't mix well with the Church's plans to modernize. In any case, she is, without a doubt (sorry, we had to) a very memorable character.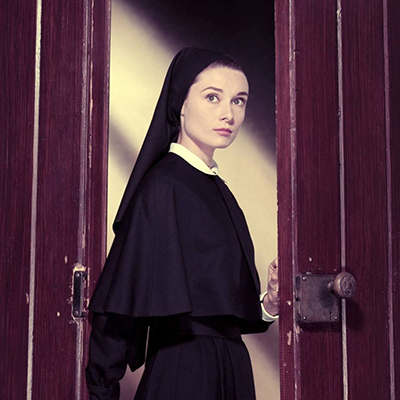 ADVERTISEMENT - CONTINUE READING BELOW
2. The Nun Story (1959)
Just like Meryl Streep, Audrey Hepburn has a long list of memorable roles. Princess Ann, Holly Golightly, Eliza Doolittle, Sabrina...and, deviating from romantic roles, Sister Luke. Unlike most of the stories in this list (and about nuns as a whole), Sister Luke's test of faith springs not from any religious issues but instead from her desire to help-something that conflicts with her persistent urge to question authority. She resists what is offered to her, and as she matures as a nun, she comes to accept that she cannot consolidate what she wants to do with her life with the vows of Sisterhood.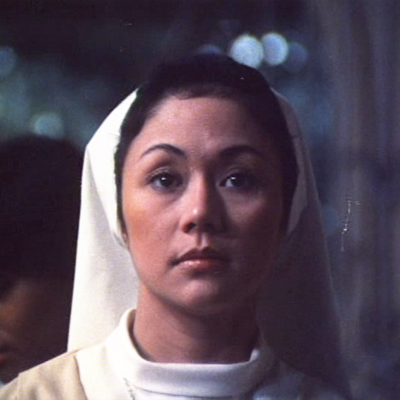 1. Sister Stella L (1984)
"Kung hindi tayo kikilos, sino ang kikilos? At kung hindi ngayon, kailan pa?" That line always gives us shivers. The political awakening of Sister Stella L (L for Legaspi) rang true when the People Power Revolution happened in 1986, a peaceful protest where people of faith stood against guns using flowers and articles of faith. The film boldly criticizes the passivity of merely praying for change instead of aggressively seizing freedom. Sister Stella L takes the best parts of the Bible-helping the poor, protecting the meek, et cetera-and uses it to inspire the masses to rise against an unfair system. When asked if she doesn't get scared, she had this to say, "Siyempre natatakot. Eh 'yun naman ang gusto nilang mangyari, hindi ba? Matakot tayo? Para kahit anong kahayupan ang gawin nila, tatahimik lang tayo. Kukubli sa isang sulok na parang asong nakatago ang buntot." Fight, Sister. Fight!
ADVERTISEMENT - CONTINUE READING BELOW
Share this story with your friends!
---
Help us make Spot.ph better!
Take the short survey
Load More Stories