10 Happy Songs to Brighten Any Mood
Rain clouds got you down? Just pop these into your music player for an instant pick-me-up!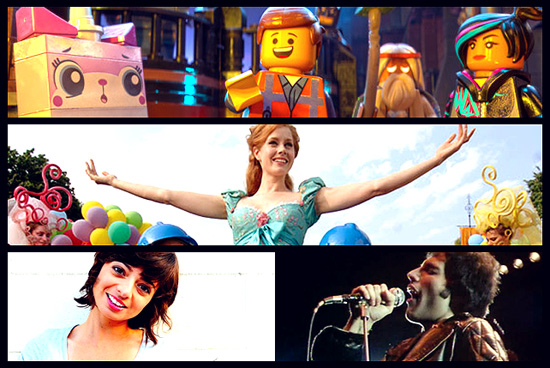 (SPOT.ph) Crying is good and being sad is fine...but once you're ready to transition to a lighter feeling, we've put together this playlist that specifically avoids the song "Happy" by Pharell. We love dancing to that (privately or otherwise), but we've given up trying to clap like a room without a roof. We don't know how to do that. Also, it's the middle of 2014 and if you keep playing "Happy" ad nauseam...well, it's going to be hard to enjoy the song years from now. Look at "Moves Like Jagger." It just died. Nobody even mourned.
Here are 10 songs that are just about as happy as "Happy" that'll help improve a surly mood!
1. "Don't Stop Me Now" by Queen
With lyrics that encourage you to imagine yourself in the likeness of a sex machine ready to reload, it's hard to make room for a feeling unrelated to ecstasy.
ADVERTISEMENT - CONTINUE READING BELOW
2. "Happy Meal II" by The Cardigans
Despite the slow tempo, the song is infectiously joyous. We think it's the drum beat towards the end of the song, which might remind you of fireworks.
3. "Happy Happy Joy Joy" from The Ren & Stimpy Show
Are you happy enough? Does your grandmother know how to suck eggs? (The food, guys. The food.) We're not sure what measure of happiness this song contains...but if we keep saying the word happy, we're bound to feel it. It's hard to say anything that ends with a [ee]-sound without a smile.
4. "The Happy Song" by Kate Micucci
If you're not happy by the time this song ends, just lather, rinse, and repeat. Come on, let's be happy together!
5. "Everything is Awesome" from The Lego Movie
There are a lot of awesome things in the world, including, oh, EVERYTHING.
ADVERTISEMENT - CONTINUE READING BELOW
6. "Happy Face" by Destiny's Child
Song applies to all, even if your happy face looks creepy, bitchy, silly, or awkward. Crying-with-so-much-happiness face is good too. We don't judge. We just want you to be happy.
7. "Happiness" by The Weepies
Other people trying to make you feel bad (or if you already feel bad, trying to make you feel worse) about yourself? Store some joy in your heart, care of this song.
8. "Happy Working Song" from Enchanted
The enthusiasm in Princess Giselle to scrub the toilet is the kind that we should face life with. Sure, things can get poopy, but c'est la vie. Crap's part and parcel of the experience!
9. "Life's a Happy Song" from The Muppets Movie
Caveat: Probably not a happy song if you're feeling alone. Challenge: Even if you're alone, let's see you try and not crack a smile after singing this song.
ADVERTISEMENT - CONTINUE READING BELOW
10. "I Smile" by Kirk Franklin
Here's a Gospel number that even those who advocate secularism can enjoy. Sometimes you really just feel a surge of good vibes...and if it's care of this song, you're very welcome.
CONTINUE READING BELOW
Recommended Videos
Share this story with your friends!
---
Help us make Spot.ph better!
Take the short survey
Load More Stories